For The Brothers' War, your Prerelease Early Sales are unlimited—you can sell any product in any quantity during Prerelease week, in stores only, from full boxes to single boosters or even single cards.
In addition, you'll have the chance to run Booster Draft events during Prerelease week, giving your more experienced players the chance to explore the new set even earlier than before. To make sure you're able to take full advantage of this opportunity, we're giving you the rundown of every product in The Brothers' War and how you can market each to your players.
Introduce the Set: Prerelease Packs
Prerelease is the first opportunity for your players to experience the new set—and Prerelease Packs are the perfect product to help them celebrate. Players can build decks with the six Draft Boosters and the foil, year-stamped Rare or Mythic Rare card lets them commemorate the occasion.
Plus, Prerelease Packs are a straightforward way to get new players set up with a sampling of accessories to start playing: each Prerelease Pack includes a Spindown life counter, punch-outs, and a deck box to store their deck in when they're done.
While The Brothers' War Prerelease introduces a few changes to your sales and events, delivering a classic Prerelease event experience using Prerelease Packs is one of the best ways to celebrate with members of your community who love it.
Capture New Interest: Set Jumpstart Boosters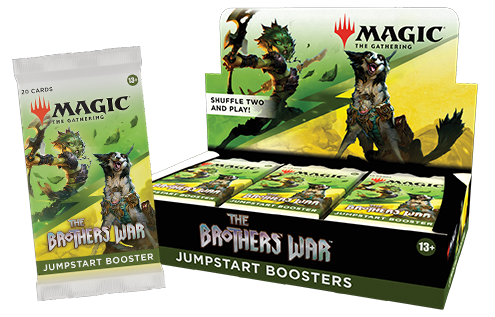 Jumpstart Boosters are a great way to introduce newer players to a casual Prerelease experience. With Jumpstart Prerelease, all your players have to do is open two packs, shuffle them together, and play.
Set Jumpstart contains one of 10 possible themes—two for each mana color—that are based on cards and story elements from The Brothers' War. Mixing and matching offers the unique experience for players to engage with new cards in context without feeling overwhelmed about deck building.
Plus, set Jumpstart Boosters are all compatible with each other—meaning The Brothers' War Jumpstart Boosters can be combined with Dominaria United Jumpstart Boosters to amplify the mix-and-match and build on new themes!
Your more experienced players can enjoy The Brothers' War Jumpstart Boosters, too! Whether they're branching into colors they're not used to playing or want to play in a new way, Jumpstart can be a welcome and fun challenge.
Explore the Set: Set Boosters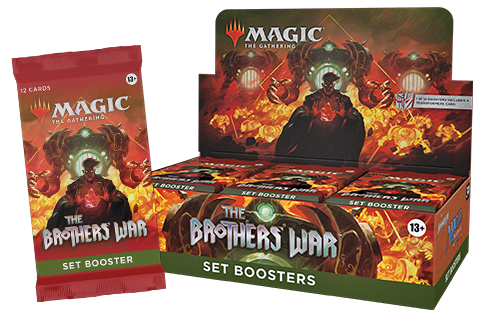 Set Boosters offer a unique way to explore the set, with an Art Card, followed by 12 Magic cards that transport players back in time to The Brothers' War battlefield. This is a great way for players to meet their favorite characters, learn about the plane, and admire the incredible art of Magic.
Each pack has a traditional foil card, making each pack extra satisfying for your players to open. Having a traditional foil card, an Art Card, and 1–5 cards in the pack of rarity Rare or higher also means Set Boosters are great for creating a rewarding prize structure for your events.
Shortcut to Style: Collector Boosters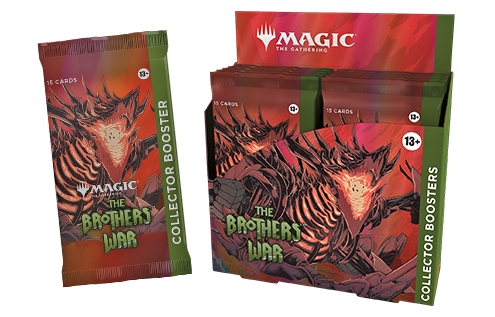 As you get to know your community, you'll find the players who want the flashiest cards available. Collector Boosters are full of Rares, foils, and special treatments, making them a delight from first card to last in every pack. Whether your players pick up a pack or a full box at your Prerelease events, they can get a head start on their collection!
For The Brothers' War, it's important to note that Collector Boosters are the only place players can find Serialized Retro Artifact Schematic card treatments and Transformers: Shattered Glass cards with the Shattered Glass treatment.
Build and Battle: Draft Boosters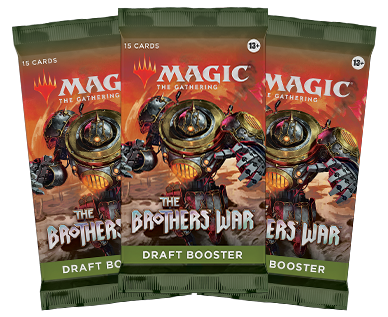 As you continue to build a robust gaming community, you'll want to have events on the calendar to support many types of play—this is where Draft Boosters come in. Whether your players are casual or competitive, draft events are one of the most popular options for players.
Advertising a new player-friendly casual Booster Draft event may encourage players to bring their friends in to try a Draft. Using randomly paired Swiss rounds gives each player the opportunity to meet someone new; it can even be helpful for newer players to see how different players strategize with what they drafted.
For regular players, you can give them a challenge with Tournament-style rounds and a heavier prize structure to amplify the stakes and encourage them to test their mettle.
Multiplayer Appeal: Commander Decks
Players love the Commander format, and each premier set is accompanied by pre-constructed Commander Decks that allow players to play right out of the box.
The Brothers' War features two Commander Decks, which creates a unique opportunity for you to recommend them to pairs of players who want to give Commander a try but are unsure where to begin. While Commander is typically played in groups of 4, two players can face-off and learn to play in a more casual setting.
Additionally, each card in both Commander Decks is a retro-frame card, making them unique and enticing for your more experienced Commander players.
Ideal for Gifting: Bundle and Gift Bundle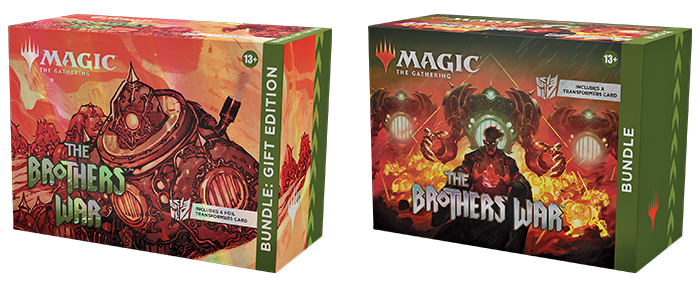 Bundles are a supercharged kit for fans at any level—giving players a great foundation with eight Set Boosters, 40 lands (20 traditional foil, 20 nonfoil), an oversized Spindown life counter, and a traditional foil promo card with alternate art exclusive to the Bundle. Bundle containers double as sturdy card storage boxes to help hold the beginning of an epic collection.
For the Magic fans who just want a little more, direct them to pick up a Gift Bundle. The Brothers' War Gift Bundles include everything from the regular Bundle, plus a Mythic Rare Transformers card in traditional foil, plus a Collector Booster—which, again, is the only place to find Transformers: Shattered Glass cards and Serialized Schematic Retro Artifact card treatments.
Both the Bundle and Gift Bundle make excellent gifts for everyone, from budding collectors to the most engaged fans in your community.
With this full product guide at your fingertips, you'll have no problem promoting products for The Brothers' War during your expanded Prerelease Early Sales Promotion. Be sure to use our downloadable marketing materials to bolster your advertising and match your players to the best products for them.