Achieving a WPN Premium designation marks a new chapter in your game store's journey: you and your community can take pride in knowing your store is among the greatest in the world. Plus, you gain additional benefits, such as complimentary storage items offered quarterly, increased products and promo allocations, and access to hosting special WPN Premium Preview Events for select set releases.
Today, we're recapping an incredible new benefit announced at the 2023 GAMA EXPO—exclusive quarterly promos. For submitting Point of Sale (POS) data every quarter, WPN Premium stores will receive 20 quarterly rotating promos; if the data was submitted on time and accurately, stores will receive an additional 7 showcase promos with annually rotating designs.
This promotional benefit will be replacing the previously announced Secret Lair benefits for WPN Premium stores.
Quarterly Rotating Promo Details
One of the requirements to maintain WPN Premium status is to provide POS data monthly. This data provides Wizards of the Coast with insight into your store's recent sales of Wizards sealed product, creating a better picture of how your customers engage with our products in your store.
Submitting your point of sale data on time and accurately is key for our insights, so we're introducing a WPN Premium benefit to show our appreciation to stores who deliver this information to us. Each quarter, eligible WPN Premium stores will receive special promo cards just for submitting your POS data to us.
At 2023 GAMA EXPO, we announced two of these epic promos: Serra Angel and Lord of Atlantis! Each card features the character playing at a game table in a Local Game Store, and the first is slated to be sent to WPN Premium stores in Q4 of this year.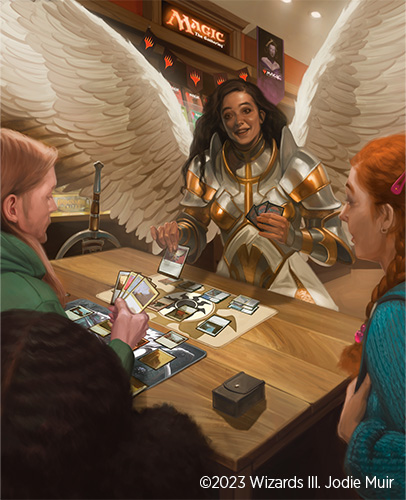 Each quarter, WPN Premium stores will receive promos with a different character playing in a game store. You may have noticed the first two promos are White and Blue respectively; the remaining promos will continue their journey around the color pie in each quarter of 2024 (meaning Black, Red, and Green promo cards, in that order).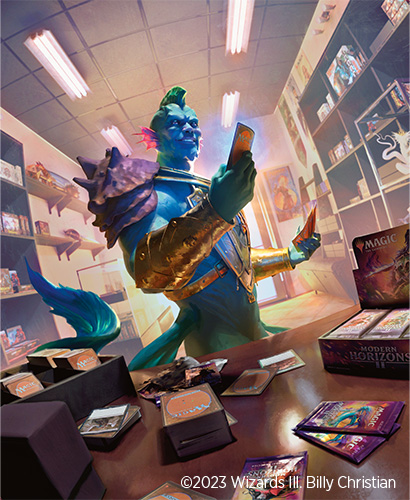 These promos are a gift from Wizards of the Coast to you for being WPN Premium and submitting your Point of Sales Data. We recommend using them to build your community, using them as incredible prizes. However, if you want to sell them outright you are allowed.
Annually Rotating Showcase Promo Details
In addition to the quarterly character promos above, we'll be sending a special promo to stores who submit their POS data on time and accurately, featuring one of our Showcase treatments. Stores will receive 7 copies of this promo each quarter and may also be used in the same manner as your quarterly Point of Sale promos. The design on this promo will rotate once a year.
The promo and associated treatment will be announced at a later date. WPN Premium stores can look forward to something in the spirit of our previous Ampersand promos, the Moonlit Lands from Innistrad: Crimson Vow, or the WPN exclusive Neon Ink Hidetsugu, Devouring Chaos.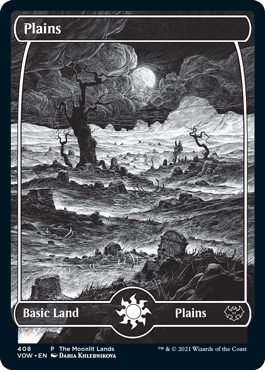 These special promos are new additions to a full suite of incredible benefits available to WPN Premium retailers. If you aren't WPN Premium yet, but are interested in exploring the option for your store, all the information you need can be found on our WPN Premium Hub.
That wraps up our recap of the GAMA EXPO announcement! We hope you look forward to more details to be shared as we get closer to sending these promos out to stores.