There's an extraordinary synergy between tabletop Magic and Magic Arena—the digital expression of the game, officially launched in September. Since the game entered beta, we've been exploring that potential.
Code cards at FNM. In-app messaging to point Arena players toward their LGS. And, coming in November, WPN Premium-exclusive events that award Arena codes to unlock a unique Exquisite Sleeve.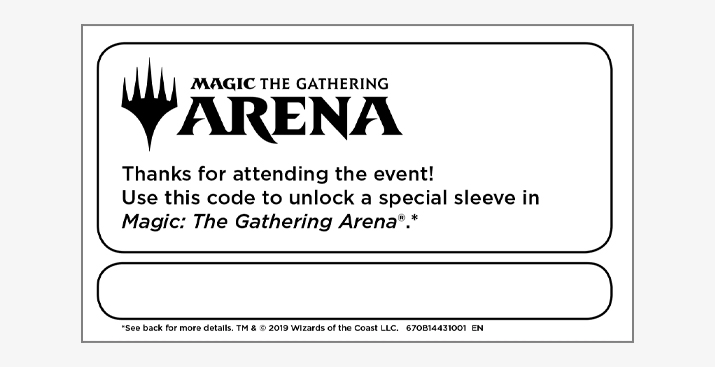 Right now, WPN Premium stores can log into Wizards Event Report and schedule a Premium-exclusive event, during which they'll hand out code cards to redeem this sleeve. The codes will show up in early November.
It's one of the many benefits of WPN Premium, and one of the best reasons to apply now if you're curious: Premium is on the ground floor of these kinds of tests—they get access to this kind of thing before it rolls out more widely. But it also speaks to a subtler benefit of Premium:
WPN Premium is in the best position to take advantage of Arena's success.
At this very moment, Arena is introducing new players to Magic. Some have never set foot in an LGS. Some are just learning that they have an LGS. But they're all potential FNM goers—Premium or no, you're likely to see some of these players sitting down and shuffling up at your tables soon.
But if you're Premium, you're likely to see more than most. Here's why.
First, there's experiments like the Exquisite Sleeve events (Premium stores—it's in WER now!). They won't be the last. Second, Arena's in-app messaging points players toward the Store and Event locator, which, wherever possible, puts a Premium store front and center.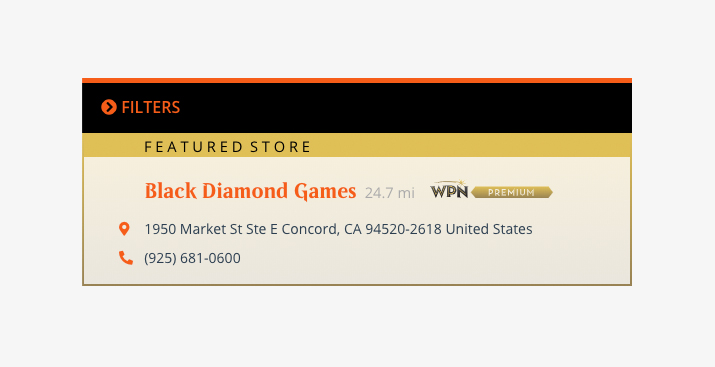 That's not an accident. We want a new player's first in-store experience to be awesome. The best available. Premium is a way for us to identify—and confirm—who can give that to them. If you feel you can, raise your hand now and apply.
But Premium is also a way for us to incentivize WPN members to reach that tier, and to reward them for effort it takes to get there. And we'll do whatever we can to help you along the way.
Premium is a process. If you're interested in Premium, we want to work with you.
It's true—the bar is high. It has to be if the Premium seal is going to mean something. But if you want it, it is absolutely within your reach.
WPN Premium locations are diverse. They're in towns as small as 8,000 and they're in metropolises as large as 14,000,000. They're in modestly-sized retail spaces and they're in spaces the size of aircraft hangars. Some have robust competitive scenes. Some focus on social play.
The point is, there's no archetype for WPN Premium. No mold you need to fit it. The one thing they all have in common is, they deliver a world-class experience. But they all have their own way of delivering it.
So if you're short on the metrics, or you've got a few boxes to go the Quality Checklist unchecked, that's fine. (If you're in the US or Canada, we may even be able to help you check them with a Retail Improvement Grant.)
As Arena brings to new players into the game and into stores, we're going to do whatever we can to make sure the stores they land in are as awesome as possible. If you're one of them, or you aspire to be, let us know—apply for Premium now.