Next Friday, June 16, is the beginning of a summer to remember—starting with Prerelease for The Lord of the Rings: Tales of Middle-earth™. Once you review your promo kit, schedule your event in Wizards EventLink, and download available marketing assets to help advertise your store's events to your community, all that remains is for you to prepare your store for Prerelease.
Ahead of The Lord of the Rings: Tales of Middle-earth™ Prerelease, please encourage your players to manually update the Companion app. Older versions of the Companion app may not be compatible with Wizards EventLink. The newest version of the Companion app includes automatic updates so no further manual updates will be needed.
Bilbo's Birthday Party Scene Cards in Prerelease Packs
Prerelease is already an incredible party at your store—in each Prerelease Pack, players will find one of six different Borderless Scene Cards as a part of the Bilbo's Birthday Party scene.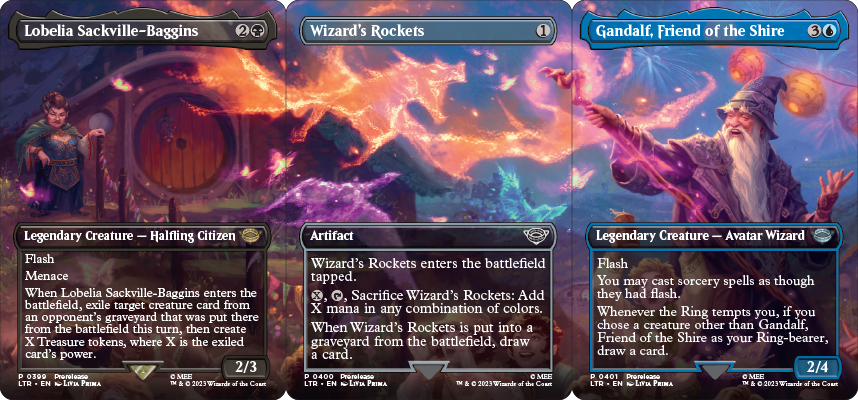 This splendid addition to each Prerelease Pack may not be used as part of your players' sealed pool. To build their deck, players are only allowed to use cards found within the Draft Boosters plus the foil, year-stamped promo card.
Top Tips for a Smooth Event
Keep these small tips top of mind to help ensure you and your staff can run a smooth event on the big day:
Take preregistrations. Schedule your event in Wizards EventLink early so your community can sign up for the event before it begins. This also gives you a chance to promote your Prerelease with your community.
Plan opening announcements. Start with store-specific notes—including an invitation to the Magic Celebration event—then give players a rundown of how your Prerelease is going to work. This should include an explanation of any special situations, such as the Bilbo's Birthday Party Scene Cards mentioned above!
Manage event length. Display timers during deckbuilding sessions and rounds on a display visible from your play space and call out when 10 minutes remain.
Clean while customers play. You may even encourage players to open all six of their Draft Boosters right at the beginning to help your staff out.
Be ready to answer questions. The cards are new to everyone in your store, so some players may be unsure how a new mechanic works in context. Make sure your staff is ready to help or know where to find answers, such as in the release notes found on the Magic website.
The week before your event is prime time to advertise across your social media platforms, as well; you can find ready-to-post social media images on our marketing materials page that help make posting on social media a breeze.
Take Advantage of Your 30th Anniversary Promos
Magic's 30th Anniversary celebration continues with the next four 30th Anniversary Promo cards featuring standout cards from 2007, 2008, 2009, and 2010. In support of The Lord of the Rings: Tales of Middle-earth Prerelease, you'll receive Tarmogoyf (printed in Japanese), Glen Elendra Archmage, Acidic Slime, and Terastodon. Please keep in mind that print quantity on the 30th anniversary promos vary.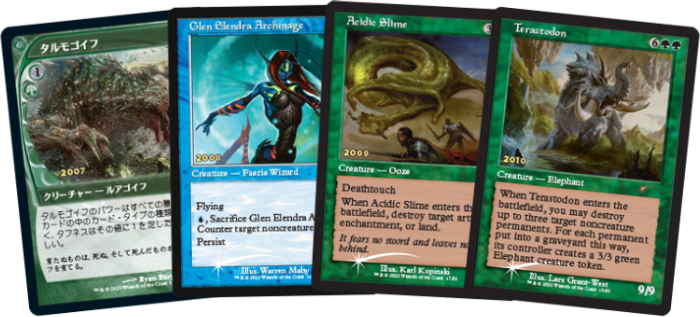 Whether you use your 30th anniversary promos to reward Prerelease pre-registrations or to a random player in your store at the 30-minute mark, these 30th anniversary promos are great tools for making your Prerelease event feel even more special to players.
Start Using Learn-to-Play Demo Kits In-Store
To help support your in-store demonstration experiences, we are sending The Lord of the Rings: Tales of Middle-earth demo kits to WPN stores across the globe. While these kits were expected to ship alongside your promo shipment, they will now be arriving later than expected—we will update your store with expected arrival dates as they draw closer.
Each demo kit contains the following:
One Learn-to-Play demo guide with gameplay mechanics, featuring artwork from The Lord of the Rings: Tales of Middle-earth
One Learn-to-Play Playmat featuring artwork from The Lord of the Rings: Tales of Middle-earth
WPN Premium stores in the U.S. and Canada will receive an additional The Lord of the Rings: Tales of Middle-earth Starter Kit to help support even more Learn-to-Play experiences in your store. To drum up some ideas for how to run a perfect demo, check out this video.
Prerelease kicks off next week—use all the resources at your disposal to help it be the event that starts an epic season of events for your store.