Reaching WPN Premium is about giving your community the best possible service, and that includes creating a space they want to spend time in.
There are many ways to do that—and it doesn't necessarily require massive square footage or any particular floorplan to provide an inviting place with exceptional service that your community of Magic fans and players will love.
Take it from these Premium stores—they've all reached Premium with unique approaches to engaging, welcoming, and delighting their communities.
Tiny Community, Tinier Space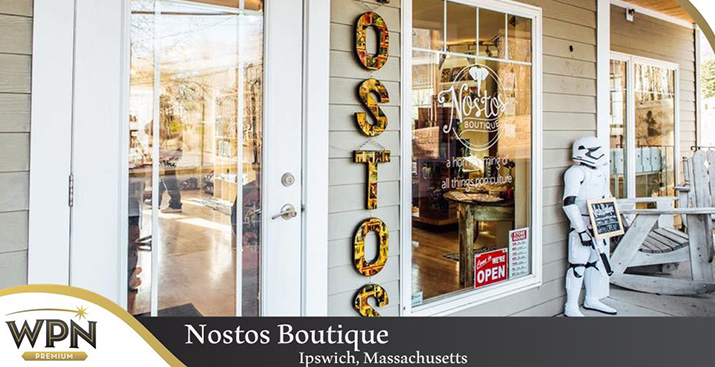 Krisy Viola of Nostos Boutique created a homey, comfortable atmosphere for her small community in a tiny space. "When I first opened my store, I knew I wanted to design it in a way that was unique and that stood apart from other similar stores," she says.
"People spend a lot of time in gaming shops... I really wanted to make a space that felt like home, so anyone who came in would feel comfortable and would want to spend an extended amount of time here."
Her store is outfitted with intentional aesthetic choices to maximize that comfortable atmosphere within her limited square footage. "I wanted to create a bright, clean, welcoming, well-curated space that people want to spend time in," she says.
Krisy knows that these efforts are paying off. "I feel like that helps build community and is one of the things that draws people to my shop and makes them want to play and shop here!" she says.
Fantasy Adventure Meets a Cozy Living Room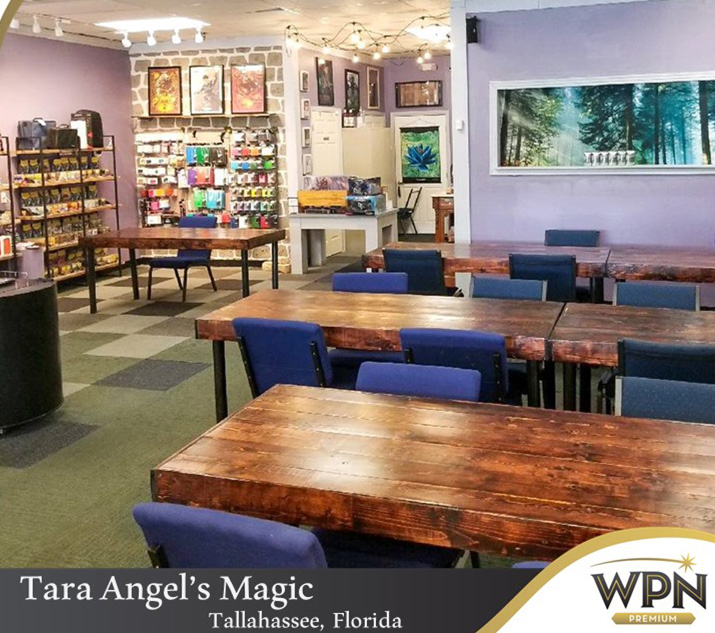 Tara Craig of Tara Angel's Magic cultivated a space that invites customers in and encourages them to enjoy their stay. "Our goal was for our customers to experience our store, not simply shop here," she says.
"We looked to our local coffee shops, Disney Parks, and the world of D&D for inspiration. We brought in wooden tables that were inviting and cozy and stone accent walls reminiscent of a D&D adventure."
There's a lot to experience—unexpected color choices, including pastel purple, are set against stone accent walls and help make the beautiful wood tables pop. The overall aesthetic creates the feeling that you're playing your favorite game in an incredibly cozy fantasy living room.
Tara also knows that creating a welcoming, cozy environment goes beyond how the shop looks—great customer service and connection with the community are key. "Everyone is greeted with a 'Welcome in' and a 'How's your day?' We truly care about the answer! Give us a week and we will know your name, too!"
Speakeasy Vibes in 120 Years of History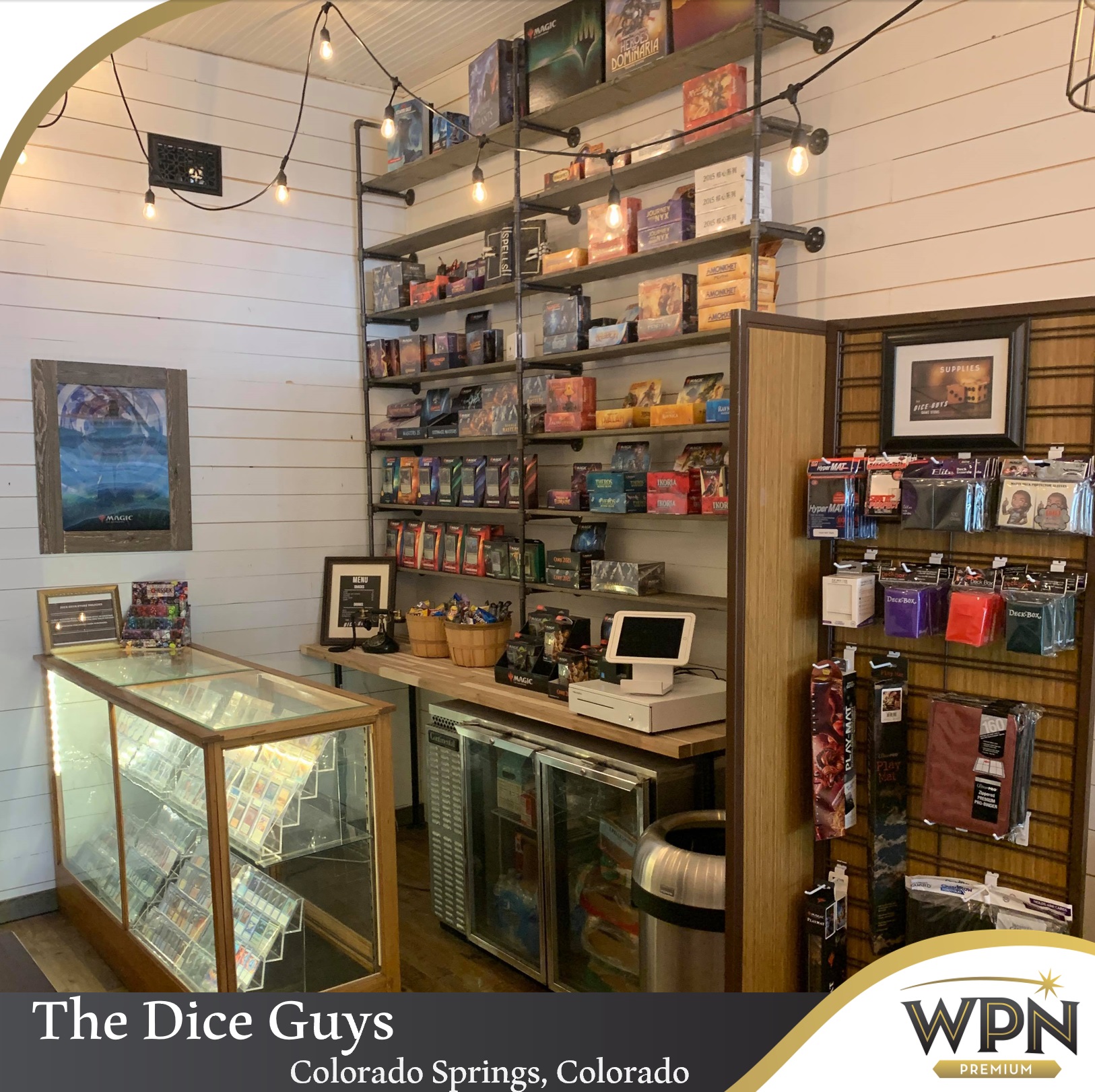 "I've always been attracted to whatever the norm is not," says Adam Stepan of The Dice Guys. "I imagined a game store with a unique design that focused on an in-store experience similar to the way a speakeasy event venue feels," he says.
When designing the space, the building itself provided most of the team's inspiration. "The 120-year-old building we now call home was the driver for almost all of our design vision. We wanted floors, walls, and finishes that felt and looked 120 years old, while providing modern day comfort."
Adding to the mystique of a 120-year-old building is the transition from the crisp, curated storefront into the massive gaming space hidden down a long hallway.
"There is something magical about walking into a cozy game store, then walking down a long hallway, and though a door that opens into a hidden lair with tons of seating, food and drink, and a plethora of in-house games to play," says Adam. "It's a fantasy land for gaming aficionados."
High-Class Experience for All Shoppers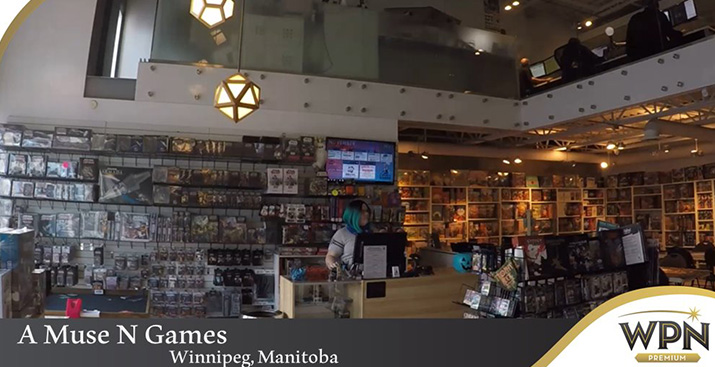 Scotia Buchan of A Muse N Games drew on her favorite shopping experiences outside of the game industry when crafting the aesthetic of her store.
"At the top of those lists were Apple, Indigo, Birks, Coach, and a couple of little shops I used to go to when I was younger that focused on handcrafted local items that showcased them beautifully," she says. "I still remember the awe of walking in to this day."
While certain fixtures, like the store's stunning dice-shaped light fixture, call out to gaming fans, Scotia is eager to create a retail experience that is enjoyable for all shoppers. "We want to appeal to gamers and families who game but also to their friends and family… We want to put the grandmas with a birthday or Christmas shopping list at ease when they enter."
While these stores all have extremely unique styles, they have one thing in common: a space that both their community and new shoppers love spending time in. And that commitment to creating unique, accessible spaces helped each of them reach Premium.
Ready to start creating your own success story? Now is the perfect time to apply for the path to Premium! Your Retail Development Specialist is there to help guide you. Learn more about the process and how to apply with our step-by-step guide to applying for Premium.