Colossal-sized constructs. Sparks. An epic clash of larger-than-life robots. The fate of the multiverse is at hand, and for one set, Optimus Prime is rolling to the rescue —and Megatron's army of Decepticons are hot on his heels.
For the first time, Magic: The Gathering Universes Beyond brings a crossover to a premier Magic set: Transformers is joining The Brothers' War! Like any crossover, take advantage of the opportunity to market this reveal to Transformers fans to boost preorders on The Brothers' War products.
Appeal to New Fans with a Familiar Universe
A total of 29 Universes Beyond Transformers cards will join The Brothers' War lineup, split between two of the franchise's factions: the righteous Autobots and the power-hungry Decepticons. Each Transformers card is double-sided, allowing them to "convert," helping Transformers fans feel right at home when they play with these cards.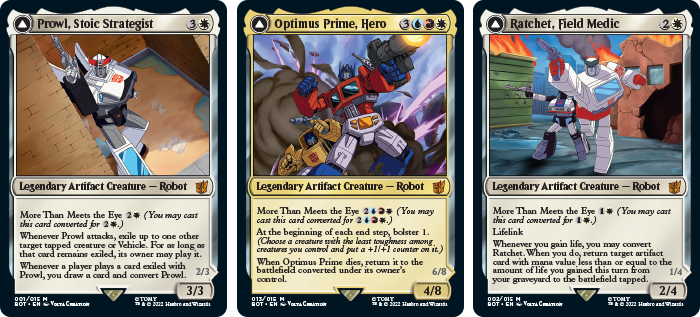 Universes Beyond Transformers cards can be found in The Brothers' War Set and Collector Boosters.

The arrival of the Transformers cards brings a bonus for comic book fans: 14 of the characters are also featured using their designs from the comic series by IDW Publishing, Transformers: Shattered Glass, also featured in the Hasbro toy product line. These comics present a malformed reality, where Autobots are evil and Decepticons are heroic.
Each of the 14 Transformers: Shattered Glass robots appear in The Brothers' War Collector Boosters in traditional foil and nonfoil with alternate art and a special Shattered Glass treatment.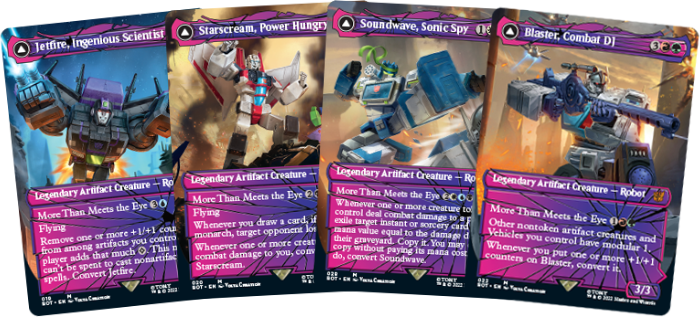 Share these cards with avid comic fans in your community to spark more conversations around the crossover and invite interested players to preorder Collector Boosters from you.
Guide Interested Players to the Gift Bundle
The Bundle: Gift Edition is a great product to get players connected with the Universes Beyond Transformers cards. Each Gift Bundle includes eight Set Boosters and one Collector Booster, plus one foil Mythic Rare Universes Beyond Transformers card. The Gift Bundle's oversized Spindown is blue with red paint, and features the Transformers set symbol.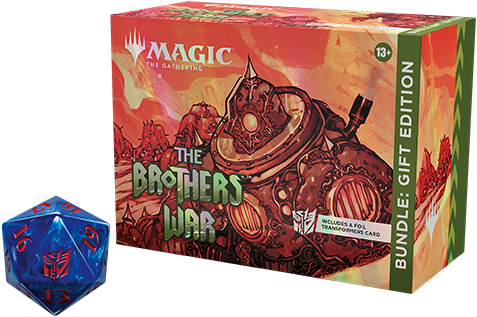 Whether the Transformers fans in your community have been around since its early days with the 1980s cartoon, are long-time toy collectors, or picked up the franchise later with the comics by IDW Publishing, you can welcome them to the Magic community with relevant products to have the opportunity to see their favorite bots in action.
Continue using downloadable marketing materials to drive event sign-ups and encourage preorders for your entire lineup of The Brothers' War products.