Commander Legends Release has been rescheduled for 11/20. Prerelease events will now run from 11/13–11/19.
The release of the first ever Commander-focused booster set is sure to have your players talking—and probably asking a few questions. Here's everything you need to know to answer those questions about what's inside the Commander Legends product lineup.
Get more details about each Commander Legends product, like dimensions and packaging specifics, here.
Before we dive into the sealed Commander Legends products, let's go over the set's two exclusive promos.
What's the Buy-a-Box Promo?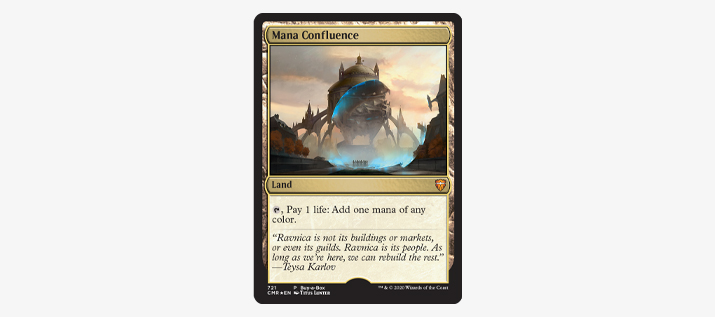 The Commander Legends Buy-a-Box Promo is Mana Confluence—and it can't be found in boosters.
We heard your feedback about how allocating the Buy-a-Box promo across different booster boxes would be helpful, both to manage Draft Booster supply during Prerelease and to encourage players to pick up the product that they really want.
So, we're updating the Buy-a-Box Promo policy to include Buy-a-Box Promo allocation guidelines:
Provide one (1) Buy-a-Box Promo card to each customer who purchases a full display box of any Magic: The Gathering booster packs of the associated set.
You are free to allocate the Buy-a-Box promos between different booster box types as you see fit. If you choose to do so, we suggest a split of 40% for Draft Booster Boxes, 40% for Set Booster Boxes, and 20% for Collector Booster Boxes.
In the case of Commander Legends, that means you can hold on to Buy-a-Box promos and hand them out when Collector Boosters release on November 20 if you'd like—how many promos you allocate for those boxes is up to you!
(Note: Commander Legends does not offer Set Boosters. The above is an amendment to the Buy-a-Box policy as a whole.)
What's the Participation Promo?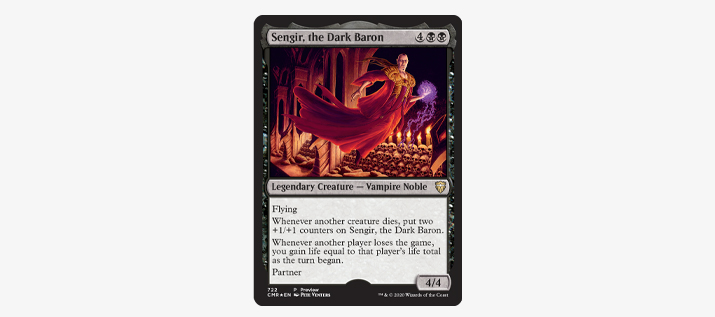 Players that enroll in any Commander Legends Prerelease event using Magic Companion (or just a Wizards Account—meaning, they aren't entered into EventLink as a guest) earn the participation promo—Sengir, the Dark Baron—while supplies last. The Dark Baron is found in boosters, but you won't see this foil alternate-art version anywhere else.
Don't forget: You can only schedule Commander Legends Prerelease on EventLink. In-Store (excludes US, LATAM, Europe, and Russia), At-Home, and Remote Prerelease are all available, so schedule your events today.
What's in a Commander Legends Draft Booster?
Every Commander Legends Draft Booster Pack contains two legendary cards. Some are reprints of classic commanders, others are among the seventy-one potential commanders introduced in the set.
Commander Legends also debuts a special kind of foil—foil-etched cards with beautiful metallic frames. In some Commander Legends Draft Boosters, you can find a foil-etched showcase legend or regular foil borderless planeswalker.
Each Commander Legends Draft Booster contains 20 Magic cards + one ad/token, with two legends, at least one rare, and one foil.
Commander Legends Draft Boosters are available in English, German, French, Italian, Spanish, Japanese, Traditional Chinese, Simplified Chinese, and Portuguese.
How to Draft Commander Legends
Speaking of Draft Boosters, how exactly does Commander Draft work? We're glad you asked!
1. Grab 3 Boosters and Draft 2 Cards at a Time.
Unlike in other forms of Commander, you can draft and play as many copies of the same card as you want. Remember to keep an eye out for powerful legendary creatures to play as your commander!
2. Build a 60-Card Commander Deck.
Add in some lands and build your deck. Let your commander guide you! Each legendary creature in the set can shine with the right suite of cards backing it up. Read them carefully and look for cards that support their strengths.
3. Battle it out with 4–8 Friends.
Draft with four or eight players, then play games in groups of four.
What's in a Commander Legends Collector Booster?
Collector Boosters are a shortcut to the coolest cards in Commander Legends.
Collector boosters are the only Commander Legends booster packs where you're sure to find foil-etched legends—there are two to three in every pack.
Every Commander Legends Collector Booster pack contains five legendary cards, with at least one showcase mythic reprint.
Not found in any other Commander Legends booster packs, Collector Boosters contain at least two extended-art cards, with a chance of up to five.
They also include up to six assorted rare and mythic rare cards, with a minimum of four rares in every pack.
Here's a breakdown of what you'll find in a Commander Legends Collector Booster:
2 extended-art cards (1 C/U and 1 R/M)


1 foil-etched showcase legendary mythic


1 foil-etched showcase legendary R/M or foil borderless planeswalker


1 foil-etched showcase legendary uncommon or foil-etched showcase Prismatic Piper


1 foil rare or mythic rare (30% chance of extended-art foil)


2 foil legendary U/R/M


2 foil uncommons (each with a 20% chance of being upgraded to a foil extended-art common or uncommon)


5 foil commons


1 foil token
Commander Legends Collector Boosters are available in English, German, French, and Japanese.
What's in the Commander Legends Commander Decks?
Designed as an introduction to Commander, these decks are ready-to-play right out of the box, without sacrificing the richness and depth that made Magic iconic.
These Commander decks debut three cards each, plus they're loaded with reprints.
Each deck contains 1 ready-to-play deck of 99 Magic: The Gathering cards, 1 legendary foil commander card, 10 tokens, 1 deck box (can hold 100 sleeved cards), and 1 life tracker.
Commander Legends Commander Decks are available in English, German, French, Italian, Spanish, Japanese, Traditional Chinese, Simplified Chinese, Portuguese, and Russian.
Commander Legends Prerelease starts November 13. Schedule your events in EventLink today.