You already know that a strong community base is a vital part of the Magic experience, especially as you navigate new ways to keep fans engaged. Not only does it keep players connected, but it also keeps them invested in the success of their community and of your store.
In case you missed it, we partnered with Discord earlier this year to help ease the process of creating your own online community.
The folks at Discord put together a customized template for WPN members so that you can launch a place for players to chat, find matches, trade, and more, with a single click.
That WPN template isn't the only feature that makes Discord a great place for your community. Check out these three cool features for keeping your players connected and engaged:
Channel following
Bots
Video and voice channels
1. Channel Following: Get Updates from the MTG Twitter Feed Directly on Your Discord Server
Discord's newest feature is called "channel following," and it makes getting information to your community even easier. With channel following, it's easy to start discussions around the latest news.
Here's how channel following works.
When you follow any channel on Discord, including a Wizards-related channel, it works the same as any social media platform—you can see posts in real time within that channel's feed.
Discord gives you the option to add that feed to a channel within your own Discord server. That means anyone who follows your channel will also see the feed you follow on your server.
You can read more on channel following here.
For the MTG channel, we're filtering the official Magic Twitter right into a channel of your choosing on your Discord—there, fans can interact with posts in real time within your community.
How to Set Up Discord Channel Following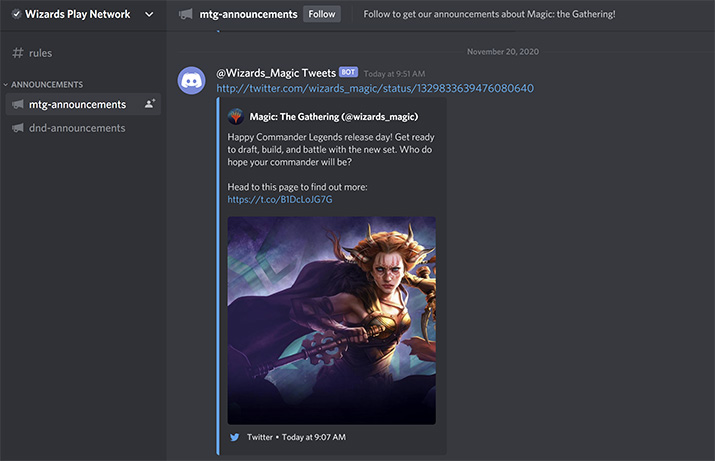 First, go to the MTG channel. (We'll send a link to it via email. More on that in a moment.) Then, choose "Follow."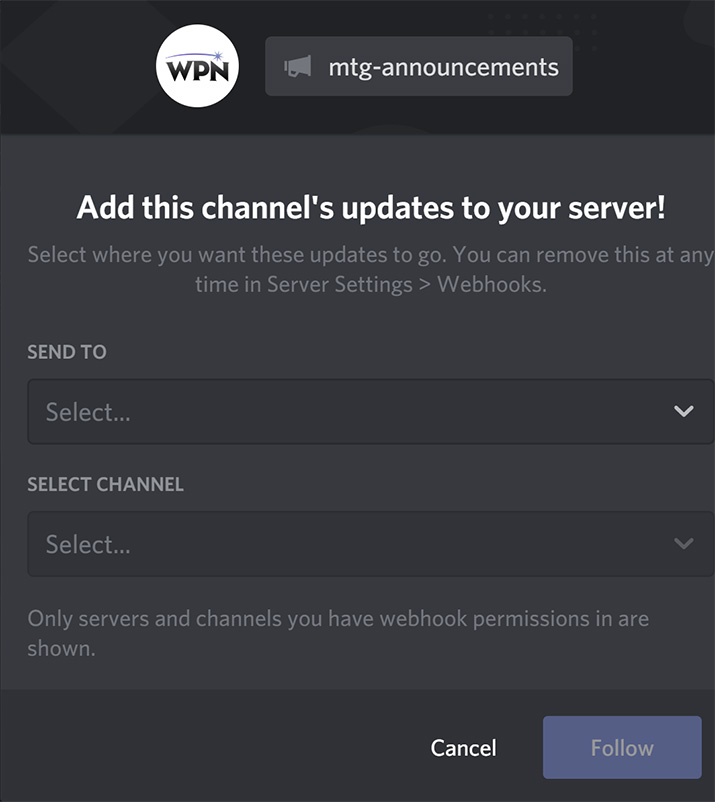 A window will then pop up giving you options for where you'd like those announcements to appear on your own server.
That's it! Now, anything posted in the MTG channel by Wizards will automatically show up right in your channel of choice, and your community can react and discuss in real time.
This new feature provides a great opportunity to stay connected to your players by seeing what interests your community—when you know for sure what they want, you can be sure to offer it to them!
Where to Find the MTG Discord Channel
This Discord channel was made with WPN members in mind, so today we sent you a link directly to it. Check your inbox now. Click the link, follow the steps above, and you're ready to go!
In the future, we hope to offer more channels with specialized feeds, so stay tuned!
2. Voice and Video Channels: The Online Version of Your Store's Play Space
Discord's voice and video channel options make setting up a game of Magic as easy as clicking on a channel.
But we know your community does more than play in your shop. They hang out between matches, they make friends, they talk about their favorite games—and Discord's voice and video channels can help that happen digitally, too.
Voice and video channels always exist on your server, which means players don't have to make individual calls to set up a match. If someone wants to chat, they can hop into a voice or video channel and see who's around, just like they'd chat with whoever was waiting on their next match in-store.
Screen sharing and streaming are simple in video channels too, so that an impromptu game of Commander is just a click away.
Building a strong online community is a Premium-level enhancement that keeps you in direct contact with your players, so take advantage of these Discord features to strengthen your online community today. And check your inbox now for the link to our MTG channel!