Jordan Bird: Building Communities & Running Events On Discord
May 11, 2020
|
6 min to read
Jordan Bird, Game Grid Lehi
In our industry, growing the player community has always been the key to success. But the coronavirus pandemic slammed the brakes on everything, and with our normal model disrupted, we have to rethink our entire business.
At Game Grid, we are using Discord as a platform to reinvent how we interact with our players, run events, and keep our community engaged—with each other and with our store.
In the last month, we have continued investing time into rebuilding our connection with our community on Discord. Because of our efforts, we now have over 500 players using our Discord Server.
Using this tool, we've been able to successfully host a Challenger Deck $1k Launch Event, run two Sealed leagues, and we're currently running ten Magic Tournaments every week. And with Ikoria right around the corner, we'll be able to run our normal prelease schedule using Discord.
It's a lot like our traditional business model, but with a new set of tools. If you're ready to rebuild and reconnect with your player base, here's what we are doing and how you can get started.
Step 1: Download Discord and Create Your Server
Click here to download Discord.
If you're familiar with Discord and want to start your own server from scratch, go ahead! But if you need some guidance, Wizards worked with Discord to create a server template you can use to start your community with a single click. Get details here.
Step 2: Create Your Categories and Channels
You can organize your categories (a broad topic of discussion) and channels (smaller sections within each category) however best serves your community. Here are some of ours, for an example.
Use Categories (the left side menu, under Game Grid Lehi) for different hobbies and games.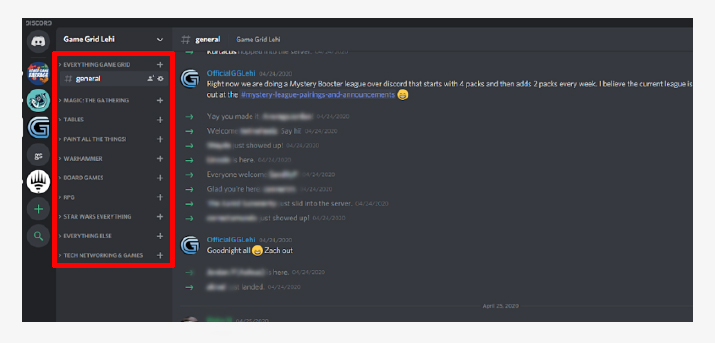 Use Text Channels (still on the left, now under each broader category such as Magic: The Gathering) for different conversations.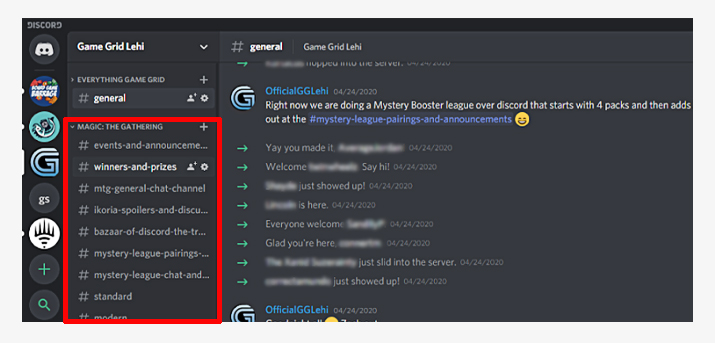 Use Voice Channels for different tables during events so players can chat during their game.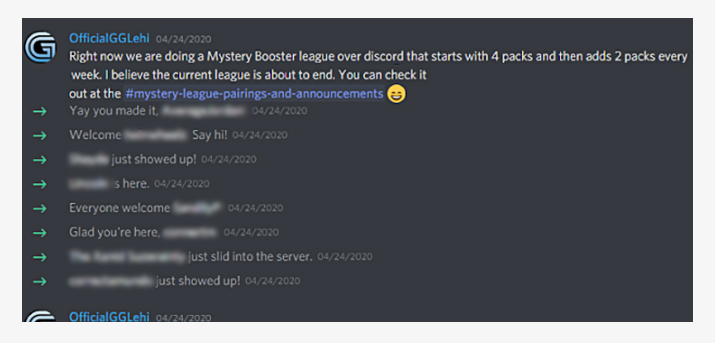 Add a description to each of your channels, giving your players a brief overview of what kind of discussion the channel is meant for.
Step 3: Set Up Roles
We use roles for two important reasons—tagging and access control.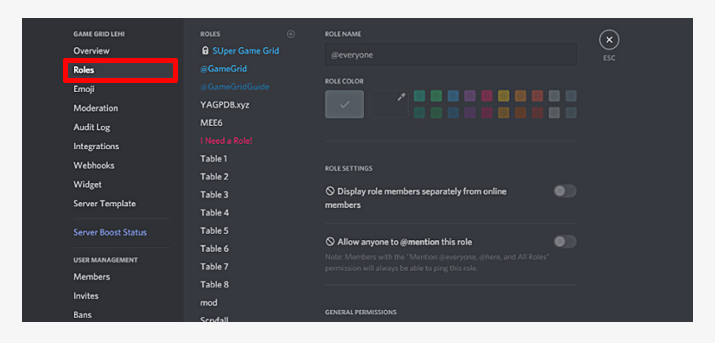 Tagging
Discord Servers can get busy! Lots of people talking = lots of notifications. This means that a lot of people end up muting all notifications, which in turn means they won't see your posts either.
By assigning players Roles based on the games and formats they play, they can set Notifications to only "@mentions." Then, when you post a message relevant to their game and tag their role, they'll still be notified and won't miss out on the start of an event, and your messages will be read! It's a win-win.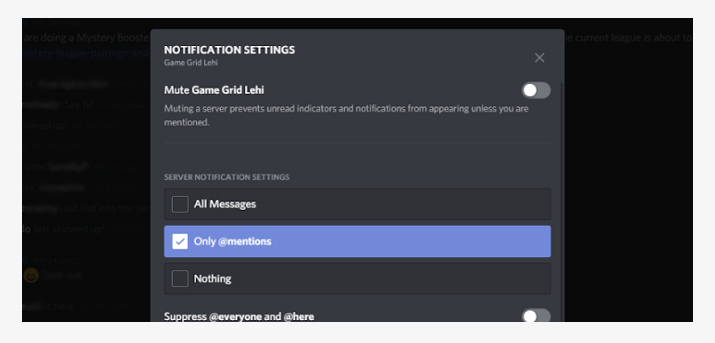 Access Control
On each channel, you can determine whether Roles can Read Message, Send Messages (post), or neither.
For example, we have a Staff channel that only the Game Grid and Super Game Grid roles can read or write in. In our Winners and Prize Support Channel, everyone can read and add reactions, but only the Game Grid Role can write and send messages.
Step 4: Automate All The Things!
You'll rapidly get tired of typing out heart-warming, witty messages welcoming new members, explaining how your server works, and manually assigning Roles to everyone.
Thank goodness there's a Bot for that.
Mee6 is the Discord Bot we use to automatically post a welcome message that points new members to rules and how to use the Discord when they join, create event schedules, and, for fun, add a Level System that rewards players for talking on our server.
(You may notice that we created a #rank-spam channel just for the levels bot—it gets annoying after a while, but some people love leveling up so we keep it.)
YAGPDB (Yet Another General Purpose Discord Bot) is the bot that we use to let players choose their own Roles.
Step 5: Play Magic!
Now that your Discord is set up, you're ready to get players on your server and start hosting events!
Once your players are on your server, you can post pairings by tagging each player, then players can click on their opponent's name and select Call to start a video chat.
<"img src=https://media.wizards.com/2020/wpn/w20/w20_image6.jpg">
Finally, I've created a few video tutorials on how our Discord Server is set up, some example video setups, how to use your Android phone as a webcam for your PC and more! You can find the whole playlist here.
Investing your time into creating a new space for your customers to play, "meet up", and reconnect with each other over shared hobbies and interests continues to be the key to success, even if the tools we use are a bit different.