Wilds of Eldraine Prerelease begins September 1, and now is the time to ensure you've got everything prepared to run a fantastical event that returns your community to the fairytale plane of Eldraine. Today, we'll recap a few reminders to help you hit the ground running next week.
Starter Kit 2023 Included in Prerelease Early Sales
As part of the extension of Prerelease Early Sales for Wilds of Eldraine, you may also sell Magic: The Gathering Starter Kit 2023 alongside the full product suite at Prerelease. That way, new players that may demo it in your store over Prerelease week can take it home to continue their Magic journey!
Please note: Prerelease Early Sales is not continuing in Japan for Wilds of Eldraine, which includes the Starter Kit 2023.
Prepare Your 30th Anniversary Promos
Take your 30th Anniversary Promos out of your kit and prepare them to be passed out during your Prerelease event! Whether you choose to hand them out to every participant, reward players for repeat play, or choose another method entirely, these promos will really help the occasion feel special to your players.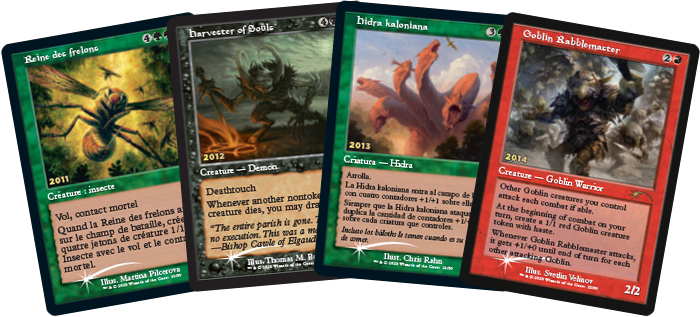 As a reminder, Kalonian Hydra (printed in Spanish) has a lower print quantity than the other three 30th anniversary promo cards for Wilds of Eldraine.
Share Open House Details During Opening Announcements
Taking place over release weekend (September 8 – 10), Open House is a key opportunity for your store to engage with a fresh wave of new players and encourage them to return to your store throughout the season. Your enfranchised players can bring their friends or family along or take part in the action as a mentor for someone new.
You can run demonstrations using the Starter Kit and send players off to play casual games using those decks, or pair new players with experienced mentors in Two-Headed Giant faceoffs using Jumpstart 2022 packs. For more details on the event, visit the event page.
Add any details about your Open House event to Prerelease opening announcements—and be sure to give your players a path to pre-register for the event before they head home. Capturing interest early and often is one great way to boost event attendance and repeat play habits within your community.
Use the remaining days leading up to Wilds of Eldraine Prerelease to focus your community's attention on the set. Share marketing materials on your social media channels and hype up the card reveals. Be sure to promote your event's preregistration page and secure any last-minute players before the journey to Eldraine begins.