Details About Our Two New WPN Play Programs
August 24, 2021
|
2 min to read
Today we're sharing everything you need to prepare for what's new as we extend our in-store play programs to include Store Championships and Commander Parties.
Store Championships—December 4-5
It's back and better than before! This twice annual one-day tournament is available to all WPN stores where in-store play has resumed. It has the spirit of Game Day and so much more. If you haven't already, check out the video featuring Magic caster Maria Bartholdi who explains all the details.
The big picture? This event is all about bragging rights and awesome prizes. Every WPN store can sign up now in EventLink to run Store Championships in Limited, Standard, Pioneer, or Modern formats. Scheduling is officially open! And as for those prizes, we're sending you goodies to give out to everyone.
40 Arbor Elf promos for participation (120 for WPN Premium)


8 Collected Company promos for top eight


1 Wurmcoil Engine promo for first place
Additionally, stores that reached  WPN Premium by July 24 will have their store name printed on the Collected Company and Wurmcoil Engine promos.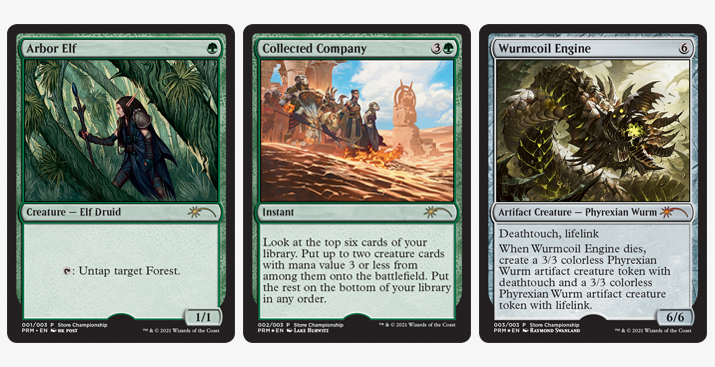 We'll be taking a closer look at Store Championships soon so be on the lookout.
Commander Parties—October 30-31
We announced this new WPN Premium only program earlier this month, and today we're sharing more details about what we have planned. WPN Premium stores will be the first to experience these one-day immersive parties that take place October 30—31 where in-store play has resumed.
With this event, your players can experience Magic and Commander play in an entirely new way and you can get new players involved—it's a casual event they won't forget. As a refresher, here's how they work:
The setup is based on a narrative tale within the world of Innistrad. Players, who are split into pods, will experience the story from beginning to end during the event. Players only need a Commander Deck to participate. If they show up empty-handed, it's a great opportunity to sell them one of the two new Commander Decks for Innistrad: Midnight Hunt so they can join.
First, you'll hand out a faction card to each player. Throughout the event, a video guiding the players through the story will ask the player with the most of a resource to raise their faction card in the air—the faction with the most raised cards moves forward a space on the game board, where each space provides an in-game bonus for all players in that faction.
As a reminder, you can host one of these exclusive events by reaching Premium designation by September 24 – and you'll get everything you need to run a successful Commander Party and extra exclusive goodies to hand out to every attendee who shows up, including a Conjurer's Closet participation promo.
Already Premium? Sign up now via Wizards EventLink today to start the immersive fun. Stay tuned for more information and a deeper dive into Commander Parties next month.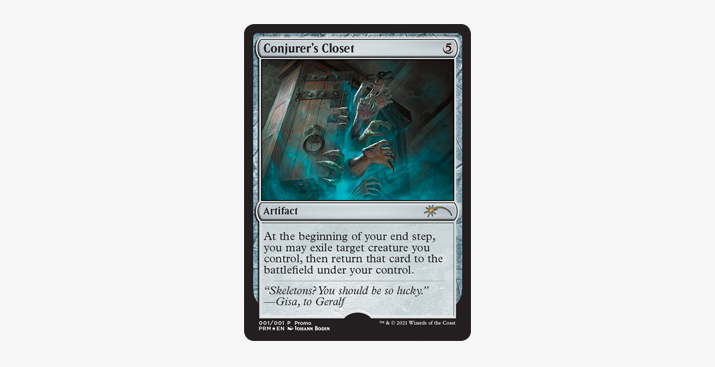 Continue building hype for more social, in-store Magic experiences this season by scheduling your Store Championships and Commander Parties in Wizards EventLink.