Introducing Welcome Boosters, Coming With M21
June 4, 2020
|
1 min to read
Jacob Nourigat, In-Store Play Specialist
As the person in charge of in-store play here at Wizards, I spend a lot of time thinking about how to get new players into events and how to keep them coming back.
While in-store play has been in an unusual and challenging place over the last few months, we want to help WPN members get ready to hit the ground running by bringing new players into their communities once they're ready to do so.
With Core Set 2021, we're rolling out a new and improved new player experience to do just that.
We started with data. We wanted a new player experience that would introduce new players to the game in the same way our most engaged fans were introduced to it. So, we dug into the numbers to find out who those fans are, and how they got their start.
What we found surprised us—they almost never started the way we thought.
For example:
Less than 5% of Engaged Players learned to play with a Welcome Deck.
When we surveyed our Engaged Players, only 4.7% started with a Welcome Deck.
Welcome Decks, and all new player-focused promo items we've used for the past few years, try to make learning Magic as simple as possible. But players don't play Magic because it's simple. They like the challenge.
Welcome Decks don't showcase that side of Magic. There're no surprising combos to pull off, no multicolored synergies to explore. You won't find many existing Magic players who are super interested in playing Welcome Decks against one another for hours on end.
If less than 5% of players learn to play from Welcome Decks, and they don't showcase the real fun of Magic, then they aren't getting the job done—no matter how much we love them.
So, we're discontinuing Welcome Decks and pivoting Magic's new player experience to showcase the coolest parts of Magic and how amazing the game can be right out of the package.
The first part of that experience is Welcome Boosters.
Welcome Boosters show new players everything that makes Magic fun.
Inside every Welcome Booster are ten cards, including powerful rares, beautiful art, and even a Planeswalker. All five colors are represented as well as features associated with different formats, such as legendary creatures for Commander like Niv-Mizzet, Parun. (Niv-Mizzet appears in Welcome Boosters but does not appear in M21. This printing has no effect of Niv-Mizzet's legality.)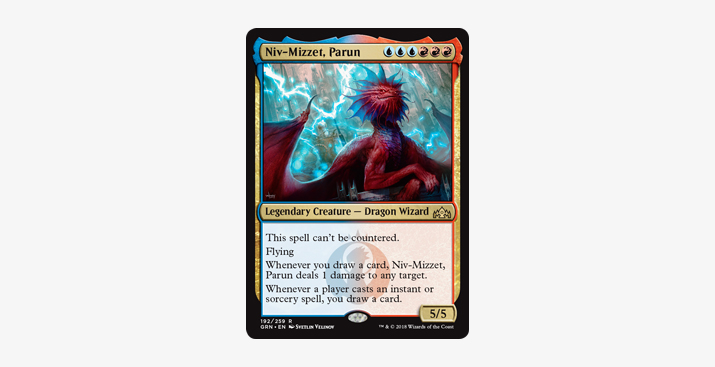 The ten cards found in Welcome Boosters are hand-selected by Magic's design studio, and they'll be refreshed with each new Standard set to keep the cards relevant. They also include informational cards that will guide the new player to potential next steps on their Magic journey.
In certain regions, they also include a code for Magic Arena that redeems for an introductory deck.
We picked these cards to appeal to three different reasons players get into Magic—collecting, socializing, and mastering the game. Welcome Decks don't really show a player what their next step is in the Magic ecosystem. But Welcome Boosters give players a taste of what they can find in Magic, so they can decide what interests them most about the game and dive in.
Once a new player knows what they like about Magic, you can point them to the right product for their needs.
81% of Engaged Players started playing Magic through friends or family.
That same survey of our Engaged Players showed that a colossal 81% of them were introduced to Magic through friends and family.
When such a huge percentage of new players are coming to the game this way, it's important to provide them with the experience they want to have rather than a one-size-fits-all new player experience.
If a player wants to start because their friends play Commander, sell them a Commander Deck. If they want to start playing competitively with their friends, sell them a Challenger Deck. If they just want a low-barrier way to start and play with a friend at home, the Arena Starter Kit is a good option.
To reach out to those new players and their engaged friends even more, we are also launching the Bring-a-Friend Promo this year. The first Bring-a-Friend Promo is Reliquary Tower, and you're receiving it with your Love Your Local LGS Promotion Kit.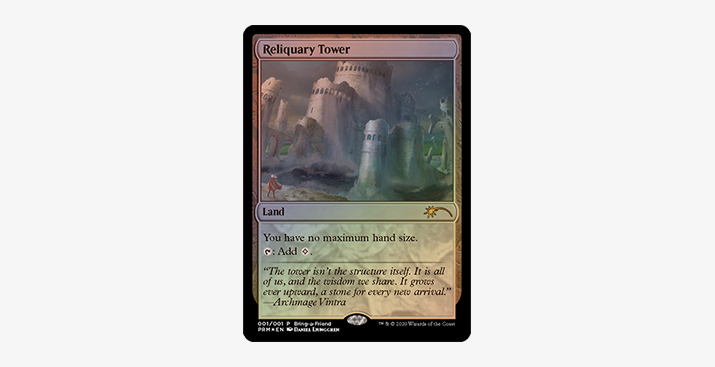 We originally designed the Reliquary Tower promo for the Bring-a-Friend promotion, but we repurposed it for the Love Your Local Game Store Promotion sales incentive.
Use any Reliquary Towers you have after your Love Your Local Game Store promotions as a Bring-a-Friend Promo. You'll see more Bring-a-Friend Promos coming out with each set to be used each season—expect more Reliquary Towers to be sent out with Zendikar Rising.
Bring-a-Friend Promos are simple: any time a player brings someone new into the store to play in an event, reward your existing player with the promo, and give the new player a Welcome Booster .
The data show that past events that offer specific promo cards saw an average increase of 15% in unique players. So, much like playing with friends and family is likely to get a new player interested in Magic, promo cards help bring in those friends and family in the first place.
New in-store Arena Starter Kits serve as demo decks that players can purchase.
Not everyone joins the game because of a friend. And that leads us to the second part of the new player experience: demo copies of Magic Arena Starter Kits for stores.
Arena Starter Kits contain two 60-card decks (including basic lands), two foils, helpful rulebooks, and codes to unlock the decks for two players on Magic Arena. If players like learning to play with a Starter Kit, they can buy one from you right then. And maybe they'll be the ones bringing a friend to your next event!
WPN members will receive five Arena Starter Kits in the new player experience kit alongside their Welcome Boosters (some regions will receive different demo decks based on Arena availability).
Unfortunately, this plan was put into motion before the COVID-19 crisis emerged. These five Starter Kits are meant to be store decks, reused and not given away to players, but we understand that people might not want to share cards right now.
We hope you'll use these demo decks however best serves your community while keeping safety in mind. We recommend all WPN members review best practices for event management as provided by the World Health Organization and Centers for Disease Control.
These new tools will give you new ways to bring players into Magic once you're hosting in-store play again. Most importantly, they teach new players the version of Magic their friends are already playing—and players who play with friends and family are the most likely to keep coming back.