LYLGS Europe Update: Welcome Players Back to Your Store with a Special Event
September 8, 2021
|
2 min to read
As play begins to return to stores in Europe, we wanted to share the full breakdown of our Love Your Local Game Store Promotion for this region, including new welcome back events!
Reminder: Hand Out Love Your Local Game Store Play Promos
In case you missed it, the previously announced Love Your Local Game Store play promos will arrive with your Innistrad: Midnight Hunt Prerelease materials. As a reminder, you can give them out as soon as they arrive, or as soon as you start running events again in your store.
Hand out one of these fan-favorite, foil, retro-frame promos for each event entry to keep customers coming back for more:
Aven Mindcensor


Dig Through Time


Bolas's Citadel


Goblin Guide


Scavenging Ooze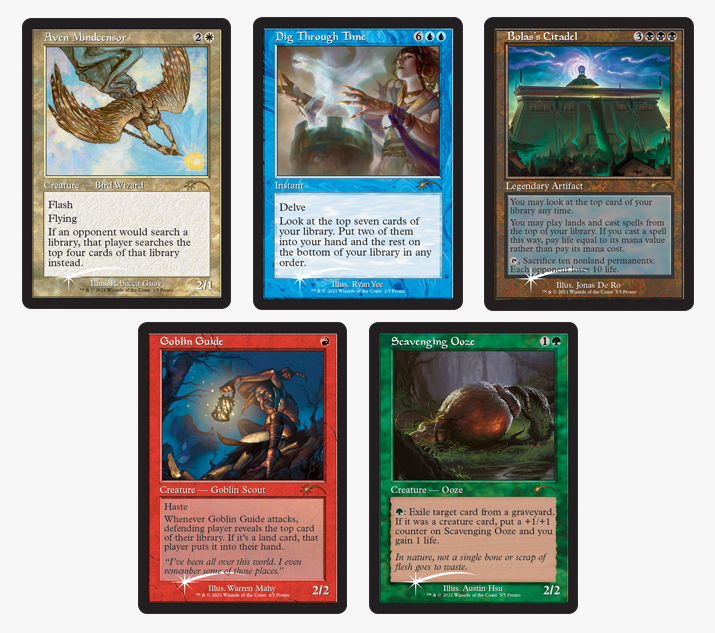 LYLGS Promotion Continues with Special Welcome Back Event
WPN stores in Europe will receive a kit from mid-October to run a LYLGS event to welcome players back to your store. This event does not have a fixed date, so you can run this for your community when you are able to host events again following local government guidelines, and when you are comfortable that it's safe for your staff and players. This event is only available in the Europe region.
This is a Sealed event where each player will receive one booster from each expansion that has been released while metrics have been suspended (Ikoria, M21, Zendikar Rising, Kaldheim, Strixhaven & Dungeons and Dragons: Adventure in the Forgotten Realms).
These boosters may be a mix of Set or Draft, but each store will receive the same type of booster for every player for each expansion. These will all be provided to the store free of charge, and WPN Premium stores in Europe will receive material to run two of these events.
Each kit contains:
One Draft or Set booster display from each of the six expansions released while play has been suspended (enough for 30 players to play in the event)


Top 8 pins


Winners LYLGS Playmat
Don't Forget! Play Metrics Reactivated from September 17
As a reminder, play metrics will be turned back on starting with Innistrad: Midnight Hunt Prerelease in Europe. Stores that can start running events from September 17 will have metrics counted from that time, so if a store exceeds their snapshot metrics, they will receive a higher amount of support.
By reporting events (in-store, webcam, and at-home) in Wizards EventLink, European retailers can maintain and grow WPN allocations.
We understand some stores may still be unable or not comfortable running events from September. Due to this, we will continue to use the snapshot metrics through January 2023, unless your store's current metrics are higher.
Schedule your event in Wizards EventLink today and be on the lookout for your kit materials and event prizes to help welcome players back to your store.