Release Notes: Two-Headed Giant Sneak Peek
November 10, 2021
|
4 min to read
By Bill Stark, EventLink Product Manager
11/10/2021
The EventLink and Companion teams have been hard at work on our next major feature push: Two-Headed Giant (2HG)! This experience will be the first time that players can join a Two-Headed Giant event using their own device, as well as receiving pairings, standings, and reporting match results themselves.
Today I'm here to give you a sneak peek at what the new feature will look like in EventLink.
Two-Headed Giant EventLink Sneak Peek
The EventLink events you've been running for months have two fields where players exist during registration:
The Companion App lobby contains individual players who have joined using the Companion app but have not been approved by you to enter the event. Many retailers use this "bucket" to check which players have paid and which players haven't.


The Registered Players lobby contains all players you have approved to participate in the event.
Two-Headed Giant changes three parts of this workflow:
The Companion Lobby contains individual players joining through the Companion app and teams of two-players who joined together using Companion.


The Standby List has now been added. This bucket contains any player you've authorized to participate in the event, whether coming from the Companion Lobby, added as a guest, or added using a Wizards Account without Companion while they wait for a partner to play.


The Registered Players lobby is now the Registered Teams lobby. It includes all teams fully authorized by you to participate in the event. Any player or team not in this group when you start the event will be unable to participate.
Here's what it looks like all together: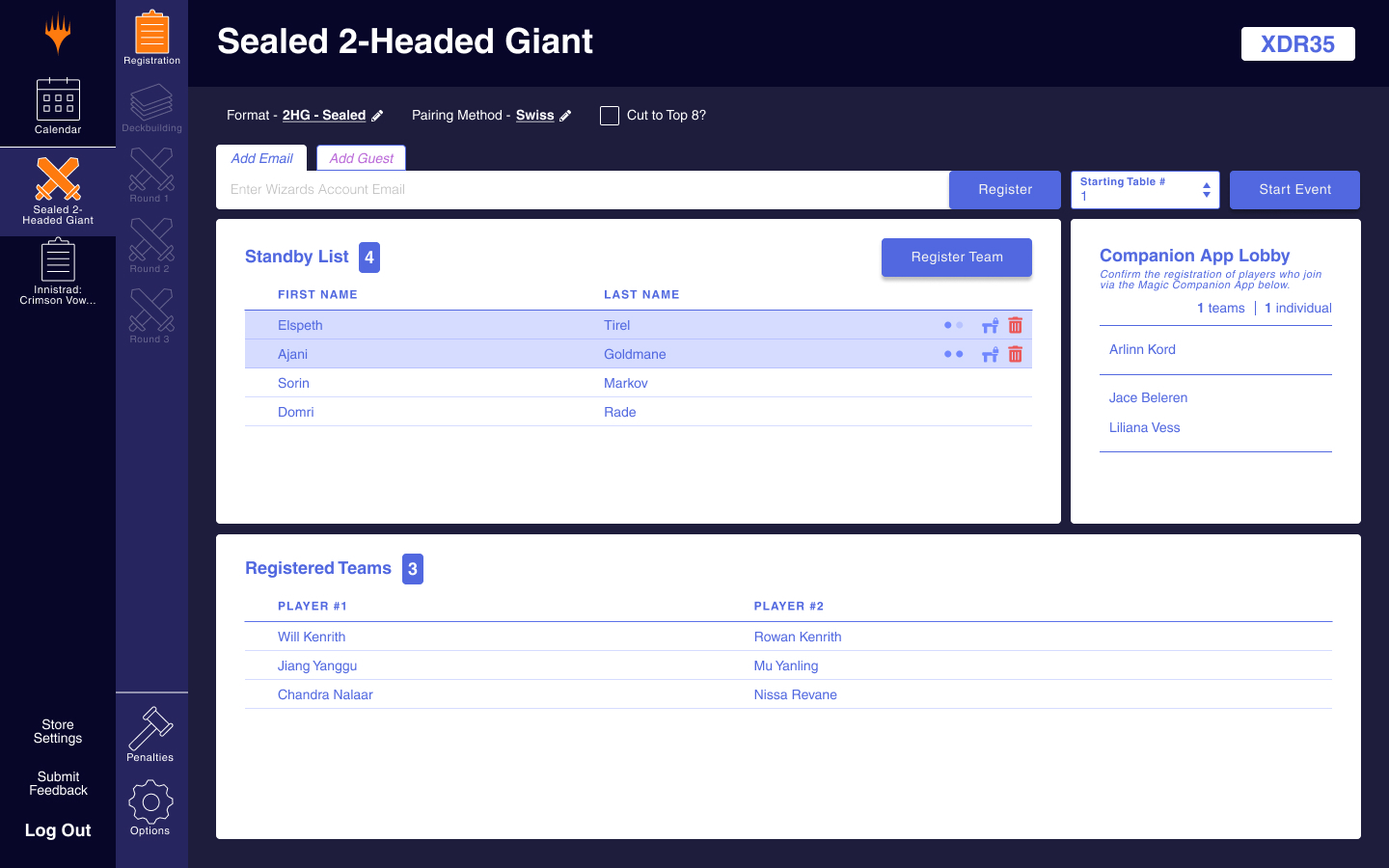 There are two primary methods for creating teams: players doing it themselves through the Companion app, or you doing it for them using EventLink. As the retailer and owner of the event, you always have final say on team construction. That means players can submit a single team through the Companion app, but you can change teams if needed.
Here's an animation of the process for creating a team in EventLink: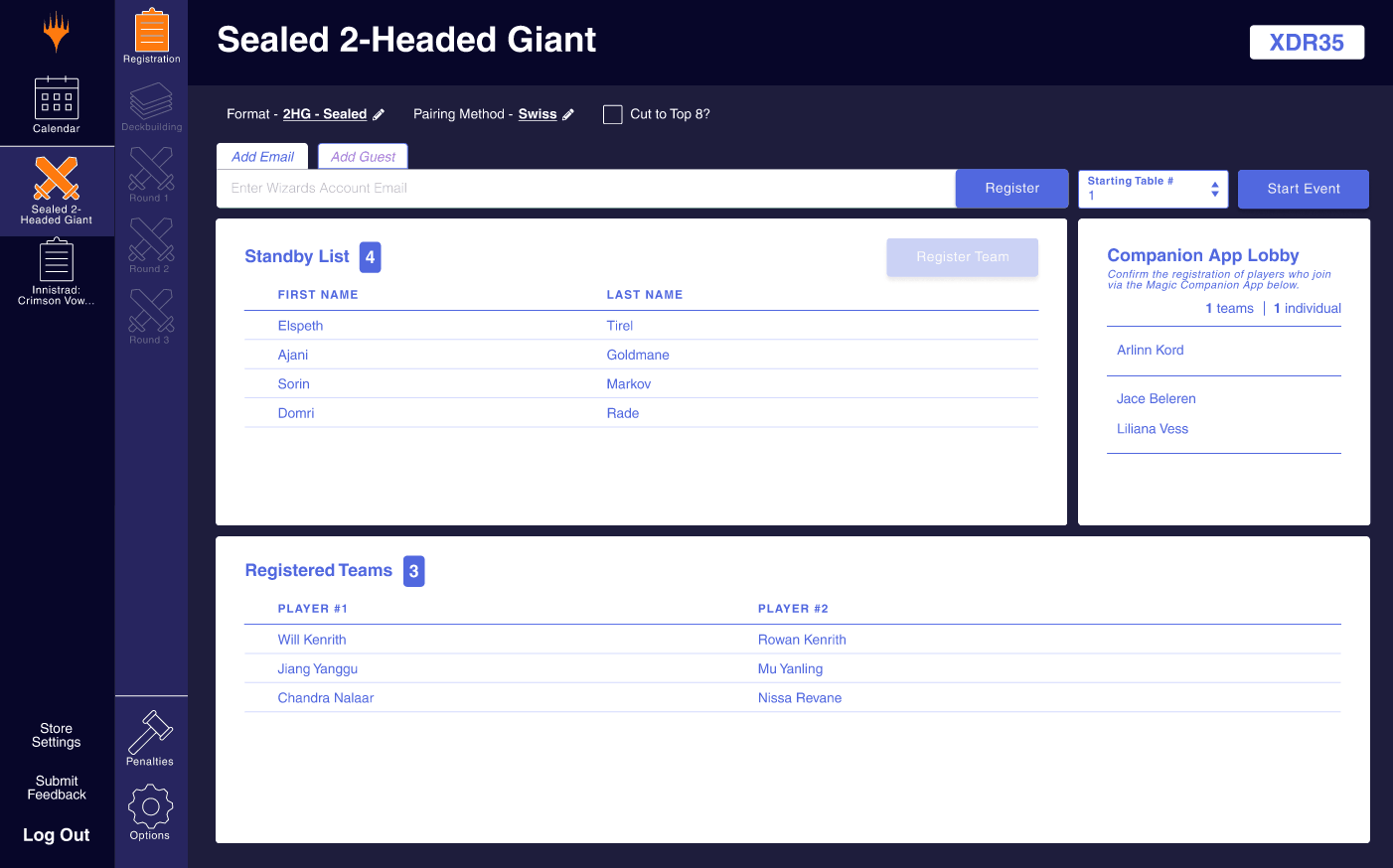 I'm very excited about this new functionality, and we expect it will deliver by the end of this year in December. We'll be taking feedback on the feature. As always, you can use the "Submit Feedback" button directly in EventLink to share your thoughts.
The first Prerelease with Two-Headed Giant will be Kamigawa: Neon Dynasty in February 2022.
In the meanwhile, if you want to use EventLink to run a 2HG event now, try this workaround:
Schedule a regular Sealed tournament event and input only the first player of each team into it. You can use that player's entry to create pairings and run the event.


To ensure you get proper credit for the second player on each team, create and submit a casual, player-list only event that includes the second player from each team.
Finally, here are a few answers to questions we regularly receive from retailers about 2HG in EventLink and Companion.
How will team names be determined?
To prevent inappropriate names from being displayed during events, team names are automatically generated on behalf of players. Users don't set what their team names will be.
Can players join 2HG events in Companion?
Absolutely! Players join your event using an event code just the same as they always have. Companion will recognize the event as Two-Headed Giant and automatically prompt them to add any additional information that's necessary.
Do both players have to use Companion to join a 2HG event?
The Magic Companion app is always an optional experience for users, including in Two-Headed Giant events. Zero, one, or two players from each team can use Companion and successfully participate in the event.
Note: For players not using Companion, you'll need to manually add them to teams using EventLink and make sure match results are reported properly throughout the event.
Can players create their own teams?
Yes! Using the Magic Companion app, players can team up with one another automatically. To register them when they do so, you only need to ensure they've paid and add them to the Registered Players lobby.
Can I, the retailer, change or edit teams?
Absolutely. Final say in the makeup of teams always lies with event staff. It doesn't matter if a team was made by players using Companion or by your staff. You can break up any team pairing and rejoin those players to other users at any time prior to an event beginning. You can also remove teams and players as needed, if a participant needs to leave before the event has begun.
When will Two-Headed Giant be available in EventLink?
The Dev team is hard at work, and we expect to have it released before the December holiday.