Your store's events are a prime space for players to gather, socialize, and have fun. As a retailer, you are both an event host and community manager; it's up to you to build and maintain the gaming community at your store.
A big part of a successful community is creating an environment at your events where both engaged and new players feel safe and welcome. Here are four ways you can encourage a welcoming environment at your events.
Emphasize Inclusivity
The first step to a strong gaming community is inclusivity—meaning everyone is welcome at the table. The easiest ways to show a commitment to inclusivity are:
Through your store's Code of Conduct


Proactively discouraging any unwelcome behaviors


Setting up your space to be accommodating for physical disabilities and players of all ages
Emphasizing an inclusive environment will lead to a more diverse player base, and a great place to highlight inclusivity is within your store's Code of Conduct. You may reference the WPN Code of Conduct for phrasing to help in the creation of a Code of Conduct in your store.
Keeping inclusivity top-of-mind may make it even easier to put fun first at your store. An inclusive environment goes together with a respectful one. In addition to referencing inclusivity in your Code of Conduct, proactively address and discourage any disruptive behavior. Having a certified Magic: The Gathering judge present at events can often help mitigate situations before they arise.
All certified Magic judges are trained in fostering a positive environment, as well as the rules and policies for sanctioned tournaments. While you can always look to them for guidance with a particular situation during an event, setting expectations with your regulars is an important step to preventing those situations from occurring to begin with.
If you're looking for judges or additional support in organizing your tournament play, Judge Academy is a great resource to get you connected with that community.
Accommodate All Players
Take some time to think about ways to make your store and events accommodating for all players. Make sure you or your event administrators are aware of EventLink features such as fixed-seating options for individuals with limited mobility.
Additionally make sure to account for the heights of children, width of wheelchairs, general acoustics, and lighting when considering everything—whether it's aisle width, where you stand when making announcements, or where you place your basic land stations.
Making your event space more accommodating makes your store more welcoming for all, and shows how much you care about your players, customers, and community.
Make Accessible New Player Events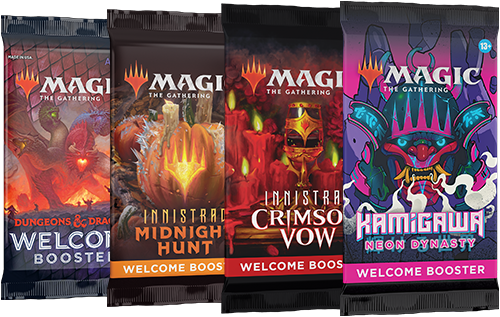 One way to make your events accessible is to create events focused on new players. Make sure these events are open to everyone, but accessible to new players—this drives success even if only 1–2 new players join.
For example, if you run Commander Nights multiple days a week, market one of the days as first-timer friendly. Prereleases and other team play formats, such as Two-Headed Giant, are also good for bringing in new players. These formats encourage players to bring a friend or family member with them to the event, allowing the new player to have added support during gameplay.
Be sure to market "New Player Friendly" events clearly to help new members feel comfortable signing up and set the tone for existing players that may join the event. It might even encourage engaged players in your community to join in to act as mentors.
To build a lasting game community, you want to fold new players into your events regularly. New players aren't always friends of your most engaged community members—sometimes, they're simply new to the game and want to fit in. This is why accessibility is key for your events.
Reward Positive Behaviors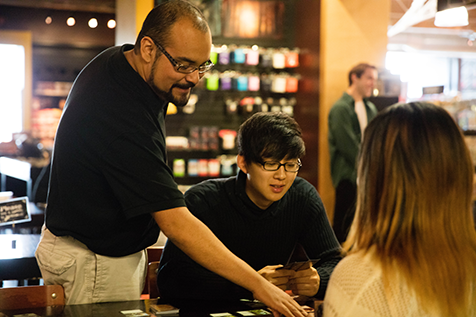 Do you see players going out of their way to make space for a newer player at an event? Is someone taking the time to show a new player the ropes? Offering small rewards like a Promo pack or Booster for these types of positive interactions at the table is a straightforward way to make players feel great about helping others.
The reward does not necessarily need to be related to Magic: The Gathering product, either—if your game store doubles as a café, you may present a voucher for a small snack or something similar. What feels most rewarding to your players will vary, so don't be afraid to try different strategies.
In addition, you can always leverage Bring-a-Friend Promos to entice engaged players to invite friends and family to join in your store's events.
Focusing on inclusivity, accessibility, and encouraging positive interactions will create the foundation of a welcoming environment for your players at your events. You have plenty of opportunities to implement these tips during the Streets of New Capenna season, so be sure to fill your calendar in Wizards EventLink with events that help foster a stronger gaming community.