With Kamigawa: Neon Dynasty Prerelease happening in only a couple of weeks, now is the time to glow up your marketing! A full suite of marketing materials can be downloaded from our marketing materials page.
Here are four ways you can use them to market the upcoming set.
Use the Set Poster and Promo Ads to Build Hype
Kickstart a conversation about Kamigawa: Neon Dynasty by hanging the set poster in a prominent location in-store. Use the conversation to invite customers to place preorders and pre-register for Prerelease and other events.
Additionally, you should show off Promo ads that give players the opportunity to preview special Promo cards, such as the stunning Buy-a-Box Promo, Satoru Umezawa.
Click each image below for a direct download of the asset.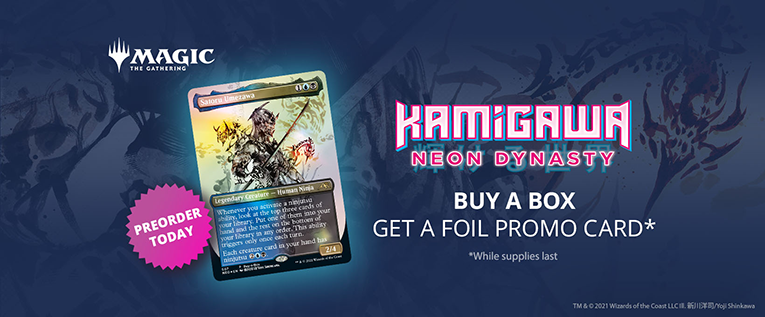 Amplify the New AR Experience
All WPN stores received a special QR code sticker (or flyer) that customers could scan to be virtually dropped onto a city block in Kamigawa. The adventure began with in-store QR codes, but as of January 27, you can share the direct link online.
Remind customers that the Kamigawa: Neon Dynasty AR experience will be the only place they can check out a special animated preview card, as well as engage with in-universe elements.
Click here to access the AR experience. When sharing the experience with your customer base, make the most of the beautiful art banners and assets available to you—including the original sticker or flyer art.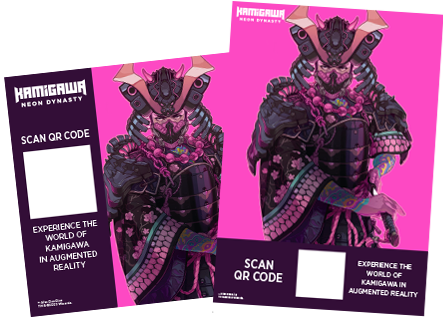 Share Papercraft and Flyers to Advertise Events
The Kamigawa: Neon Dynasty papercraft materials can be passed out during your in-store events to encourage players to collaborate in creating fun, set-themed papercraft.
Two different papercraft projects are available to download in color or black and white: a katana, and a four-pointed ninja star. The instructions are attached, making it easy to print however many you need while making sure everyone has directions.
You can also download them for yourself to scale up and decorate your store, sparking more conversations with customers and giving you the opportunity to encourage signups for your Kamigawa: Neon Dynasty events.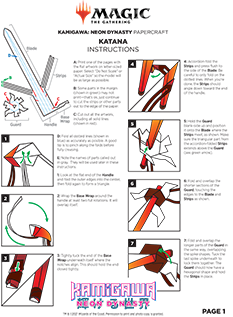 Additionally available are stunning key art flyers and posters showing off the planeswalkers Kaito Shizuki and The Wanderer. Consider printing them to slip into bags with customer purchases; or you can put them on display in your play space to keep your players' minds on the future.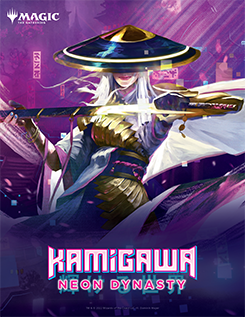 Implement Product Shots and Descriptions for Online Stores
Full product shots of everything coming in Kamigawa: Neon Dynasty are available alongside product descriptions for use in your online storefront. These assets keep your online store looking clean and consistent, which makes browsing a breeze for your online customers.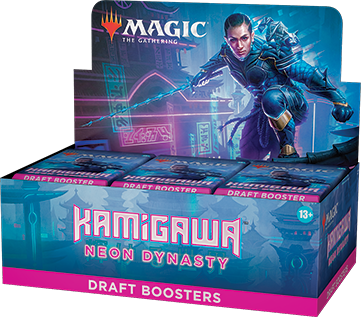 Key-art social media graphics make for easy, eye-catching posts that you can leverage to direct your customers to your online storefront. Diversify your posts and engage online to increase the visibility of your online store.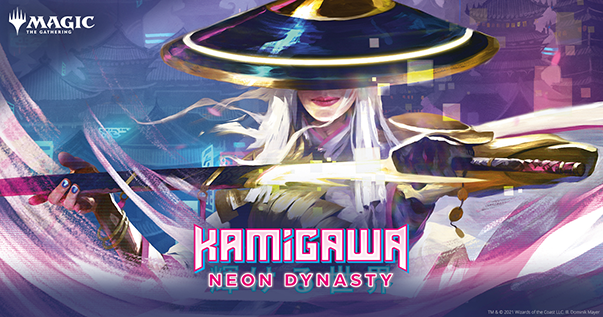 WPN Premium retailers should take advantage of this animated GIF to amplify their exclusive yellow version of the Neon Ink Foil treatment.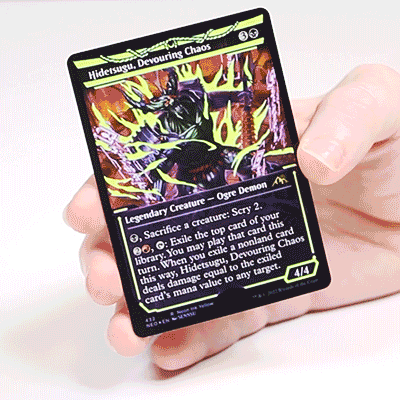 All the marketing materials available serve as your custom toolkit, designed to help you smoothly sell Kamigawa: Neon Dynasty product. Start downloading your resources and kick off your advertising today!