Editor's Note: The metal booster dispenser is not available at this time, and your quarterly selection quantities are now as follows:
One engraved wooden land station
Set of four custom card binders with sleeves
One faux leather long box storage
Please refer to this WPN Premium Benefits article for the full details.
Earning a WPN Premium designation can be a great mark of pride for your store—your players know they have the privilege of gaming at one of the best game stores in the world, and you receive priority placement on the WPN Store & Event Locator.
Stores of any size can achieve WPN Premium, and if your store achieves a designation before the deadlines below, you'll earn exclusive associated benefits. Today, we're reviewing the upcoming deadlines for the rest of 2022 and peeking into the first quarter's benefits for 2023.
All WPN Premium Benefits may be changed or amended over time.
Quarterly Rewards to Keep Your Store Organized
Every quarter, WPN Premium stores can select from one of four organizational items to add to their stores, just for being WPN Premium:
A set of three engraved wood Land stations


A metal Magic-branded booster dispenser


A set of five custom binders with sleeves


A set of two custom faux leather long boxes



Eligible WPN Premium stores should have received surveys to select their Q4 quarterly reward shipment. We revitalized these quarterly benefits for 2022 and are eager to continue making improvements that best serve the needs of your community.
More Customizable Marketing Materials for U.S. WPN Premium Stores
Earlier this year, we launched a partnership with R.R. Donnelley to help stores get access to print-on-demand, customizable marketing materials to boost advertising efforts for Prerelease and other events in-store. The ordering window for The Brothers' War materials is now open, and we encourage eligible stores to place their orders before October 18 to increase the possibility of items arriving in time for The Brothers' War Prerelease.
Several WPN Premium stores participated and received materials for Dominaria United, including Darkhound Game Center in Arlington, Texas, and Red Castle Games in Portland, Oregon. Darkhound Game Center placed their pop and lock display right in their storefront, where Red Castle Games opted to turn the retractable banner into a photo op with Karn!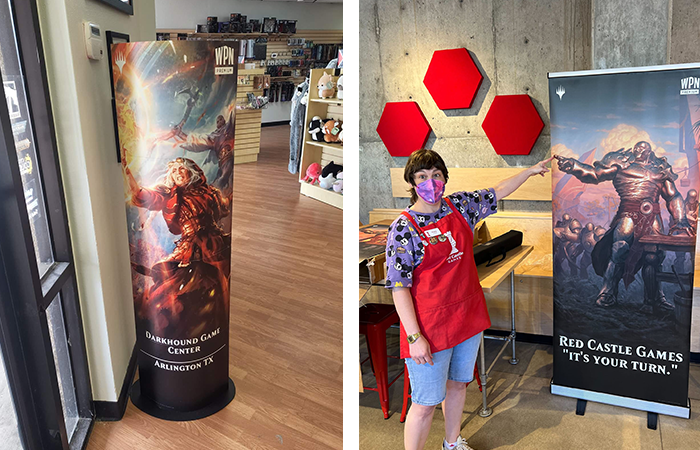 Duke City Games in Albuquerque, New Mexico took advantage of the purchasable marketing materials on offer, using the set of table tents to help immerse players in the setting during the event.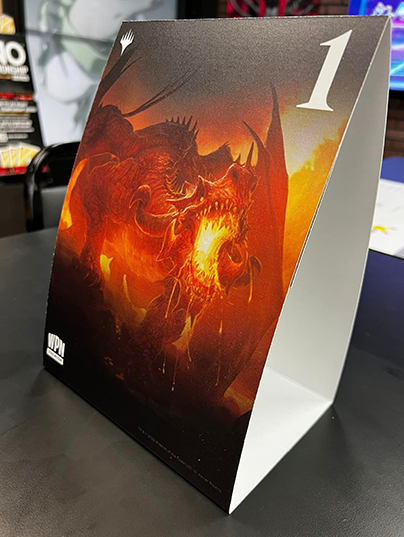 The WPN Custom Marketing Materials Portal ordering window for The Brothers' War has already begun! Eligible WPN Premium stores in the U.S. can order their custom marketing materials for The Brothers' War before October 31.
Currently, WPN Premium retailers who achieved their designation before September 19 can redeem the following items for free:
1 set art poster (24" x 36")


1 pop and lock display (20" x 60")


1 retractable banner (34" x 80")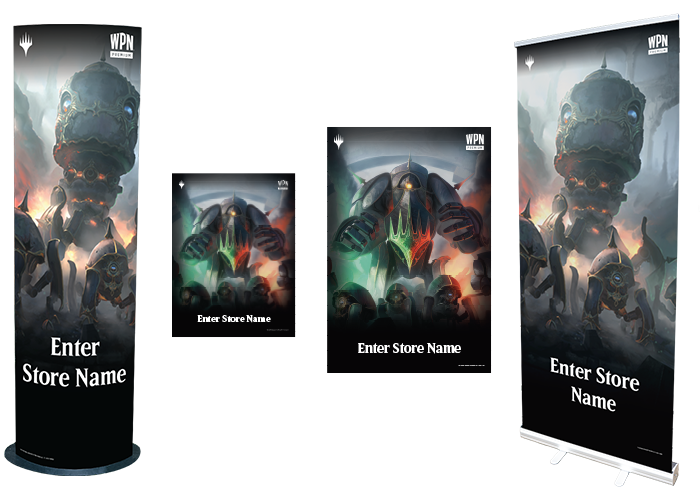 In addition, two items will be available for purchase during The Brothers' War. Retailers can purchase up to 10 of each item available.
Set art poster (18" x 24")


Set of 25 table tents (7" x 30")


The set art poster (18" x 24") is customizable, but please note that the set of 25 table tents do not have any customization options at this time.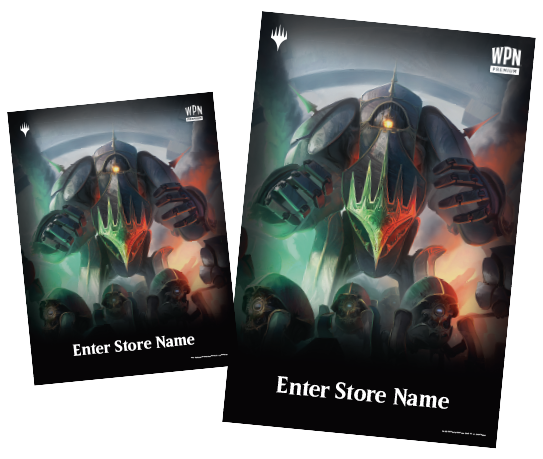 When ordering, please note that complimentary and purchased materials orders cannot be combined; to make additional purchases after redeeming your complimentary materials, you must make a separate order on the site.
The WPN Custom Marketing Materials Portal is only available for U.S. stores for now, as it is an ongoing initiative that we plan to continue to iterate upon as we work with stores and gain more feedback.
If your store is eligible for this benefit, you have until October 31 to make your order, though placing your order before October 18 increases the possibility of items arriving in time for The Brothers' War Prerelease. Simply head over to the portal and make your selections!
About 30th Anniversary Edition
As a token of our appreciation, each WPN Retailer will receive one 30th Anniversary Edition display. WPN Premium Retailers will receive three displays. These displays will arrive with your standard marketing material shipment in early 2023, with exact timing dependent on your region. More information on these shipments will be provided closer to the release date.
Stores must be a WPN member by November 28, 2022 to receive one display and qualified for Premium by November 28 to receive three displays.
Upcoming WPN Premium Benefits for Future Magic Releases
WPN Premium stores earn additional benefits on a regular basis, helping set your store apart and make your customer experience even more special. Check out the upcoming benefits and associated deadlines below to help inspire you to begin your Path to WPN Premium.
Once your store achieves WPN Premium, you'll receive the benefits from deadlines following the one you made it in time for—you won't need to reapply to get additional benefits.
Dominaria Remastered—Deadline October 21
For Dominaria Remastered, WPN Premium stores who achieve their designation by October 21 will be eligible to host a WPN Premium-exclusive Preview Event. During the week leading up to Dominaria Remastered Launch Party, your store becomes the only place where players in your community can play with the new set.
Phyrexia: All Will Be One—Deadline November 11
WPN Premium stores have the unique opportunity to host Commander Party events: story-driven Commander games where the players' actions influence the outcome.
Phyrexia: All Will Be One introduces the third in a series of four interconnected Commander Party events, and stores who achieve a WPN Premium designation by November 11 will receive a kit to get this event off the ground.
March of the Machine—Deadline February 17
Following the events of Phyrexia: All Will Be One, Commander players in your community will partake in the epic conclusion of connected Commander Party events with the Commander Party for March of the Machine.
Due to production timelines, the deadline for custom store names printed on March of the Machine Store Championship promos was September 23.
If these benefits caught your interest, you can start your Path to WPN Premium right away—just reach out to your Business Development Specialist, and they'll help evaluate your store and get you started on your Path to WPN Premium.