For our 30th anniversary, Magic: The Gathering is returning to its original setting—Dominaria. The return additionally marks the beginning of a story arc set to span the next four Standard set releases. It will be a great time to introduce new players to Magic so they can experience the story as it happens, while also having great nostalgic appeal for your most dedicated fans.
Below you'll find an overview of all the key dates you'll want to keep handy as we get closer to the start of the season.
Distributor Selection Deadline: June 24
WPN Premium Deadline: July 1
Scheduling Opens: May 12
Marketing Kit Delivery, North America and Latin America: Begins August 2
Promo Kit Delivery: Begins August 26
Prerelease: September 2–8
Release: September 9
Launch Party: September 9–11
Friday Night Magic: September 9–November 4
Commander Nights: September 12–November 10
Game Day: September 17–25
WPN Premium Exclusive Commander Party: September 30–October 2
October 2022 Store Championship: October 15–23
It's never too early to get your planning underway, and we've got some exciting new experiences kicking off with Dominaria United that you'll want to keep in mind as you sort out your season's events.
Jumpstart Boosters Make Their Debut
Joining the Draft, Set, and Collector Boosters your players know and love, each Standard set release beginning with Dominaria United will include Jumpstart. This product is ideal for introducing new players to Magic, since all they need to do is open two packs and shuffle them together to start playing.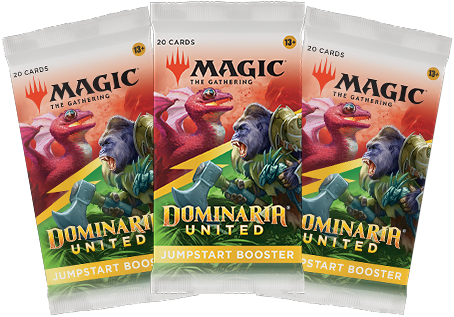 Jumpstart packs will be replacing Theme Boosters, but each Jumpstart pack can be one of several themes that help familiarize players with strategies available to them in Magic. Plus, Jumpstart packs for Dominaria United include a rare or mythic rare from the set and two foil basic lands.
Use Jumpstart packs to teach new players how to play throughout the season, starting with Jumpstart Prerelease.
What Is Jumpstart Prerelease?
Jumpstart Prerelease is a new experience at your Prerelease event that uses Jumpstart packs instead of Prerelease Packs. Players receive two Jumpstart packs to open, shuffle together, and play. For prizing, we recommend retailers keep it casual and include one Set Booster per Jumpstart player.
We encourage you to run Jumpstart Prerelease as a casual, player-list only event, and allow participants to play against players using regular Prerelease Packs. However, you may also consider running a tournament-style Jumpstart Prerelease separate from your traditional Prerelease event.
To help support this experience, all stores will receive one Jumpstart Booster display for free, enough to support nine players for Jumpstart Prerelease. Plus, for every three Jumpstart Booster displays you order, you'll receive one Dominaria United Set Booster Display to use as prize support.
Please keep in mind that your future Prerelease and Jumpstart Prerelease allocations will be affected by reported play in prior events, and traditional Prerelease and Jumpstart Prerelease players should be reported separately.
For example, if you're reporting 16 players from your Prerelease, and 10 of them used traditional Prerelease Packs and six used Jumpstart Prerelease packs, you would report two separate Player-List Only events with the corresponding number of players.
Schedule Your Events Today
Event scheduling for Dominaria United opened May 12, meaning you're able to prep your calendar for the fall season right now! Explore the events currently open and start building a schedule that works for your community.
The return to Dominaria and introduction of Jumpstart packs is just the beginning of what's in store for Magic's 30th anniversary celebration. Keep your eyes on this space as we reveal more ways to celebrate Magic in the coming months.