Streets of New Capenna offers players the opportunity to step into a city's golden age—and rule the crime world beneath the surface. Hosting unique events that capitalize on the golden age theme will keep your players coming to your store over and over throughout the season.
Let's dive in and cover a few strategies to help spark inspiration for some fun events you can host at your own store.
Prepare Your Set Poster Placement
Your Streets of New Capenna marketing kit includes a 24" x 18" (60.96 x 45.72 cm) set poster. Unlike recent sets, the poster is in a landscape format, so you may need to re-think your placement for it, depending on how you've arranged previous set posters.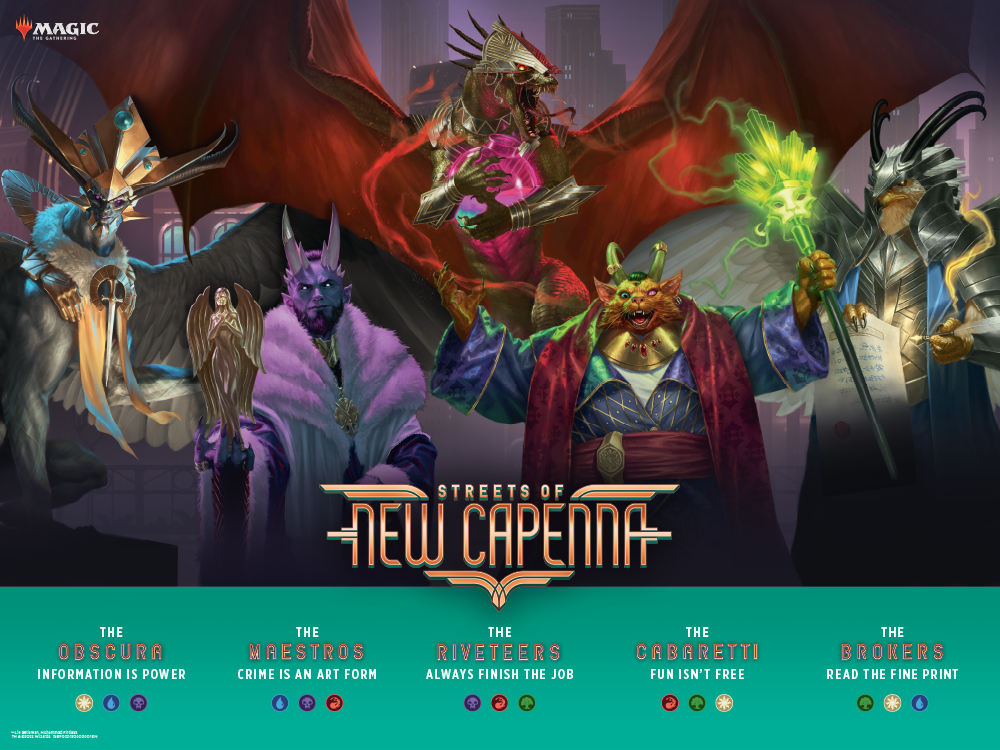 In many cases, the set poster is the cornerstone of your advertising for upcoming sets, so be sure it's placed prominently.
In North America and Latin America, marketing kits will begin delivering March 23, and in other regions it will begin delivering April 25 and will include Welcome Boosters and Bring-a-Friend Promos.
Welcome Boosters and Bring-a-Friend promos will be shipping separately in North America and Latin America and are expected to begin delivering April 25 alongside Dungeons & Dragons: Commander Legends: Battle for Baldur's Gate Promos.
Those promos are being revealed very soon, so keep an eye on this space for more info!
Encourage Cosplay at Commander Launch Weekend
If your community is feeling creative, you can encourage them to arrive at Commander Launch Weekend dressed to the nines. After all, Commander Launch Weekend is rolling out for the first time with this set, so you won't want to miss the opportunity to make it special.
All your early marketing efforts for Streets of New Capenna should encourage players to choose their family, which may make an event with a dress-up element even more appealing to attend.
You can spark even more fun competition by assigning colors to each of the five mob families of New Capenna, allowing players to show loyalty to their chosen side by wearing the color of their favored family.

If your community is especially eager about dressing up, you may even hold a costume contest at your store for some extra small prizes of your choice. You can always hold multiple during Commander Nights throughout the season to allow players the most opportunity to showcase their creativity.
Host a Gilded Prerelease
Take inspiration from the art deco appeal of New Capenna and fill your play space with décor that inspires your players and takes them directly to the gilded streets of New Capenna.
You may try something simple, like table numbers printed with a thematically appropriate font or putting up a few golden decorations during Prerelease. Or you can go all-out with a photo backdrop or temporary golden window treatments!
In addition, you may encourage your employees to greet players as they arrive, treating your event like a true gala of the golden age.
Make Your Own Halo
Halo is the magical substance that rules the criminal underworld in New Capenna, sought after by all for its magic-enhancing qualities. It comes in many forms, such as crystals, liquids, and vapors, and you may consider adding your own to your in-store events.
You might present this ethereal substance by adding stones or crystals as part of your decorations—but if you'd rather serve it as a snack or beverage, you can get creative by using treats like rock candy or a fruity punch.
Remember, please do not serve in beverageware commonly associated with alcoholic beverages (i.e., martini glasses). Remember, Magic is for all ages and everyone should feel welcome!
Streets of New Capenna releases April 29—that gives you plenty of time to try out one or more of these ideas at your events.
Please know that your live metrics will include events reported from Kamigawa: Neon Dynasty set release and forward. Make sure you're scheduling with Wizards EventLink to make sure your players can easily find and sign up for your events.