Your store's calendar is one of three key elements to improve to achieve a WPN Premium designation —the other two being your Code of Conduct and Sales Policy. An effective calendar serves as an invitation to your community, communicating all the information your players need in a clean, concise way.
When designing your store's calendar, start with three core principles that every game store calendar should follow:


Easy to find


Easy to read


Consistent across platforms


Today, we'll review each of these principles and provide examples of ways you can go outside the box and take your calendar from a simple tool to an integrated part of your customer's in-store experience.
Easy to Find
Making your calendar easy to find is the first step for players to remember what events your store is hosting throughout the season. You may use your calendar to showcase weekly events or use a full-sized calendar if your month is packed with variety.
There are several places you can place your calendar—and by no means do you need to limit yourself to only having one copy of your calendar posted in your store. You might consider placing your calendar in one of the following locations:


Store window


Point of sale


Play space


Bathroom stalls


In places like your store's bathroom or point of sale, you can replace a full-sized calendar with a QR code for customers to scan.
Spanky's Card Shop in Kansas City, Missouri designed their calendar of Magic events with wooden panels and a circular space at the center with the store's logo; its unique design makes it almost impossible to miss as you hang out in their play space.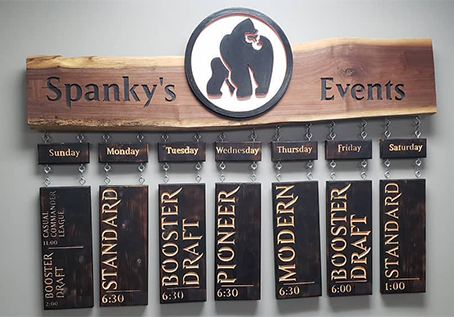 Your digital calendar should be easy to find, too, in case customers come across your social media accounts or website first. Whether you make your calendar part of your social media banner or provide a clear, obvious link on your webpage, you want players to find your events easily.
Easy to Read
Overall, an effective calendar design adds eye-catching elements that help strengthen your brand identity throughout your space. Dueling Land in Aurora, Colorado highlights their calendar in two major ways: by placing it beside the Code of Conduct, and by mounting the screen in front of wood, which matches the wood grain backdrop of the calendar itself.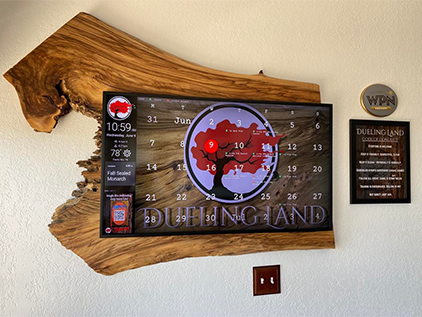 You want your players to understand what events you're hosting when. A legible calendar is paramount, and there are numerous ways for you to achieve this. The most straightforward way is to have a digital calendar displayed on a TV screen.
Using a TV screen to display your calendar gives you more space to make sure your events are clearly separated and legible, with top-line information, like event time and format, front and center. Collector Legion in Lawndale, California uses a weekly structure to show off their events.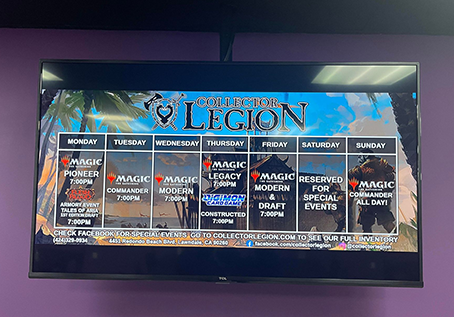 If you opt to use a handwritten calendar, make sure it's clean and legible —you don't want to risk any player being unable to read a calendar that you put hours of effort into writing by hand. However, using handwritten signage over digital allows you the opportunity to add your store's unique branding. Or you could hire a local artist to draw a piece of art directly on your calendar.
Consistent Across Platforms
Players will be using both your calendar in-store and your digital calendar, so no matter how you choose to display it, you'll need to ensure it's consistent across all platforms. Having different information on each calendar may introduce confusion among your players, which is the last thing you want when you're advertising your upcoming events.
Don't forget to regularly use Wizards EventLink, an easy-to-use Magic calendar that helps new players discover your store and its events . Use it to schedule one-off events or your consistent rotation of weekly (or monthly) Magic events. This makes it easy for your players to establish a rhythm of coming into your store and easier for you to keep your in-store calendars up to date.
Leveling up your store's calendar is one great way to boost your in-store brand identity, making your space more memorable for your players and giving you an upper hand when it comes time to starting your Path to WPN Premium. Get in touch with your WPN Business Development Specialist and fill out your WPN Premium application today!