Magic's most popular format—Commander—is getting its first Masters treatment. Releasing on August 4, 2023, Commander Masters combines power and style to give players access to beloved Commander staples and new ways to express themselves.
What's Coming in Commander Masters
You can't have a Commander-focused Masters set without Commander Decks. So, for Commander Masters, we expanded the product lineup to include four Commander Decks and Set Boosters in addition to Draft and Collector Boosters.
The Commander decks found in Commander Masters are sure to make a splash with your communities. Each deck was designed to build off some of the most popular and powerful Commander archetypes, giving your players intense ready-to-play experiences:
Eldrazi Unbound (Colorless)


Enduring Enchantments (White-Black-Green)


Planeswalker Party (White-Blue-Red)


Sliver Swarm (White-Blue-Black-Red-Green)


Each of these high-powered decks introduce ten never-before-seen Magic: The Gathering cards that Commander players will be eager to add to their collections. But you'll have to wait to find out what they are.
For now, take a look at our product pages for the full breakdown of our product lineup. Plus, you can find marketing materials as they become available with a quick scroll to the bottom of the page.
A Peek at Booster Fun: Jeweled Lotus, The Ur-Dragon, and Capture of Jingzhou
For a taste of the powerful cards to come, here are a few early previews that you can share with your Commander regulars to get a conversation started about Commander Masters.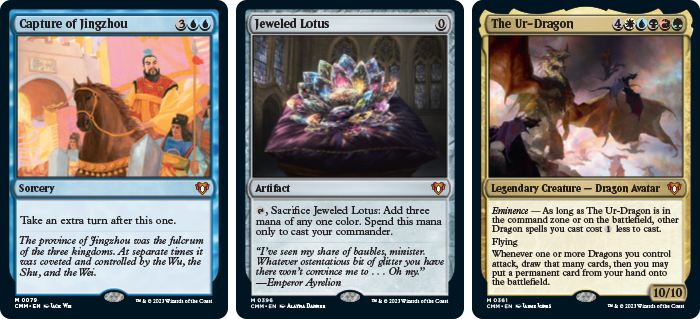 Many Commander players love to upgrade their favorite cards to ones with special treatments—and Commander Masters won't disappoint. Your players will find Borderless cards (a fan favorite) in every Commander Masters Booster. In addition, Borderless Frame Break cards like this mystical Jeweled Lotus can be found in every booster in the set.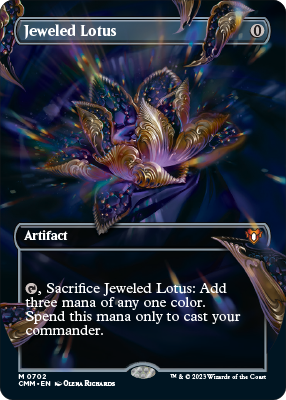 In addition, some cards will have a Borderless Profile treatment, casting legendary creatures in a picturesque profile view fit for a museum.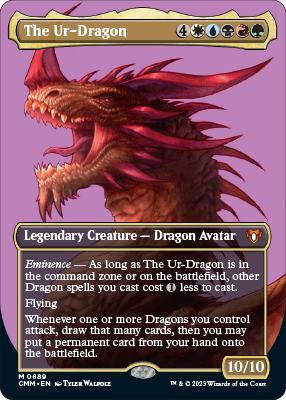 One of the most exciting special treatments is one that returns from Double Masters: the Textured Foil. Unlike the other Borderless art treatments, Textured Foils are exclusive to Collector Boosters, so be sure to be sure to guide interested players right to this product.
We've got much more to share with you as we get closer to the release date, but until then, head to the product page for full product details, and download any product shots, art, and logos you may need to get listings posted on your online storefront.