Jumpstart 2022 releases December 2 and may be among the most highly anticipated products for your players this year. After all, where else will they have the chance to try playing a deck with Detective Goblins or Law Cats? Plus, it's one of the fastest ways to jump into a game of Magic: all your players need to do is open two packs, shuffle the cards, and play.
Jumpstart 2022 works well with all players and is full of fun reprints and wild combos to keep them coming back again and again to try all the different theme combinations.
Jumpstart 2022 Has 46 Themes, Compatible with Set Jumpstart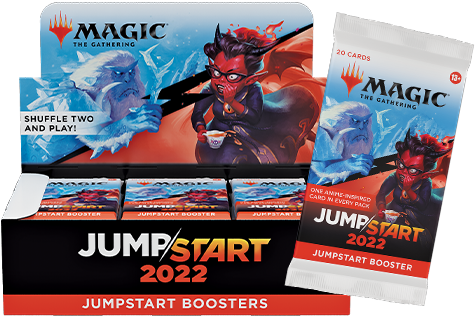 Dominaria United introduced set-specific Jumpstart Boosters, but Jumpstart 2022 continues to build on the experience your players know and love.
Jumpstart 2022 Boosters contain 20 cards, plus a non-playable card that indicates the theme of the booster. There are 46 possible themes in Jumpstart 2022 Boosters, compared to the 10 themes that come with Dominaria United and The Brothers' War Jumpstart. Each Booster display contains 24 Jumpstart 2022 Boosters, and will be available in English, Chinese Simplified, German, French, Italian, Japanese, and Spanish.
The best part? They are completely compatible with set-specific Jumpstart Boosters from Dominaria United or The Brothers' War and beyond. Your players can mix and match any two Jumpstart Boosters with each other, unlocking even more combination possibilities between packs!
Jumpstart 2022 Introduces Kibo, Uktabi Prince Promo
Celebrate the release of Jumpstart 2022 with a Launch Party from December 2–4 , which uses the new format, Jumpstart . For your Jumpstart 2022 Launch Party, we recommend you make your events Player-List Only and use a flat prize distribution.
For every purchase of two Jumpstart 2022 packs during the event, hand out a copy of the promo card Kibo, Uktabi Prince, while supplies last.
Begin scheduling your Jumpstart 2022 events right away—the earlier you schedule, the more opportunities you give yourself to encourage preregistration leading up to the event.