Streets of New Capenna Prerelease kicks off April 22, and we've added more marketing materials to help ramp up your event and product advertising to players. Below is a showcase of some of the digital marketing materials available, plus ways to use them to maximize your marketing.
Prerelease Early Sales Promotion Banners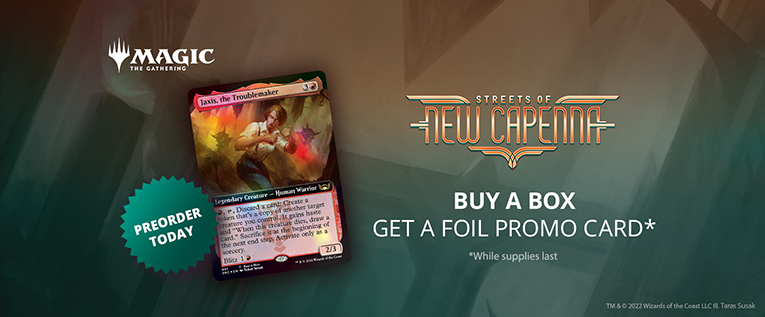 Your Prerelease Early Sales Promotion is your first chance to excite customers with what's available to purchase for Streets of New Capenna. Booster displays and groups of 6 Prerelease Packs sold during Prerelease Early Sales Promotion come with the exclusive Buy-a-Box Promo, Jaxis, the Troublemaker.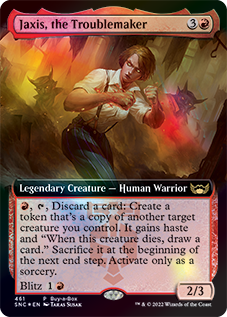 To further support Prerelease Early Sales, we post a high-resolution image of the Buy-a-Box Promo for you to share on your social media channels. It's also incorporated in the Prerelease Early Sales Promotion banner to further incentivize sales.
When sharing the Buy-a-Box Promo with your community, don't forget to mention that this version of the card is exclusive to the Buy-a-Box Promotion.
Using Product Details for Your Online Storefront

The Product Details collect both product images and descriptions into one package for you to easily use on your store's online storefront. Previously, the photos and descriptions were available as separate items. Now they are grouped together for convenience.
Using the product shots in tandem with the details creates a consistent look for your online store, leading to an easier browsing experience for customers.
Commander Nights Web Banners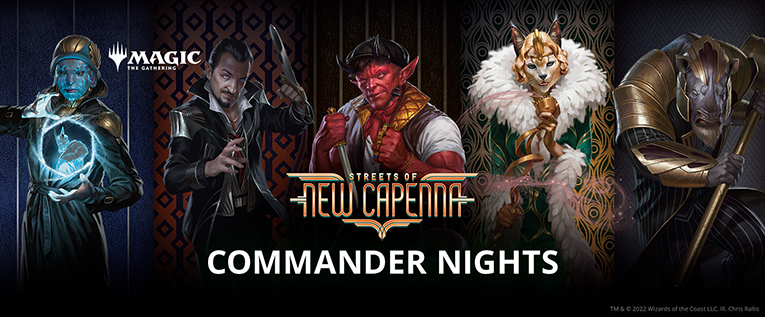 Streets of New Capenna is an ideal set for Commander—each family faction was designed to tailor to unique play styles, and Commander presents the opportunity to bring players aligned with different families together in battle.
The Commander Nights web banners come in a variety of sizes to optimize your posts across major social media platforms. Use them to amplify Commander fun throughout the season, and be sure to remind your players about the Commander Launch Party for Streets of New Capenna, too.
Remember, the Commander Launch Party dates have been extended by a week worldwide, giving your players more opportunities to come to your store and get their hands on the event promo, Swiftfoot Boots.
Digital marketing materials make it easier to advertise and amplify events and products for your store—head over to the marketing materials page now and start downloading.