No matter where or how you store your bulk Magic cards, a permanent bulk card storage fixture can make a positive impact on your store, especially if you're working towards WPN Premium.
It may not seem like a big deal, but bulk storage solutions can transform a store. How do you get started? Let's take a deep dive into what works best and check out how Dark Side Games incorporated bulk storage seamlessly into their aesthetic.
Choosing Permanent Bulk Card Storage
When selecting a bulk card storage solution for your store, there are two things you should consider:
Organization


Permanence
Organization: Ask Who Needs to Access Your Cards and Why
If you store bulk cards behind the counter, an ideal storage solution will make it easy for employees to quickly find cards and cut time from sorting and storing. However you choose to organize your cards—by set, rarity, color, or alphabetically—make sure your storage solution is easy to arrange how you'd like.
"While many stores have bulk cards behind the register, there are some stores that want to have the product available for players to peruse without the assistance of an employee," points out Alexander Smith, Retail Development Specialist at Wizards of the Coast.
Taking the time to alphabetize your cards might not be a valuable use of time when storing cards on the sales floor. "Those cards will rarely stay in order, so for that I suggest a storage option that is low value and does not need to be organized," he says.
Permanence: Improve Your Value Per Square Foot
Sometimes the easiest storage solution isn't necessarily the best solution. "Most stores rely on cardboard boxes as a singles storage solution," says Alexander. "These aren't made to withstand the test of time and have to be replaced periodically."
Investing in a more permanent solution—like sturdy, well-anchored shelving or cabinetry that can withstand the weight of the cards long-term—does more than save you the hassle of replacing your card storage regularly (and moving all your cards each time). It also gives you better value per square foot, which is key for reaching Premium.
Space in your store is limited, and you want every inch of that space to pull its weight by making as many sales as possible. And if your bulk cards are difficult to access, then customers are unlikely to look through and buy them, making that section of the store less valuable than it could be.
Storing bulk cards in an easy-to-browse permanent fixture can make a huge difference in customer interest in those cards—and more customer interest is likely to lead to more sales.
Even if you keep your bulk cards behind the register, it's best to ditch the disposable cardboard boxes. Permanent fixtures such as wood or plastic storage boxes that showcase your store's logo retain customer attention and are more attractive.
Bulk Card Storage Example for WPN Premium
"We were very interested in becoming a Wizards Premium store, and one of the things holding us back was our old card storage," says Joshua Kiper, owner of Dark Side Games in Duarte, California.
Like many stores, Dark Side Games was using cardboard card storage for their large library of bulk cards. In addition to needing frequent replacement, this card storage also created problems for the staff. "Before, someone could easily drop the card homes on the floor when pulling them out, which would result in the cards going everywhere and having to re-sort that box," says Joshua.
Eager to find a better solution that aligns with Premium standards, Joshua read an article about a do-it-yourself card catalogue and decided to build one for the store's bulk card storage.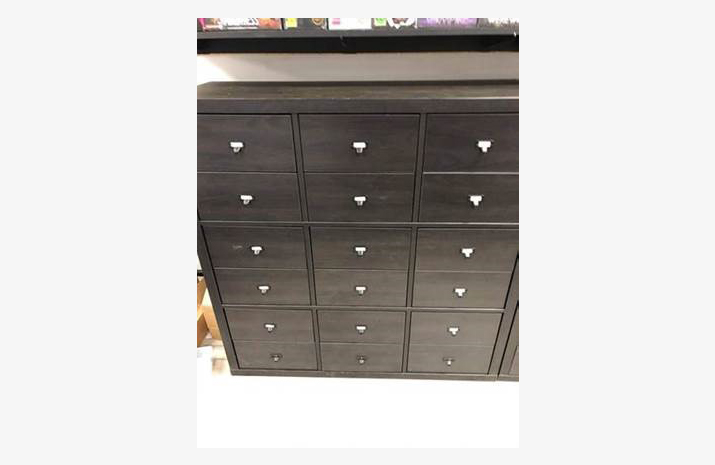 Dark Side Games' DIY bulk card catalogue
This clever DIY card catalogue system for storing bulk cards is organized, permanent, and fits with the store's aesthetic—a perfect solution for their final push towards WPN Premium, which they achieved on December 3, 2020.
Customers were quick to notice the upgrade, too. "One of the biggest advantages to having the catalogues over the cardboard card homes is the aesthetic," Joshua says. "We've received lots of compliments from our customers. It definitely gives the store a more professional look."
Finding the perfect bulk card storage solution is just one of the many things your Retail Development Specialist can help you with while working towards Premium. Check out our step-by-step guide to applying for WPN Premium to start the process today.
And don't forget: stores in the US and Canada can apply for a retail improvement grant to help cover the cost of any improvement, including permanent bulk card storage.