Using Magic marketing materials effectively and highlighting your store's unique brand at the same time can be done by focusing on two things:
Creating a memorable store brand that stands out on its own and supports the Magic brand
Curating your selection of marketing materials
This will help customers remember that your store is where they bought their Magic rather than just remembering the Magic brand.
We've highlighted three WPN Premium stores that showcase different ways to make the most of marketing materials.
Colorful Marketing Materials Draw Customers to Products
Marketing materials are designed to draw attention. Try using them to point your customers towards specific areas of your store.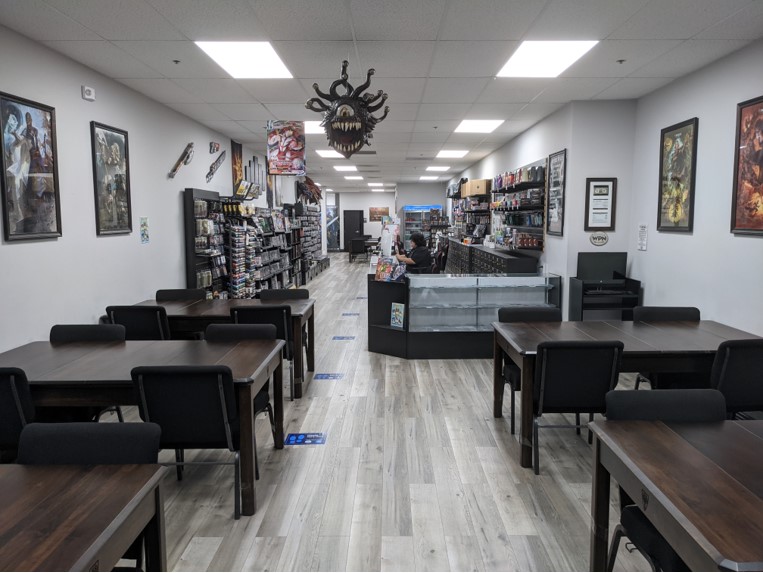 Dark Side Games in Duarte, California (population 21,321) uses marketing materials to draw customers' eyes straight to their products.
The neutral color scheme at Dark Side Games helps their colorful marketing materials stand out—and customers' eyes are likely to follow those pops of color. Dark Side Games uses these bright marketing materials to draw customers' eyes to the product displays on either side of their shop.
No matter the style of your store, the key to successfully using marketing materials is to let your brand shine first and let our posters do their job of advertising the products and events your customers love.
Selective Marketing Materials Keep the Focus on Your Brand
Being choosy about what you display and where you put your marketing assets helps your brand shine.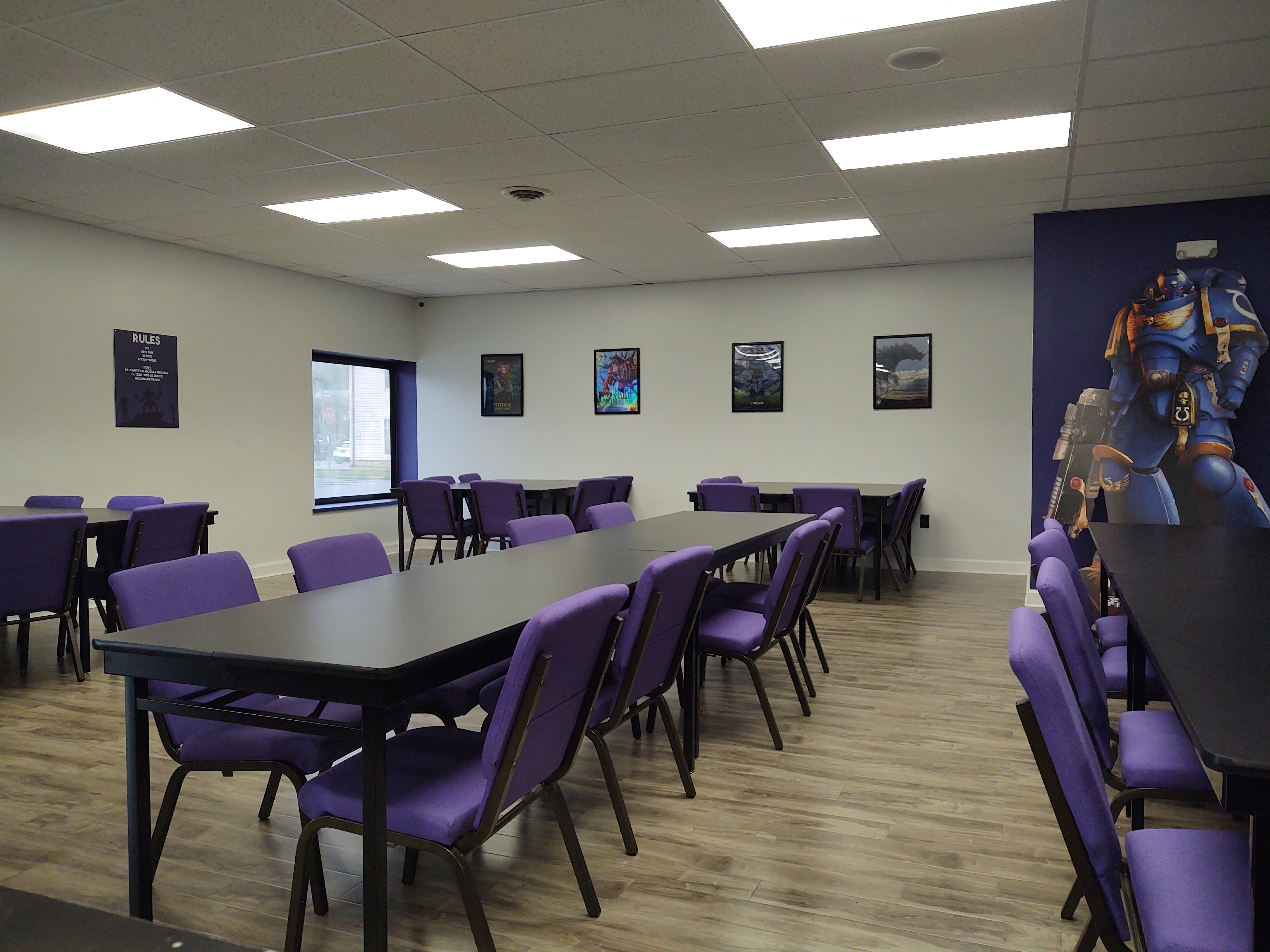 Portals Comics and Games in Easton, Maryland (population 16,671) displays framed posters from the Standard rotation in their playspace.
Portals Comics and Games uses minimal marketing materials in their playspace to make their bright purple color scheme the center of attention.
These posters are placed with purpose, too—they're well-spaced, framed, and showcase only what's in Standard right now. The result is a neat, unique playspace that markets the Standard sets their customers can grab while they're in the store.
Historic Marketing Materials Can Enhance Your Brand
Many Wizards Play Network stores have a long history with Magic, and we understand wanting to share that history with your players.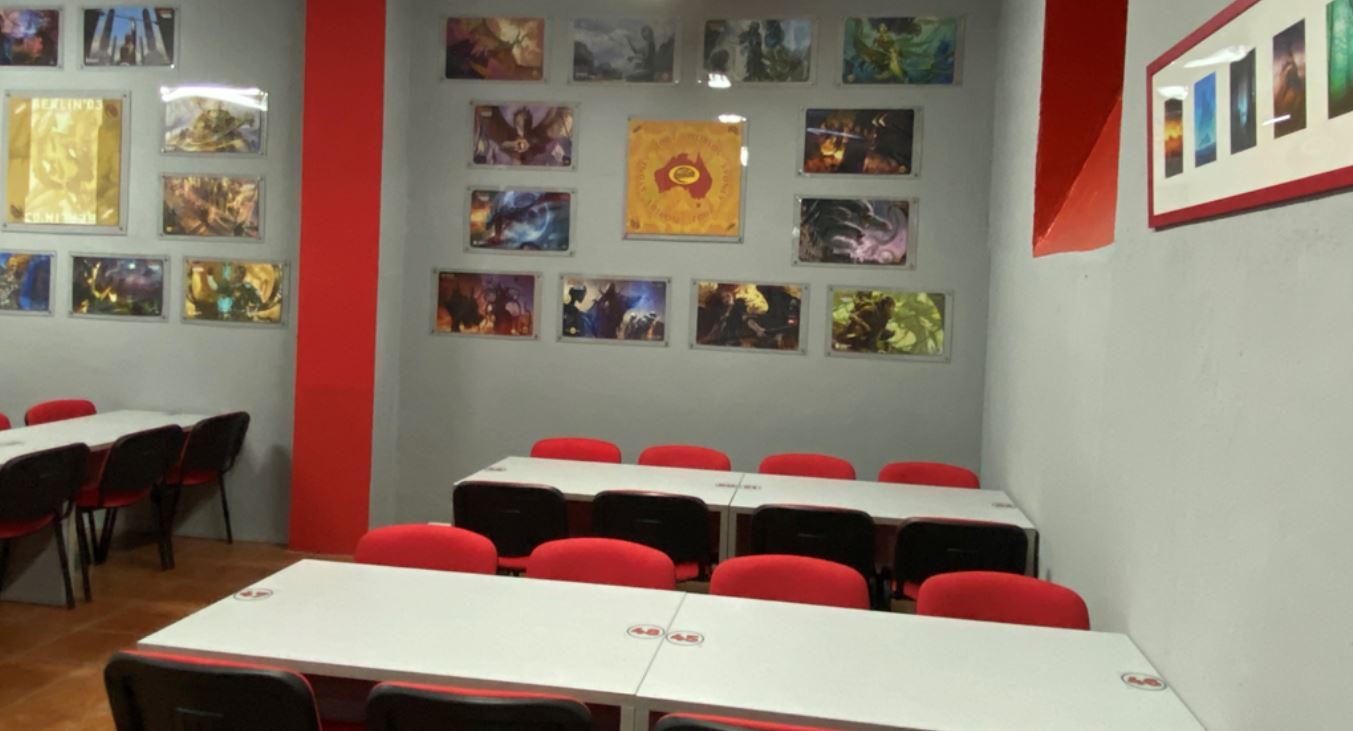 InGenio BCN Games in Barcelona, Spain (population 1.62 million) has hosted many high-profile Magic events and shows off their history in a stylish, clean display.
InGenio BCN Games has specialized in Magic for more than 25 years, and they have the promotional playmats from Grand Prix, Pro Tours, and World Championships to show it.
The key to making this large display of their history work is the intention behind it. The curation ties the store together in a fun way and makes this display look like a Magic museum.
Having only current branding and logos in your store is a checklist requirement for WPN Premium, but some exceptions can be made to showcase your store's history.
To display retro marketing materials in your store long term, we recommend keeping only materials that are especially rare or commemorate an event like MagicFest rather than widely available WPN materials.
Additionally, we may ask you to remove marketing materials that feature old logos. It's a delicate balance, but you can always consult your Retail Development Specialist about the best way to use marketing materials in your space.
Looking for personalized recommendations for using marketing materials in your store? We're here to help with that and so much more through WPN Premium. Apply for WPN Premium today, and we'll help you create the best version of your store possible.