The Phyrexian invasion is nigh, and your players will be faced with a choice: fight or join the Phyrexians on the path to perfection. Phyrexia: All Will Be One is a set oozing with beautiful biomechanical horror themes that the plane of New Phyrexia has come to be known for.
Compleat a Collection with Showcase Treatments
Phyrexia: All Will Be One brings with it a host of special treatments and new art that showcases just how far the Phyrexian influence reaches. Panorama full-art Basic Lands paint the landscape of New Phyrexia; players can find these cards in Draft, Set, and Collector Boosters.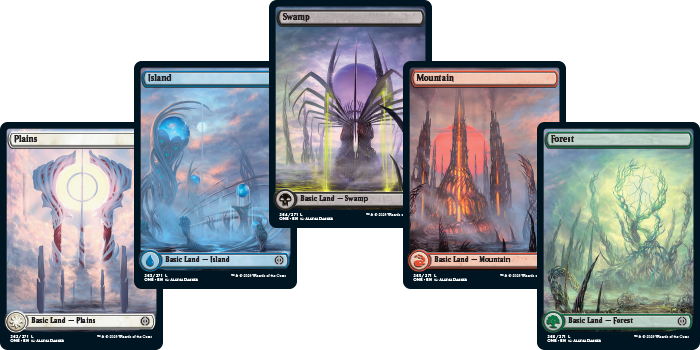 Also found in Draft, Set, and Collector Boosters is the next step of Phyrexian corruption: one of the five Phyrexianized Basic Lands, with the name of each card written in Phyrexian.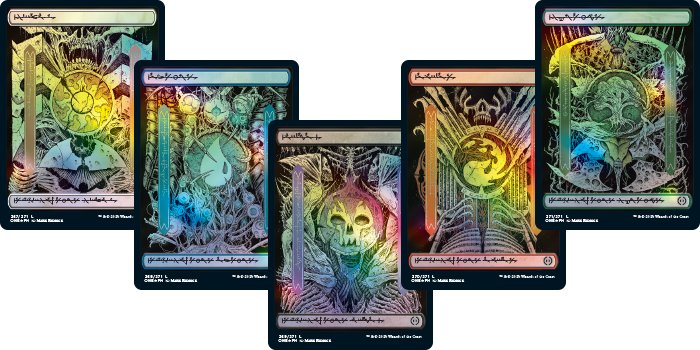 The next treatment players can crack from a Draft, Set, or Collector Booster may be one of the Borderless Ichor Showcase Cards. We hand-selected 40 cards across all card rarities to highlight the Phyrexians; these can be traditional foil, nonfoil, or Step-and-Compleat foil (which you'll see in a minute). Rares and Mythic Rares in this treatment style will be Borderless.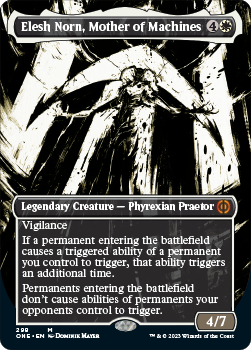 We're also bringing the horror with a selection of horror manga-inspired art cards for a selection of Planeswalkers in the set, plus one Borderless Manga card that features Elesh Norn herself drawn by renowned horror manga artist, Junji Ito. Borderless Manga Elesh Norn may be found in Draft, Set, and Collector Boosters.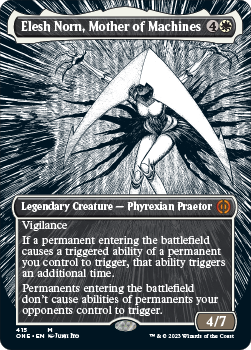 Elesh Norn is additionally featured in the Borderless Concept Praetors treatment, which uses her actual concept art. This can be found in traditional foil, nonfoil, and the Step-and-Compleat foil. The Step-and-Compleat foil treatment is exclusive to Collector Boosters.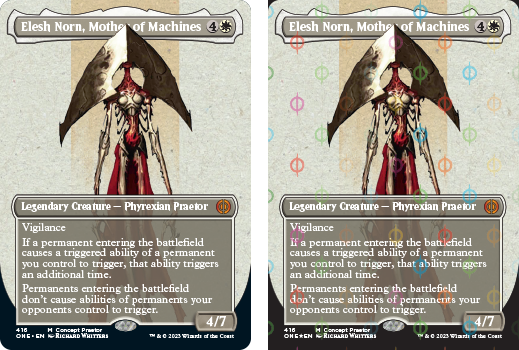 Show off all the new card treatments to your players early to help encourage preorders for relevant products that they can pick up in-store during Prerelease week.
Oil-Slick Lands in Phyrexia: All Will Be One Bundle: Compleat Edition
Exclusive to the Bundle: Compleat Edition are the five Oil Slick raised foil lands—these are traditional foil with a 3-D black hot stamp effect applied.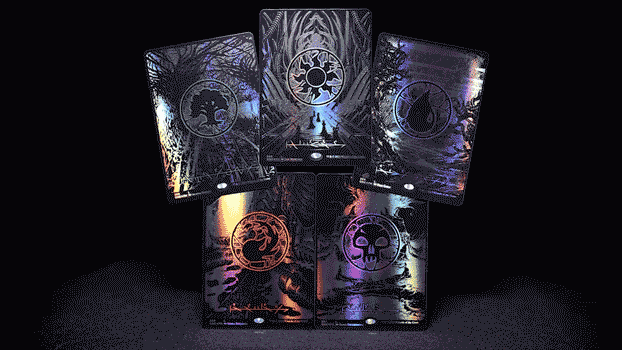 The lands aren't the only cards getting this treatment, either: each of the 20 possible Mythic Rare cards from the Phyrexia: All Will Be One Bundle: Compleat Edition can be found with this treatment. To show off how they look, we once again turn to the mother of machines, Elesh Norn.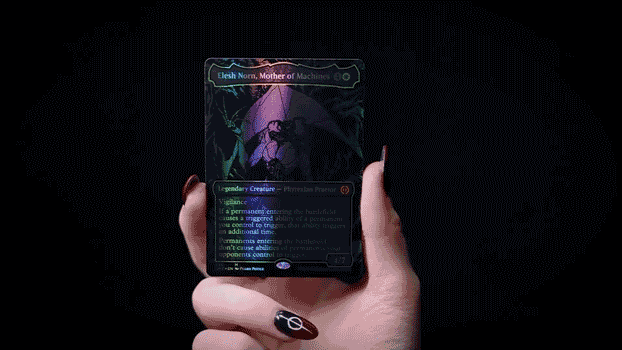 The Phyrexia: All Will Be One Bundle: Compleat Edition releases on March 3, 2023. Use the timing to bring players back to your store for another wave of excitement and encourage them to pick up one of these limited Bundles for the devoted Phyrexian follower in their life.
Prepare your players to revel in the dark and disturbing horrors that New Phyrexia holds—review the full product suite and begin scheduling your events in Wizards EventLink so your community is ready for Compleation.