Earning a WPN Premium designation for your store is a mark of pride for you and your players—your community knows that their favorite spot is one of the best game stores in the world. Beyond the added benefit of having priority in the Store & Event Locator, being a WPN Premium store brings additional perks to help further support your business and community growth.
The WPN team is continually iterating on benefits that will best support you and your store. WPN Premium stores have so much to look forward to in 2023, so let's jump right in!
New WPN Organizational Items Coming Soon
As part of the regular selection of quarterly WPN Premium organizational items you can select for your store, we are developing a couple of new items for your store to redeem: a six-slot Magic: The Gathering Booster dispenser made by UltraPro, and simple black poster frames to house your stunning marketing set posters.
Once available, you'll have the option to redeem up to two UltraPro Booster dispensers that hold six slots for Magic Boosters, and a set of either four or eight black poster frames that will perfectly fit your 18" x 24" Magic set posters.
Keep an eye out, as we'll be sharing photos of each item along with additional details for when you can redeem them.
WPN Premium Benefit Deadlines
Today, we'll cover all the WPN Premium deadlines to keep in mind as we start the year, so you can set a goal as you begin your Path to WPN Premium. Stores that achieve WPN Premium before any one of the deadlines below will also get the benefits from the deadlines following.
March of the Machine Benefits
Store Championship custom store name promos—deadline September 23, 2022


Commander Party scheduling—deadline February 17


Following the events of Phyrexia: All Will Be One Commander Party, your community will partake in the long-awaited conclusion of connecting Commander Party events with the Commander Party for March of the Machine. Achieve WPN Premium by February 17 to host this immersive one-day only Commander Event at your store and give your players a Phyrexian-language promo card.
Due to production timelines, the deadline for custom store names printed on March of the Machine Store Championship promos was September 23.
WPN Exclusive Secret Lair Drop
Increased allocation of foil Secret Lair drop—deadline January 13


All WPN locations worldwide will be allocated a foil Secret Lair drop to offer your customers. This drop is exclusive to WPN locations and will not be found anywhere on the Secret Lair website, so tell your community that if they want this drop, they'll have to get it directly from you!
WPN Premium locations that achieve their designation prior to January 13 will have an increased allocation of the Secret Lair drop available to purchase through your preferred distributor. WPN stores in Latin America and Asia-Pacific (excluding Japan) will receive one unit of this product for free; WPN Premium stores in these regions will receive five units.
Store Championship Custom Store Name Promos
Wilds of Eldraine custom store name promos—deadline February 28


Lost Caverns of Ixalan custom store name promos—deadline February 28


For every Store Championship event, WPN Premium stores receive an extra set of the Top-8 and Winner promos in non-foil with their store's name printed on the card. Having your store's name custom-printed on the promos is a memorable way to commemorate the event to your players.
At the event, both versions of each promo should be provided to qualifying players.
The deadline to earn this benefit for Wilds of Eldraine and Lost Cavern of Ixalan Store Championship events is February 28 due to production timelines.
Universes Beyond: The Lord of the Rings: Tales of Middle-earth™ Benefits
Improved promos and prizing —deadline April 7


Arriving in 2023, The Lord of the Rings: Tales of Middle-earth™ brings to life, the incredible depth of the world created by J.R.R. Tolkien with a full Magic set release. Your players will get to enjoy Magic's take on iconic characters such as Gandalf, Frodo, Aragorn, and items, including The One Ring, and so much more.
For WPN Premium stores, we've raised the bar for promos you can share with your players to celebrate the release, including additional in-store activities to help bring The Fellowship to The Gathering. Plus, you'll receive an allotment of additional prizes to use during all your events throughout the season.
Scheduling Reminder: Dominaria Remastered Premium Preview Event
If your store achieved WPN Premium before October 28, 2022, you can host a WPN Premium Preview Event for your community. Preview Events make your location the first place your players can get their hands on the nostalgic flavor of Dominaria Remastered.
To support the event, WPN Premium stores will receive an additional allotment of the participation promo, Counterspell. This promo is a classic card with the classic art by Mark Poole—give one participation promo to each player for each entry into the event, while supplies last.
Update for WPN Premium stores in the U.S. and Canada: due to unforeseen shipping delays, the delivery of your Dominaria Remastered promos will not arrive in time to support WPN Premium Preview Events scheduled this weekend.
Your promos are expected to arrive early next week. For any WPN Premium Preview Events you have scheduled this weekend, you may give IOUs to players and invite them to return to pick up their participation promo once the promos arrive at your store.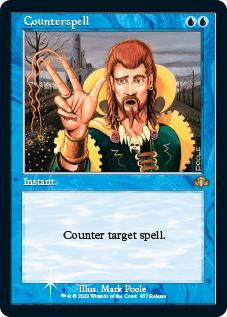 Don't forget to use downloadable marketing materials to advertise this awesome promo to your players. The Dominaria Remastered Premium Preview Event runs from January 6 – 12, so if you haven't got yours scheduled, head to Wizards EventLink and put it on the books today!
That wraps up our look into the near future for WPN Premium benefits, deadlines, and scheduling reminders. If you haven't kickstarted your Path to WPN Premium yet, visit the WPN Premium Hub to learn more about the process and reach out to your WPN Development Specialist to get your journey started.