An amazing opportunity is on the horizon—WPN stores around the globe will have access to an exclusive Secret Lair Drop to offer your customers. Usually, Secret Lair drops are only available through the Secret Lair website, but for the first time , we're sharing our secret with our WPN retail partners.
There are a few key dates you'll want to keep in mind leading up to the drop:


Distributor Lock Date: January 13


Secret Lair Drop arriving in stores: Beginning in March


Take this opportunity to create a bigger marketing moment for your store around the product.
Jot the key dates down on your calendar so this opportunity doesn't slip off your radar. Now, let's dive into our card preview.
Preview the Drop
Last month, we told you we'd share a preview to help build community excitement around this awesome opportunity for your store and customers. Today, it's time to give you a sneak peek: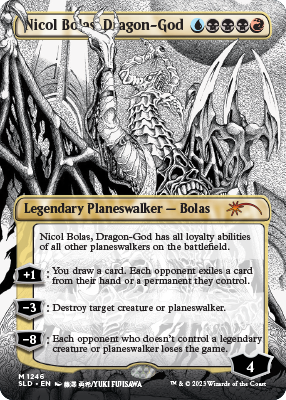 A Planeswalker joins the ranks of the Borderless Manga showcase treatment cards! The treatment is part of the Phyrexia: All Will Be One suite of treatments that your players can look forward to cracking open. The full contents of the drop will be revealed early this year, which we'll also be sharing here, so keep an eye on this space!
Secret Lair Allocation Details
As we mentioned in our initial article, WPN stores in most regions will have an allocated quantity of Secret Lair units to order from your preferred distributor. Stores who achieved a WPN Premium designation before January 13 will have an increased allocation of the product available to order.
Due to logistical issues, WPN stores in Latin America and Asia-Pacific (excluding Japan) will not be able to order through a distributor—as a result, we are sending one unit to WPN stores in these regions at no cost to you. WPN Premium stores will receive five units.
Be sure to place your orders with your preferred distributor to give players the excitement of picking up a Secret Lair Drop from their favorite LGS.
We hope you're looking forward to this opportunity as much as we are! While you wait for the full contents of the drop to be revealed, share and discuss the preview card with your community to generate a buzz that will get them eager to purchase this Secret Lair directly from you.