5 Things to Know About Amonkhet
April 17, 2017
|
3 min to read
Amonkhet is coming up fast with Prerelease happening this weekend. Are you prepared?
Here are five things to know that might help:
1. Our in-store play programs work in synch with the set's story.
Story can be a powerful tool to get players interested in the set and play opportunities at your store. And we've designed Amonkhet's story to directly tie into the events in your store:
Amonkhet Story
When the Gatewatch arrive on the harsh desert plane looking for Nicol Bolas, they discover a shielded city-oasis being protected by five gods that walk among the people. There, citizens devote their lives training for the trials of the gods to ultimately earn a place in the promised Afterlife.
Players will get their own "trials" starting at Prerelease that encourages them to participate in your in-store events.
2. Trial cards help keep players coming back.
In their Prerelease Packs, players will receive a trials checklist card that lists five challenges: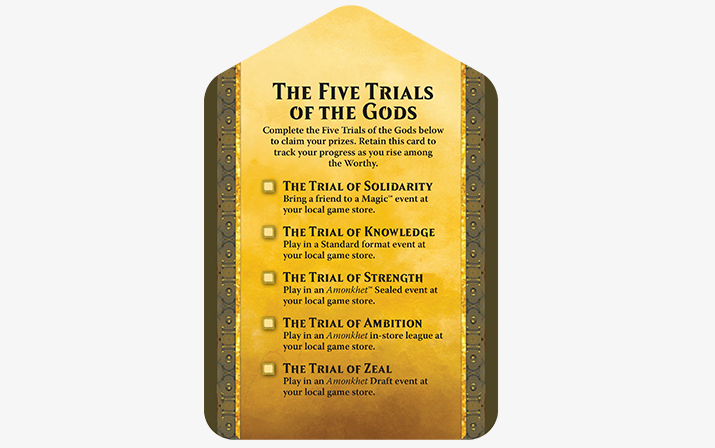 These challenges sync-up with your organized play programs. For each trial that players complete, hand out one of the rare four-sided dice included in your event kit (while supplies last).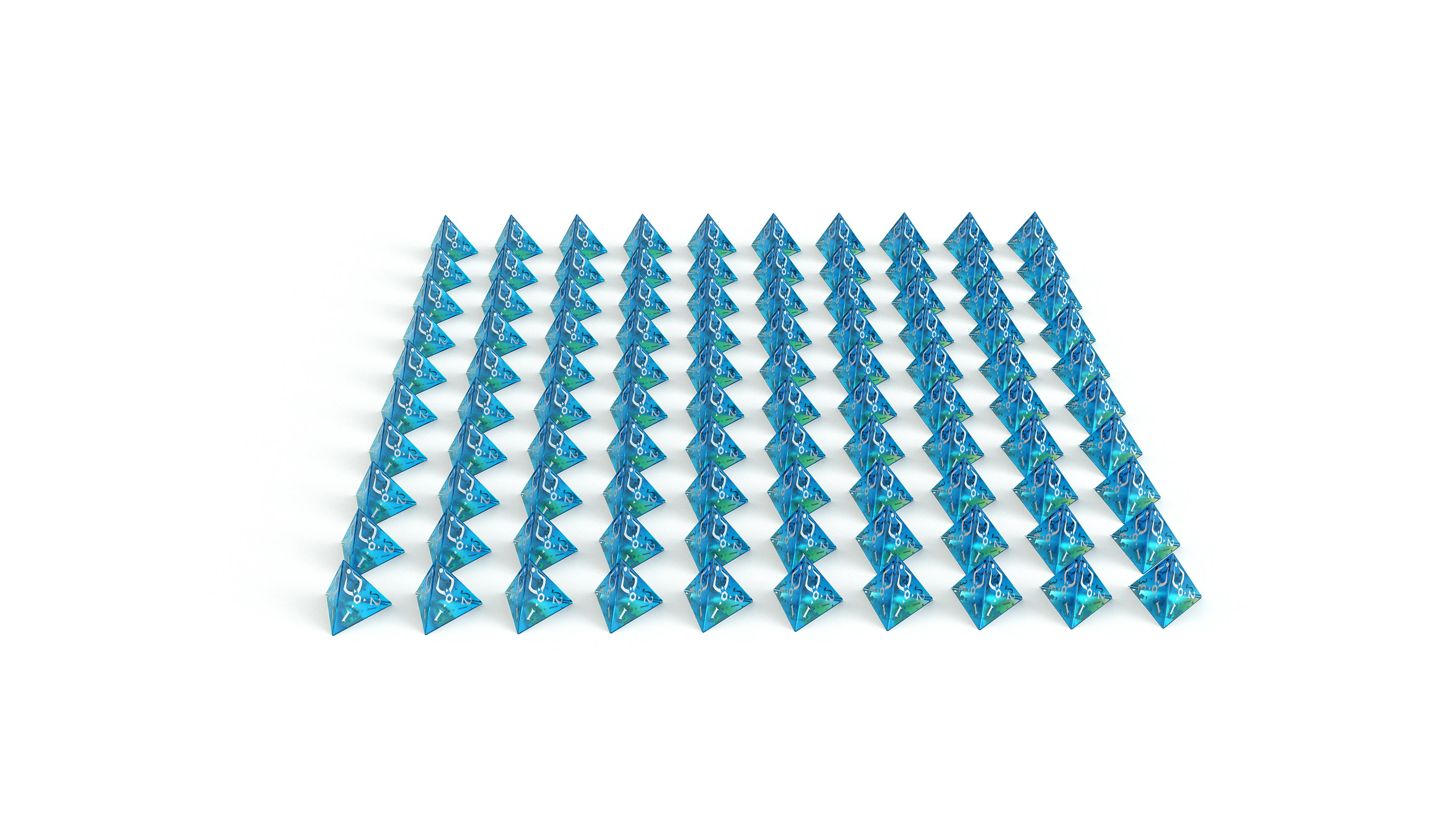 The Third Trial
The third trial challenges players to attend a Sealed event.
Even though Prerelease is a Sealed event, we recommend awarding these dice after Prerelease at subsequent events to encourage repeat play at your store.
Those that attend Prerelease are already awarded with a unique spindown life counter found in their Prerelease Packs.
You can download additional trials checklist cards for players who did not attend Prerelease from our marketing materials page.
3. New events energize in-store play past Prerelease.
Draft Weekend, Magic League, and Standard Showdown are all officially premiering with Amonkhet.
After Prerelease, lead players back to Draft Weekend for their first chance to Booster Draft with the new set.
Then debut your in-store Magic League beginning the Monday following Draft Weekend.
League is a great program for converting new players into regulars with on-going, casual play.
League Play Can Occur All Week Long.
Although you've designated a meetup night for your League in Wizards Event Reporter, remember league play can occur at any time in your store, including between rounds at Friday Night Magic.
Use the Magic sign-up sheet, available on our marketing materials page, to easily record play and then report the results in WER weekly, to get credit toward your WPN level.
Appeal to your players who prefer competitive Standard tournaments with Standard Showdown. Standard Showdown provides a weekly Standard tournament for your players starting May 6.
Use this weekly event to help grow your Standard community and boost repeat play throughout Amonkhet.
The Simplest Way to Advertise Your Events
At Prerelease, promote your upcoming events at your pre-event announcements and hand out flyers including your event schedule to all participants.
For more information on changes and additions to our Amonkhet program line-up, check out this article.
4. We've got tons of free materials to help promote your programs.
Check out our Marketing Materials page to download free banners for your social media channels, sign-up sheets, table numbers, flyers, and more.
You've also received a robust event kit supporting all the events you scheduled in Wizards Event Reporter, including three standees with inserts that include art from the set.
Save Your Standees!
In the lead-up to the release of the next set, Hour of Devastation, we will be sending you new inserts with art from Hour of Devastation to help promote the set.
So hold on to your standees after Prerelease ends!
5. Our social media messaging will be driving players into your store.
The Magic community team will be challenging players this week to five trials via social media messaging.
On Thursday, the final trial will be to construct a papercraft obelisk, using a template provided on social media, and to bring it to your Prerelease.
Give players who show you their paper-craft obelisk one of the premium Amonkhet basic land promo cards provided in your event kit.
Take advantage of all this support to re-engage lapsed players and reach out to new players in your community, starting with Amonkhet Prerelease this weekend!