Arena Codes at Magic Weekend: 2 Questions You'll Probably Get
September 30, 2019
|
2 min to read
Note: This promotion is available in North America, Europe, Japan, Latin America, and certain other regions.
Good news—your prize pool for Magic Weekend: Brawl just got bigger.
Around October 31, about one week after Magic Weekend Brawl, we'll send your participants a Magic Arena code that will unlock for one copy each of Command Tower, Tome of Legends, and Arcane Signet, plus a card style for each one. (A card style is like an alternate art/frame/etc. that you can turn on and off in the game.)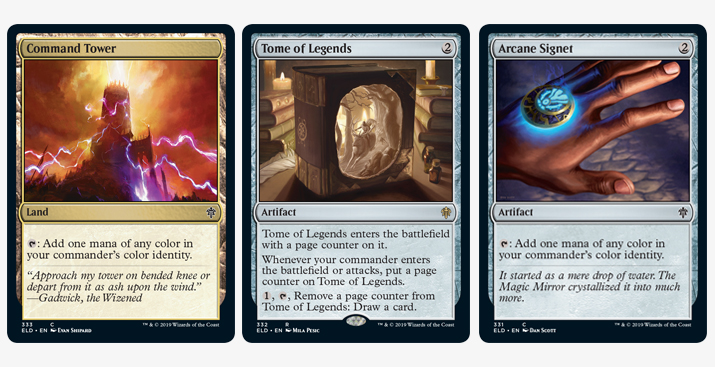 All three are no-brainer additions to any Brawl Deck. And here's the best part: there's no action required from you. Magic Arena will advertise the event (to supplement your own advertising), and afterward we'll make sure your players get the code.
All you have to do is be ready to answer a few questions.
Specifically, these two:
1. How do players get their code?
One week after Magic Weekend: Brawl, Wizards will send an email to all participants. There are a few important caveats here.
First, you have to report the event in Wizards Event Reporter to get your players on the list to receive a code.
Second, those players will need to have an email address registered with their Organized Play Account at Accounts.Wizards.com. Note that this is a different account than they use for Magic Arena—it's the account associated with their DCI number. (In fact, players will get the code even if they don't have a Magic Arena account yet.)
If they don't have an email associated with their Organized Play Account, they can log into Accounts.Wizards.com and add one.
And finally, they'll need to "opt in" to receive emails from us. They can also do that at Accounts.Wizards.com. They just have to check this box:

If any one of those three things get missed, your players will miss the code.
Which leads us to:
2. What if the code doesn't come?
If one of your players missed out on receiving a code, they'll have a second chance to receive one a week later, when we send out a second email.
But before that second email goes out, some combination of the following three things will probably have to happen: 1) You'll have to report the event. 2) They'll have to add an email to their Organized Play Account. 3) They'll have to opt into emails from us.
They can handle those last two at Accounts.Wizards.com. If they still don't have the email, they should check their Spam and Promotions folders. Then they should contact their local support team.
Magic Weekend: Brawl lands October 26. Get the word out now: come play Brawl and get Magic Arena cards and card styles!