Commander Nights M21: What You Need to Know
June 23, 2020
|
1 min to read
As of June 1, tabletop Magic events are available in both EventLink and Wizards Event Reporter, including Commander Nights: M21.
Please note, however, that Wizards in no way encourages WPN members to run events. Events reported during this period will never impact your play metrics or your product and promotion allocations.
We recommend all WPN members review and observe best practices for event management as provided by local health authorities, as well as organizations such as the World Health Organization and Centers for Disease Control.
Commander Nights is back for Core Set 2021!
Commander Nights is a weekly Commander league with rotating rules and achievement-based prizes. On certain weeks, there will be special global rules for league play—usually involving a mechanic or theme from the set—that are in place for all Commander Nights games that week across the world.
The rotating rules add a unique twist to Commander games during the week and tie into the achievements that players earn over the season.
Let's start with the M21-themed Commander Nights achievements.
Commander Nights: Core Set 2021 achievements showcase the core mechanics of Magic.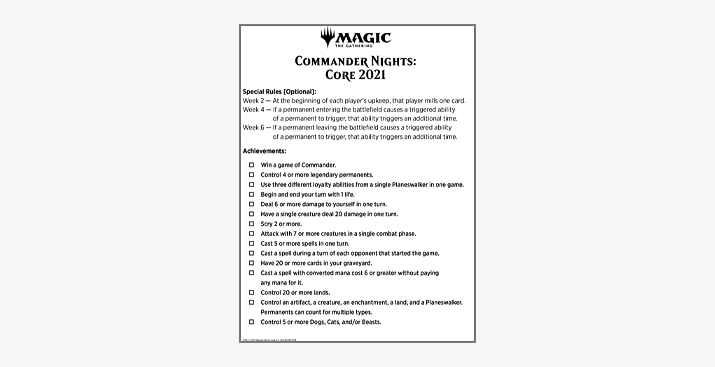 At the top of the handout listing the achievements, you'll find optional rules for the three weeks. These rules add an extra level of complexity and encourage players to augment their Commander decks a few times this season to take full advantage of them.
Once a player reaches a certain number of achievements (we recommend seven), you'll issue them a prize (a Promo Pack, for example). Once they reach a second, higher number (we recommend fourteen), you'll issue them another prize (a foil Promo Pack, for example).
Feel free to craft your own achievements, raise or lower the number of achievements needed for prizes, and the prizes you give out—whatever works best for your community.
Both the special rules and the achievements showcase some of the core mechanics of Magic–including "mill," which officially becomes a keyword when M21 drops—and give new Commander players an opportunity to see how powerful those mechanics can be.
Run as many Commander Nights events as you need.
For Core Set 2021, you can schedule Commander Nights multiple nights each week from 7/6–9/17—just be sure to keep leaving Fridays free for FNM.
Stores that are reopening with reduced event capacity may find it useful to set up consistent Commander pods—one group comes in to play every Monday, a different group comes in every Tuesday, etc.
Players will get to experience working their way through the achievement list with their pod while you're able to continue running Commander events at reduced capacity.
You can run Commander Nights remotely.
Continue to use your Discord or community hub to let players gather and play Magic together. Set up as many Commander Nights events as you need, then let players use their webcams to play and report their achievements to you or your staff.
Commander Nights is a great opportunity for Commander players around the world to feel connected, no matter where or how they get to play. It's available for scheduling now, in both EventLink and WER.