Here's What's Inside Your Throne of Eldraine Promo Kit
September 9, 2019
|
6 min to read
There's less than a month until Throne of Eldraine Prerelease! Time to talk delivery dates, Promo Packs, and what to expect in your marketing kits.
Before we get to the details of everything landing in your store this month, here's a quick break down of important dates.
Marketing Kit Delivery to North American Stores: September 9–13
Marketing Kit Delivery to Other Regions: September 20–27
Marketing Kit Delivery to All WPN Premium Stores: September 20–27
Promo Packs, Buy-a-Box, and Collector Booster Delivery: September 20–27
Now, on to the fun stuff.
Throne of Eldraine Marketing Kit (Arriving September 9–13 in North America, September 20–27 in All Other Regions)
Add these new marketing materials to the evergreen kit that came with M20!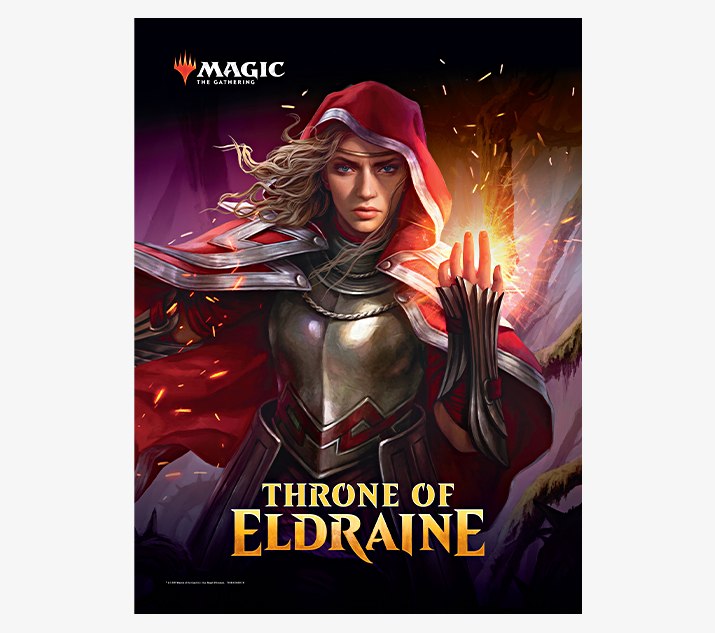 Promote Throne of Eldraine with this eye-catching poster.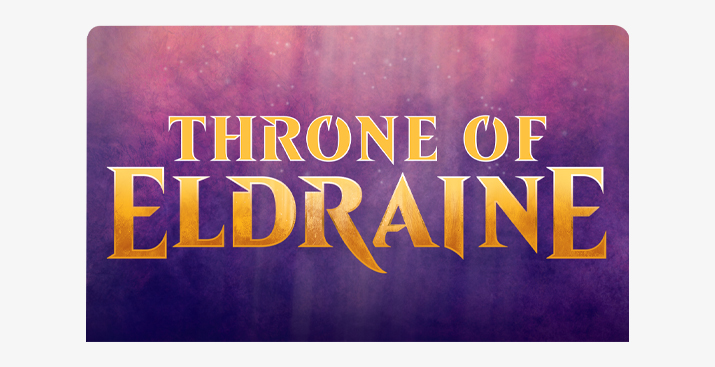 Use this header card to draw attention to your new Throne of Eldraine products.
Buy-a-Box, Collector Boosters, and Promo Packs (Arriving September 20–27)
Buy-a-Box
Just like M20, the new and improved Buy-a-Box and Prerelease Early Sale Promotion system is in place to help get more product where there's more demand.
Your quantity of Buy-a-Box promos scales depending on your Tickets and Engaged Players during the last season. You'll get an allocation of anywhere from 12 to 156 advance boxes to sell at Prerelease—plus one Kenreith, the Returned King to give out with each box sold.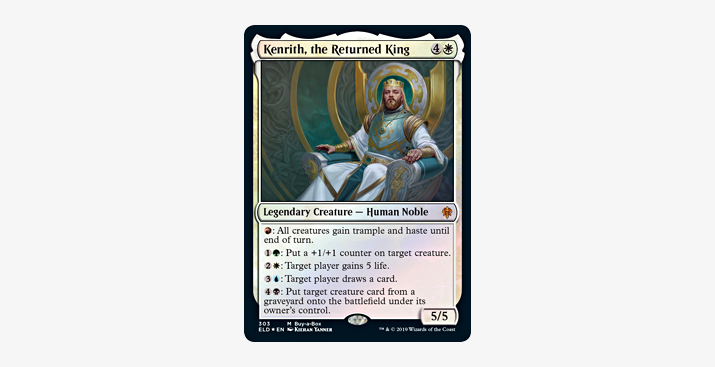 All that should sound pretty familiar. But here's where things get even better.
Collector Boosters
For Throne of Eldraine only, you'll receive a quantity of Collector Boosters to hand out as an additional bonus for your earliest box sales, in addition to the Buy-a-Box promo. These are meant as samples for or your most engaged fans. No action is required on your part. They'll just show up with the rest of your promos.
Like Buy-a-Box promos, the amount of Collector Boosters you receive will scale based on your Tickets and Engaged Players. But, you'll probably receive more Buy-a-Box promos than Collector Boosters. You'll get between 12 and 108 depending where you fall on the scale.
This is a great way to create urgency around your box sales, and a great way to reward customers for picking up their box early. Be sure to make it clear that Collector Boosters are first-come, first-served, and the only way to get one a week early is the Prerelease Early Sale Promotion.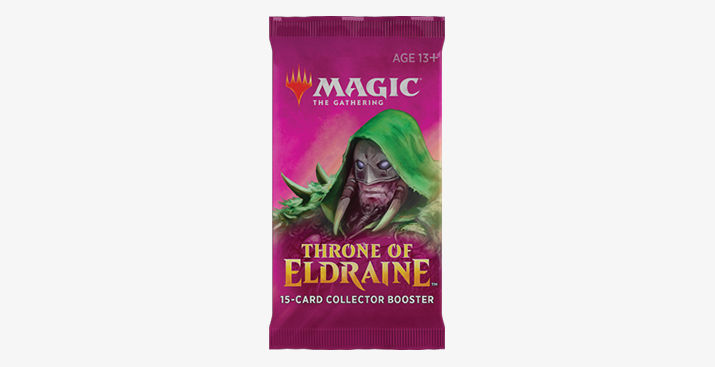 Here's what you'll find inside each Collector Booster:
1 rare/mythic rare with extended art
1 foil rare/mythic rare
9 foil commons/uncommons
3 special frame cards (borderless planeswalkers or "showcase" cards)
1 ancillary card (non-foil version of any ELD card otherwise not found in traditional ELD boosters, such as the Buy-a-Box promo)
1 foil token
Universal Promo Packs
Universal Promo Packs are back—now with Arena codes!
Here's what's inside your Throne of Eldraine universal promo packs:
1 promo-stamped rare/mythic from the set
1 promo-stamped curated standard rare/mythic
1 "FNM" promo treated card
1 MTG Arena code card
All promo packs will include a unique Arena code that redeems for one Throne of Eldraine booster. Each account may redeem up to five codes.
The goal is to drive Arena player to in-store events—especially players who were just introduced to Magic through Arena.
Download Now: Digital Marketing Materials
Visit our Marketing Materials page for the full range of product shots, artwork, logos, and more. Here are a few of our favorites from Throne of Eldraine.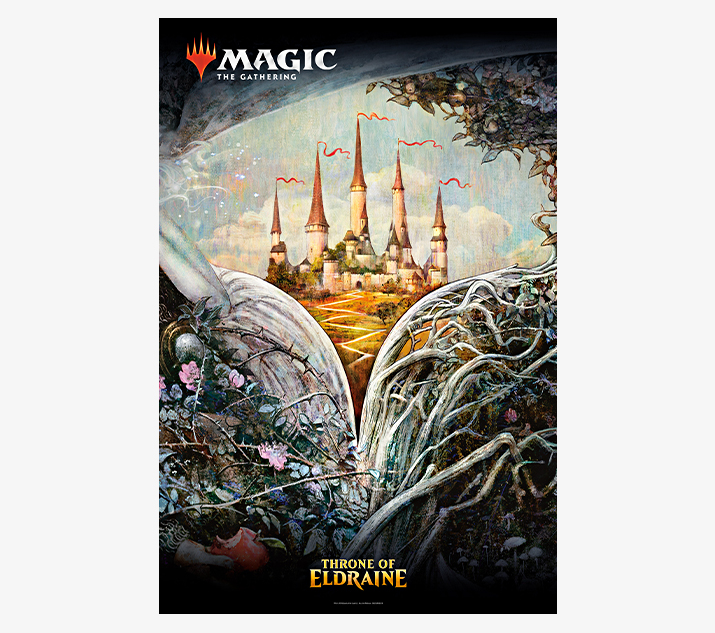 Add your event details and print out these poster-quality images to promote your events.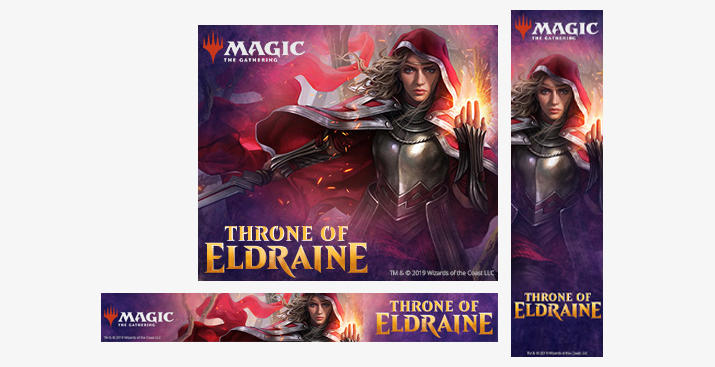 Advertise your events on social media—no need to worry about resizing. They're ready to go!
Take advantage of Magic's official fonts now, available to you for the first time ever.
WPN member store owners will find the official Magic: The Gathering Brand Guide and font packages in their inbox today. Use it to create content to showcase your events and product offerings in a way that suits your store's unique needs.
Throne of Eldraine WPN Premium Marketing Kit (Arriving September 20–27 for All Regions)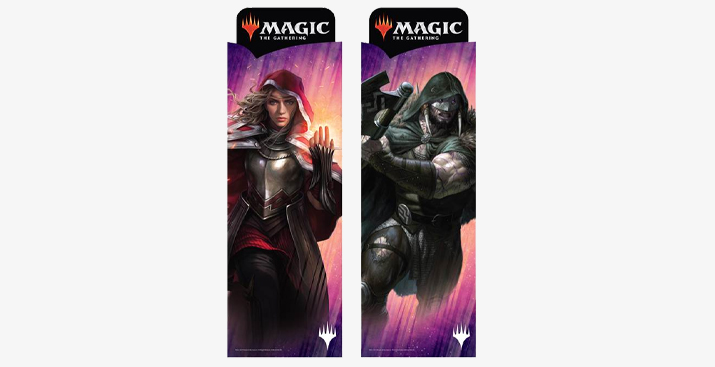 Showcase the planeswalkers in Throne of Eldraine with two foil standees.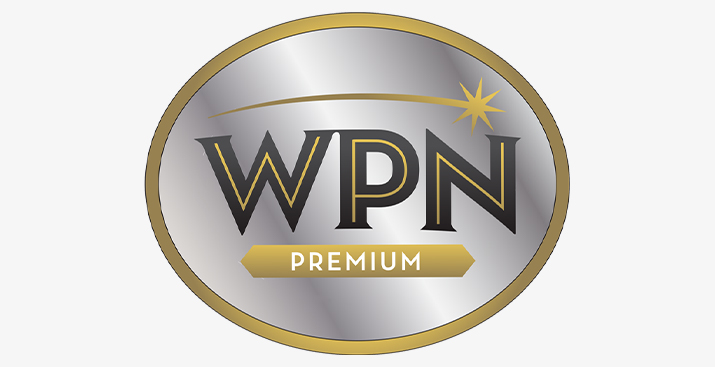 Display your status as a WPN Premium store with this exclusive plaque.
If you're interested in WPN Premium, and you think it's right for you, we believe it's within your reach—whoever you are. Check out the resources below to find out more about the program.
Throne of Eldraine Prerelease and the Prerelease Early Sale Promotion begin September 27. Are you ready? Contact your distributor and get your full allocation today!