March of the Machine is the final battle of the Phyrexian invasion. It is the point of no return in the Phyrexian story, with only two possible endings: the complete defeat of the Phyrexians, or the total annihilation of the Multiverse.
Starting at Prerelease, your players will gather at your store for this battle of the ages. You can use these promos and events to make the March of the Machine season unforgettable.
At Prerelease: 30th Anniversary Promos
Our 30th Anniversary celebration continues with March of the Machine Prerelease. From April 14 – April 20, your players will gather at your store for the event, and you'll have three more special promos to help promote the event:
Eternal Witness
Chord of Calling (limited print quantity, printed in Portuguese)
Niv-Mizzet, the Firemind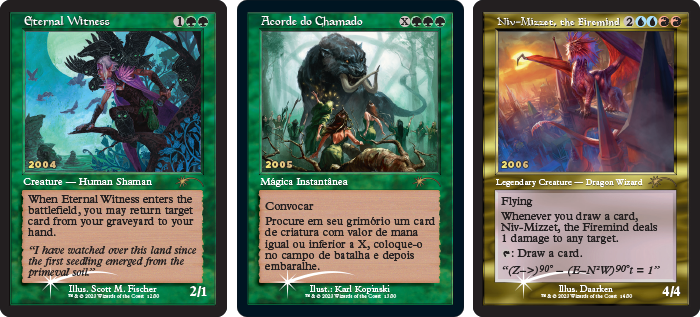 We encourage you to use these promos to boost registrations for Prerelease, handing them to players who have registered in advance or even distributing them for participation during your week filled with Prerelease events.
Also at Prerelease: Buy-a-Box Promo
While players come to play at Prerelease, encourage them to pick up some additional product! All products are available to purchase at Prerelease in any quantity, meaning your players can get their hands on the Buy-a-Box promo once they enjoy an epic Prerelease: Omnath, Locus of All.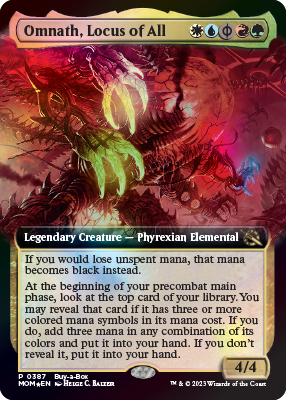 Players can receive a Buy-a-Box promo for an in-store purchase of full displays of the following sealed products:
Draft Boosters
Set Boosters
Jumpstart Boosters
Collector Boosters
Share this sought-after promo to players to encourage them to grab a full box from your store.
Store Championship Promo
Store Championship events for March of the Machine season are one-day events that you can schedule between May 13 – 21, coinciding with the release of March of the Machine: The Aftermath. You can schedule your Store Championship to be either Standard, Booster Draft, or Sealed Deck format using March of the Machine Draft Boosters.
You'll have the following promos available to your players:
Participation: Strangle
Top 8: Aether Channeler
First Place: Thalia and The Gitrog Monster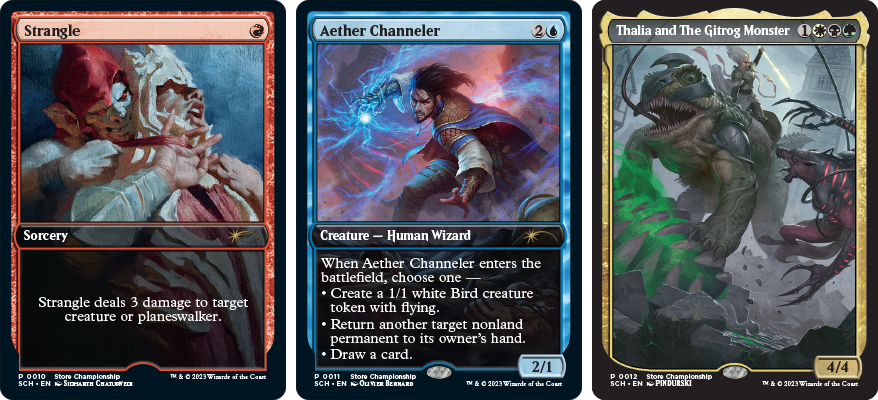 Store Championship events are an ideal opportunity to hone their competitive tournament skills for higher level play events like Regional Championship Qualifiers, and the Store Championship is sure to be especially entertaining with players able to use March of the Machine: The Aftermath cards in their decks.
WPN Premium: Commander Party Promo
Another one-day event exclusive to WPN Premium stores is the Commander Party. Commander Party events apply a unique set of rules that alter the course of a Commander game—plus, everyone's actions throughout the game help determine elements of the story.
For the past three set releases, WPN Premium stores have been guiding their players around one map. The story concludes with March of the Machine, and players will get a Phyrexian-language promo to add to their collection.
Phyrexian-language promo: Beast Within
Each WPN Premium store will receive 100 promos. In addition to your promos, you'll have the following materials to use for your Commander Party:
1 Commander Party poster
100 Faction cards
1 copy of Commander Party instructions
Commander Party materials are only available in English—except the Phyrexian-language promo, of course, which is only in Phyrexian. Soon, all WPN stores will have the opportunity to run Commander Parties, beginning with The Lord of the Rings: Tales of Middle-earth™.
The last stand is on the horizon—March of the Machine Prerelease kicks off April 14. Take a moment to schedule your whole season of events on Wizards EventLink today.