Play Boosters are arriving with Murders at Karlov Manor, revolutionizing our product lineup once again. The introduction of Play Boosters marks the beginning of a wave of changes, including how Prerelease works for your store.
What's a Play Booster?
Play Boosters are the best of Draft and Set Boosters in one—they make for an awesome pack opening experience and are the perfect product for play. Plus, multiple slots in a Play Booster may contain rare cards.
In case you missed it, here's a full breakdown of the Play Booster:
6 Commons—There is a possibility of booster fun in this slot.
1 Common or Card from The List—Most of the time this will be the 7th common, but when a card from The List shows up, it shows up here.
3 Uncommons—There is a possibility of booster fun in this slot.
1 Wildcard—This card can be almost anything from the main set. It can be any rarity, and it has the possibility of being Booster Fun. Whatever it is, it will be nonfoil.
1 Main set Rare or Mythic Rare
1 Foil of any rarity—This is just like the Wildcard slot except that the card is guaranteed to be foil.
1 Basic Land
1 Non-Playable card—This can be a token, a play aide, an ad card, or an art card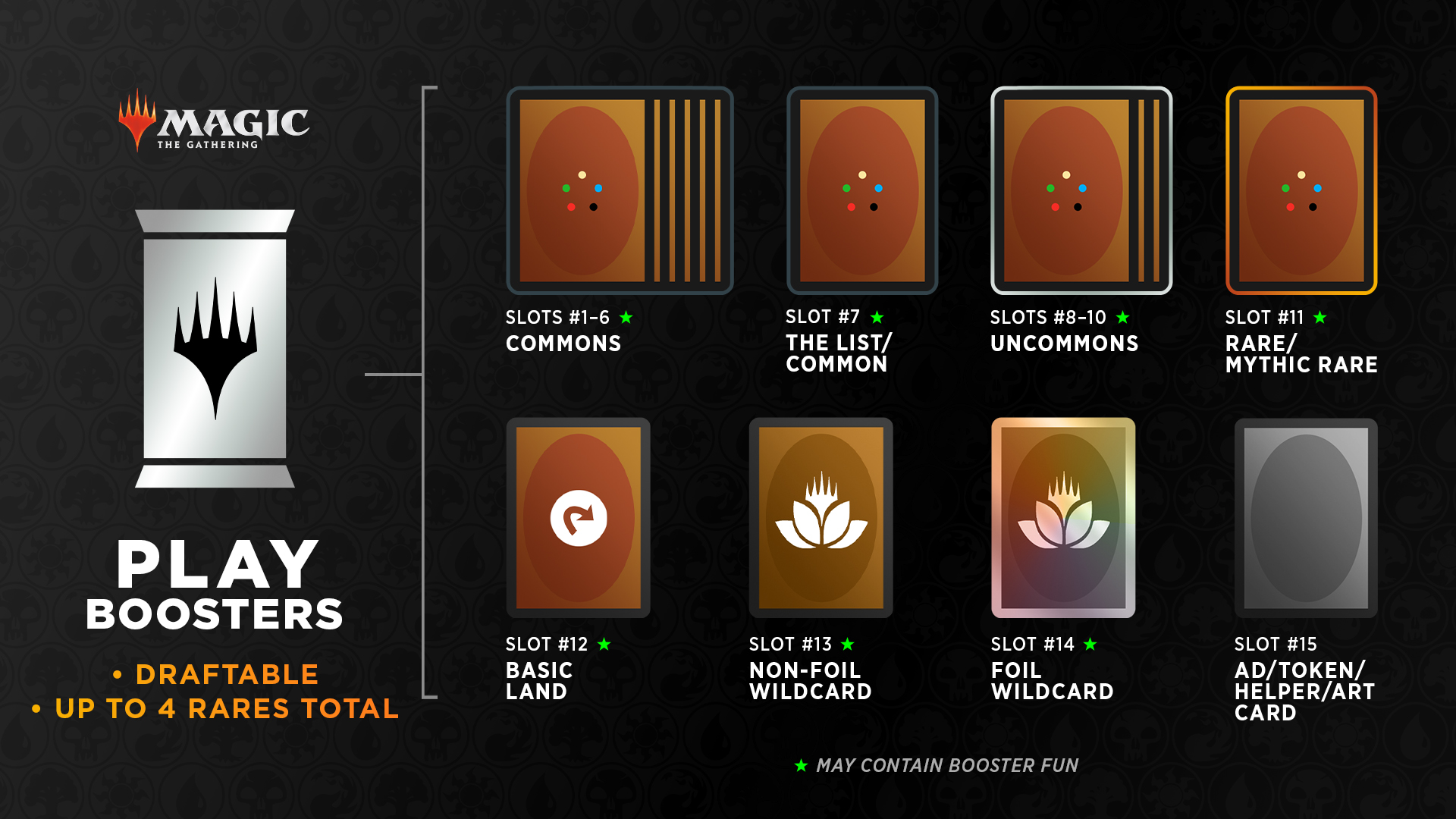 For further details about why we made this change and how the Play Booster was developed, be sure to check out Mark Rosewater's article.
How is my Prerelease affected?
Prerelease is the first place for players to sample a new set release, and your Prerelease events are run using Sealed Deck, a Limited format. Play Boosters are ideal for Limited format play, and with the pack opening experience leveled up, it may feel like your whole Prerelease gets a level up, too.
Only Sealed Deck Prerelease events run using the official scheduling template count toward future Prerelease Pack and prize support allocation. That said, you may notice a few differences in your Prerelease allocation communication for Murders at Karlov Manor. Here's how they break down:
Instead of Prize Support Set Boosters, you'll receive Prize Support Play Boosters.
In the past, you received Prize Support Set Booster Displays at no cost to you for purchasing your allocated baseline quantity of Prerelease Packs of a given set. With Play Boosters replacing Set Boosters, you'll receive free-of-charge Play Boosters for your Prerelease prizing moving forward.
Your Prerelease Packs and Play Booster Prizes may each support a different number of players.
Murders at Karlov Manor Prerelease Packs come in case quantities of 15. Murders at Karlov Manor Play Booster Boxes contain 36 packs. When determining Prerelease Allocations, we look at the largest Prerelease event your store has run in the past 2-3 sets.
Because we need to round Tickets towards both the nearest box of 15 and 36, stores will see a small separation in the number of players that their Prerelease Packs and Play Booster Prizes can support. We are investigating adjusting Prerelease Pack case quantities to match for the future.
All Wizards Play Network stores will receive at least one Prize Support Play Booster Box. Additionally, some stores, based on their prior Prerelease event attendance and region, may be allocated Growth Prerelease Packs. These packs do not come with free-of-charge Prize Support Play Boosters, but more can be purchased to run additional events and increase future allocations.
You are always welcome to order additional Play Boosters to support events and event prizing for your community. Be sure to work with multiple distributors to ensure you have the product you need.
As you continue to consider your Play Booster strategy, we encourage you to combine your historical order quantities of Draft and Set Boosters together to get an idea of the quantity of Play Boosters you'll need.
Murders at Karlov Manor is the first Magic set release of 2024, and we'll have more Play Booster information to share leading up to that point to help you and your staff prepare for the arrival of the Play Booster. In case you missed it, be sure to read up on our full announcement article and point your players to Mark Rosewater's article for the complete Play Booster breakdown.
The distributor lock date for Murders at Karlov Manor is November 27—just one week away. If you want to change your preferred distributor for this upcoming Prerelease, now is the time to do it!