While we process your application to the Wizards Play Network, carefully review the following information.
The WPN Orientation Program
After completing the application process, you will begin a mandatory orientation period.
Approximately once a week for five weeks, we'll call you to walk through our event reporting software, Wizards Event Reporter; share best practices that have worked well for other successful WPN stores; and coach you to reach a number of minimum goals for your events that week.
You will be expected to run at least 4 total events, including one event with 8 or more players, and bring in 3 new players and 15 total unique players by the end of the orientation period.
Joining the WPN
At the end of five weeks, if your store has been successful in running events and bringing in new and returning players, you will join the WPN and continue running sanctioned events.
If your store has not met the goals of the orientation period, has missed more than 2 appointments, or is not thoroughly committed during this time, your store will be denied entry into the WPN.
After one full year in the WPN, we expect your store to reach and maintain the event requirements for Core level. If your store is not able to maintain these requirements after the first year, your store will be removed from the WPN. You will be welcome to apply again in the future.
Beginning at Gateway Level
The WPN has 4 levels: Gateway, Core, Advanced, and Advanced Plus. Each level has increasing requirements for number of events and player attendance, while offering increasing benefits to retailers. Advancing in level is all about bringing people into your store and running bigger, better events.
As soon as your application is processed, you will have the tools available to stores at our lowest level: Gateway. A Gateway level store can run:
Scheduled 7 days in advance
Requires at least 8 participants
Dungeon & Dragons Adventurers League
Scheduled on or before the day of the event
Requires at least 2 participants
Check our events page for more information on these event types.
You are not required to have a judge to run any of these events. However, we do recommend having someone on site that understands the rules of the game.
Access to FNM and Prerelease
In order to run Friday Night Magic, Magic Prereleases, and other exclusive WPN programs, you will need to reach the next WPN level: Core. A Core level store must: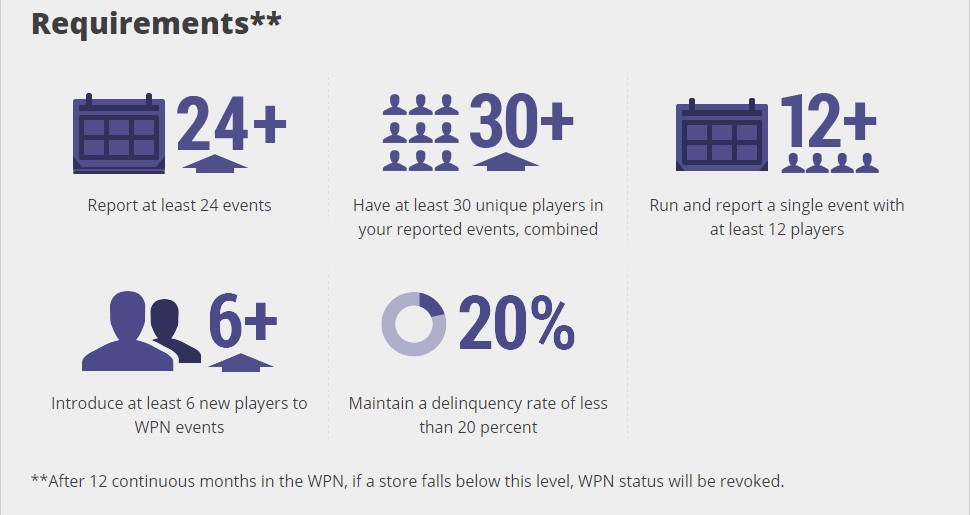 Learn More
Visit WPN.Wizards.com each Monday to Wednesday for a new article featuring the business practices of successful WPN stores.
What's Next?
After your application has been processed, we'll contact you by phone to review this information. We look forward to speaking with you soon!