The Fellowship meets The Gathering in a huge way this summer, with the Magic Celebration Event! This new event will bring players of all stripes together to enjoy games of Jumpstart in the familiar setting of Middle-earth using The Lord of the Rings: Tales of Middle-earth™ Jumpstart Boosters.
Today, we're covering all the details to make sure your Magic Celebration Event is a hit across your community.
Update: To ensure as many stores as possible in the EMEA region have their promotional materials on hand for the event, the Magic Celebration Event has new dates: July 14 – 16. You can reschedule your event in Wizards EventLink using our new event template. If you've already scheduled, be sure to also cancel your existing event.
In addition, dice sets may be delayed to certain stores across the EMEA region—if your dice sets do not arrive in time for your event, you may issue an IOU to eligible participating players to return to pick up their dice set once they arrive at your store. As a reminder, WPN stores should expect to receive 30 sets of dice; WPN Premium stores should expect to receive 90 sets. Dice sets will require assembly with the The Lord of the Rings: Tales of Middle-earth™ dice bag before distributing to players.
Promoting Your Magic Celebration Event
After scheduling your event on Wizards EventLink, you'll need to advertise the event to your community to draw in more registrations. Your The Lord of the Rings: Tales of Middle-earth Promo Kit will contain physical invitation flyers that you can pass out to players at Prerelease, or just to interested shoppers at your store.
Additionally, under The Lord of the Rings: Tales of Middle-earth category on our marketing materials page, you can find Magic Celebration Event assets, including ready-to-post social media images and printable in-store signage to help promote the event.
The earlier you begin advertising, the more players you'll be able to bring into your store for the celebration.
Running Your Magic Celebration Event
The Magic Celebration event couldn't be easier to schedule—once you're in Wizards EventLink, you'll use the Magic Celebration Event template to set up a Casual event where players come to your store to pick up packs of Jumpstart and enjoy quick, easy games with friends and family.
Jumpstart remains the ultimate way to introduce brand new players to Magic: The Gathering. All you need to do is open two packs, shuffle them together, and play! With two packs combined, players have all the spells and lands they need in one 40-card deck.
For your Magic Celebration Event, the pairing method will be Player List Only. This pairing method reduces the pressure on your newer players to play quickly, so they can take their time to read the cards and ask questions. Plus, you can leave your event as an open play event, meaning you can add new participants as they arrive in your store and just report your play results at the end of the day.
Keep in mind that participation promos are only available to players who complete the following steps:
Create an individual Wizards Account
Find their local WPN store using the Store & Event Locator
Register to play in your Magic Celebration Event using their individual Wizards Account using the Magic: The Gathering Companion App—event participants who register with a guest account do not qualify for the dice, Arena deck, or WPN Premium-exclusive Photoflyer souvenir rewards.
Encourage Wizards Account Registration
You can use the Magic Celebration Event to encourage your players to create their own Wizards Account—with a Wizards Account, players can log into MTG Arena, use the Companion app at your store, and more. Be sure to let newer players know that having a Wizards Account is a great tool to connect with other Wizards games, and easily register for events at your store.
Point all your players to the Store & Event Locator, as it's one of the best ways to keep in touch with what's going on at your store.
Wizards Account Participant Prizes
For players who participate in your Magic Celebration Event and complete the participation requirements, they can earn an incredible suite of rewards:
Limited-edition, collectible The Lord of the Rings: Tales of Middle-earth Dice Set available for the first 30 players to register in the Magic Celebration event. Collectible dice set includes three six-sided dice (d6) of the same color, inside of a burgundy dice bag with a golden Elven Planeswalker fork
Bring-a-Friend promo Thought Vessel for bringing a friend into a WPN store—both players receive the promo
A special MTG Arena The Lord of the Rings: Tales of Middle-earth themed Preconstructed Deck on Magic: The Gathering Arena

Players must have a registered MTG Arena account using the same credentials as their Wizards account.
Preconstructed decks will arrive in players' MTG Arena inboxes beginning July 25, 2023.
Promotion does not apply in select regions where Arena codes are invalid.
The three different dice sets match different sealed products your players can pick up in store: the translucent green d6 match the Spindown dice players may find in their Prerelease Packs, the sage green dice match the Bundle Spindown, and the red flecked dice match the Bundle: Gift Edition Spindown.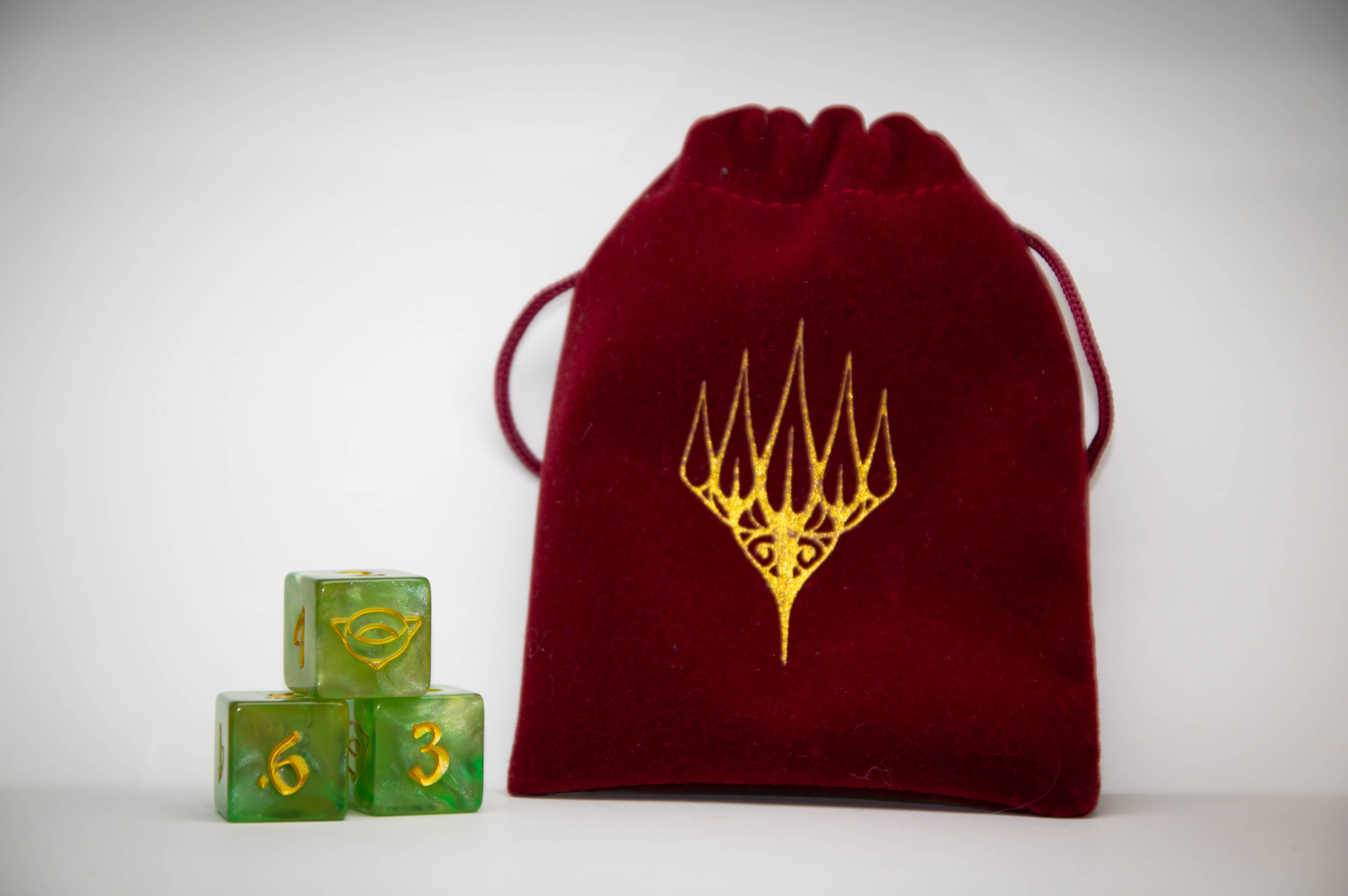 You can find exact quantities and setup instructions under the promotional support section of the event page.
WPN Premium Locations Get Additional Participant Prizes
WPN Premium stores, in addition to receiving a higher quantity of the promotional dice sets mentioned above, will receive a Photoflyer activation kit; this kit will allow players to take a souvenir photo that will slot into a frame and become a usable 1/1 Human token.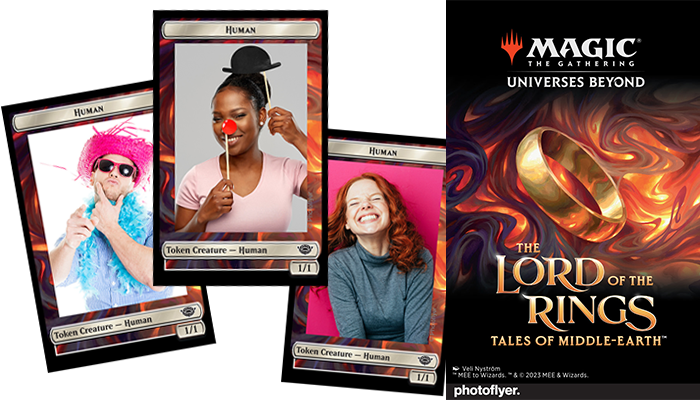 The Photoflyer kit sent to WPN Premium stores will include the following:
1 Instax Mini camera
8 packs of Polaroid film (can support 160 photos)
160 Souvenir photo frames
Instructions
WPN Premium locations will receive instructions alongside their Photoflyer kits—please note that batteries are not included in your Photoflyer kit. You will need to have AA batteries on-hand when setting up your Photoflyer experience before your event.
The Magic Celebration Event runs from July 7 – 9; make sure you have yours scheduled in EventLink and grab some marketing materials so you can begin advertising to your players right away!