Welcome to the Path to WPN Premium—one of the most valuable benefits of the WPN available to all WPN members worldwide.
While on the Path to WPN Premium, you'll receive personalized support from your WPN Business Development Specialist to make your store the best version of itself possible.
Haven't Applied for WPN Premium? Keep Reading!
WPN Premium status comes with loads of benefits, including exclusive marketing materials, increased product allocations, exclusive events, and more.
And applying for WPN Premium is probably easier than you think, so if you haven't applied for WPN Premium, get your application started! And bookmark this page and the WPN Premium Hub for all the details you'll need later.
As a reminder, you don't need to have a WPN-Premium-ready store to apply—in fact, we strongly suggest applying for WPN Premium and talking to your Retail Development Specialist before diving into any of the below suggestions.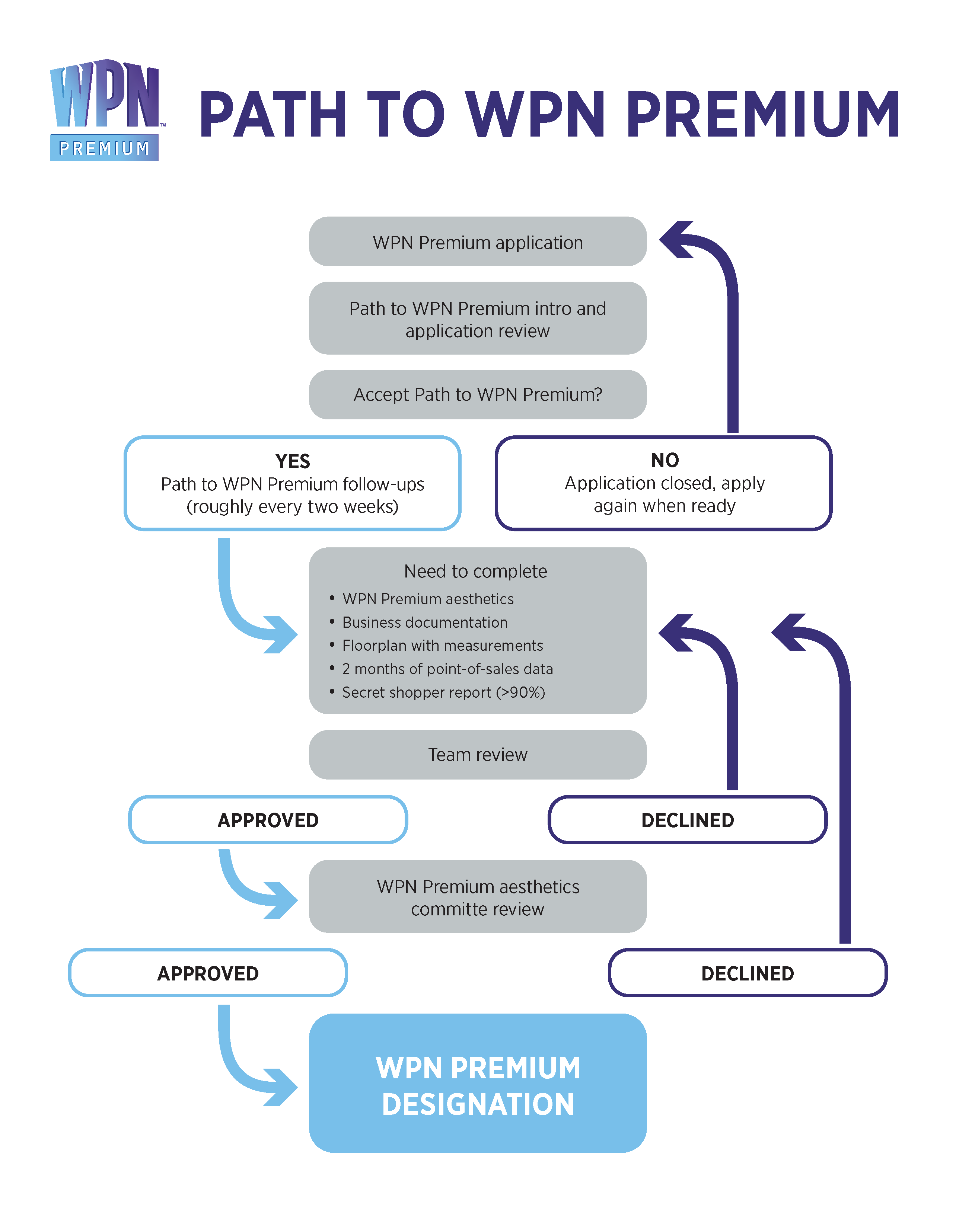 How to Reach WPN Premium
Once you've applied and decided to pursue the path to WPN Premium, the most important thing you can do is talk to your Development Specialist—and keep talking to them!
Staying in touch with them about changes you'd like to make and how the process is going is the number one factor in reaching WPN Premium.
That said, some examples and inspiration never hurt! There are a lot of items on the WPN Premium Quality Checklist—all chosen because they directly affect customer experience—and there are several ways to tick those boxes off your WPN Premium to-do list.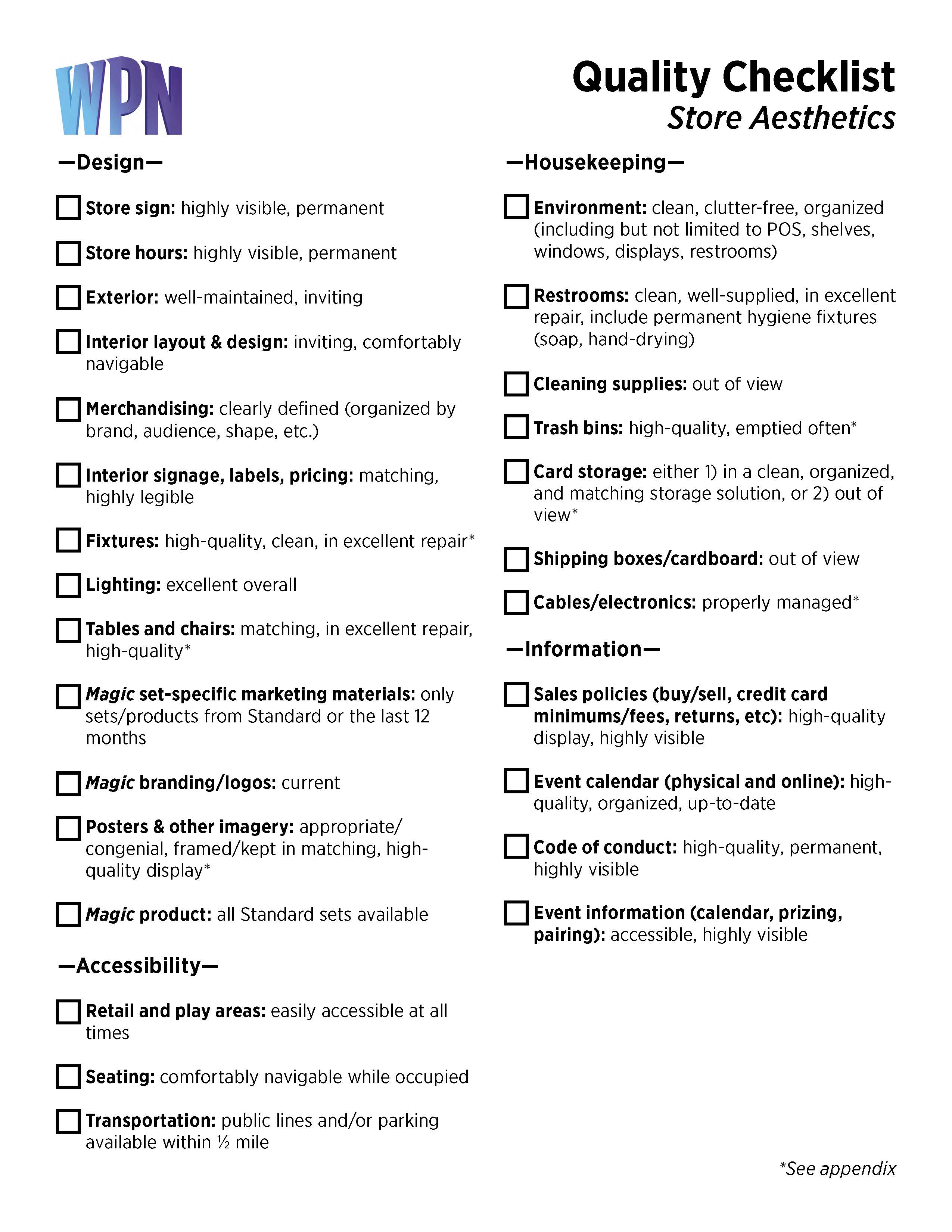 The WPN Premium Quality Checklist covers everything that makes WPN Premium members stand out as the best game stores in the world.
Make Aesthetic Improvements for WPN Premium
A large part of working towards WPN Premium involves making aesthetic improvements to your store. Before diving into any of those improvements, we strongly suggest working with your specialist to nail down your store's unique brand identity.
Having a strong brand identity will help guide your decisions for any other changes you make to your store during the process.
Once you've established your store's branding, it's time to tackle other common challenges when pursuing WPN Premium:
Marketing Materials
Tables and Chairs
Almost all our current WPN Premium members had to improve at least one of the above aspects of their store while working towards the designation!
Submit Your Business Documentation
As part of your WPN Premium application, you may be asked to submit your government-issued business documentation. This documentation varies by region, so be sure to check in with your Development Specialist about what you need to submit.
Create a Floor Plan with Measurements and Fixtures
A store floor plan with accurate measurements is another WPN Premium application requirement. Here are some resources you can choose from to draft a floor plan:
Don't forget to include fixtures in your floor plan—knowing where everything is located in your store is incredibly valuable for the team.
Provide Two Months of Sales Data
WPN Premium will also be required to provide monthly sales data by the 7th of each month. Applicants will therefore be asked to submit two months of sales data around the time of receiving the WPN Premium designation.
This data will be used only for internal purposes and will not be shared with a third party, except with the data compliance vendor that has been contracted to protect, aggregate, and process this data.
We'll request the following fields of sales data for Wizards of the Coast sealed products:
Date and time of transaction
Transaction number
UPC and/or SKU (Download the Master UPC/SKU List here)
Product Description
Quantity sold
Unit sold price
Total item prices
Download our sales data template to get started.
Follow the instructions included in the "SKU list instructions" tab for details on how to automatically update the SKU info in your template each month as new products are added.
Score Greater than 90% on Your Secret Shopper Report
As part of the application process, secret shoppers will evaluate potential WPN Premium stores to ensure quality experiences are being maintained. These evaluations may occur over the phone and/or in-store.
Create an Online Storefront
A key focus of WPN Premium is creating a world-class shopping experience for your fans—and, with so many fans shopping online for a variety of reasons (limited transportation, busy schedules, distance from their LGS, and more), having a simple, intuitive online shopping platform provides that experience.
Reach WPN Premium Metrics—Currently Suspended
The metrics snapshot taken in Q1 of 2020 will be used until further notice for all WPN members. In addition, WPN Premium metrics requirements will be waived temporarily for both WPN Premium reverifications and new applications until further notice.
Get Closer to WPN Premium with Retail Improvement Grants
If you're pursuing WPN Premium and located in the US, Canada, Japan, and parts of Europe applying for a Retail Improvement Grant should be at the top of your to-do list.
These grants cover up to 50% of your renovation costs, and we prioritize working with stores eager to improve their space—and nothing shows that eagerness like working toward WPN Premium.
Inspiration for WPN Premium
There are numerous ways to be a WPN Premium store—whether your store is a massive tournament center, a tiny boutique, or somewhere in between (as most stores are!)—there's a place for you.
To gather inspiration while you're on the Path to WPN Premium, browse the WPN Premium Showcase Gallery to check out stores that have achieved a WPN Premium designation. The stores in this gallery are top examples of the quality required for WPN Premium, featuring stores of all sizes.
Ready to take the next step in your personal Path to WPN Premium? Reach out to your Development Specialist to see what you should tackle next!